by Donna Huber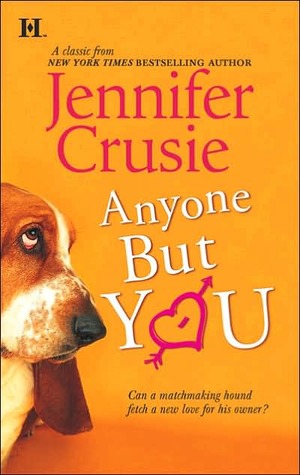 March 2006; HQN Books; 9780373771462
ebook, print (224 pages); romance
After reading many depressing books and feeling a bit depressed myself, I needed something to lift my spirits. I walked into my library and told my librarian I needed a book. She looked at me a bit funny: obviously, I needed a book since I was at the library (though I seem to check out more movies than books). I explained I needed something light and fluffy. She replied you don't read light and fluffy. I love living in small towns where the librarian knows my reading taste. Anyways, she preceded to point out a few books. I picked up one book that was more my normal read - the opening pages mentioned a plane crash in the mountains and a freezing Jack Russell terrier (I have a JR terror), so I decided against it - maybe later I'll pick it up because it did look good. She also pointed me to some "funny" novels about southern society set in Savannah. I might live in the south, but I am not a southerner and southern writing doesn't really appeal to me. Then she handed me a Jennifer Crusie. I recognized the name from someone recommending her to me on Twitter. It mentioned a dog so I inquired about if the dog dies (I typically avoid animal stories because they are almost always sad). She said no so I said yes to the book.
I realized when I got home that it was a Harlequin novel. It's the first one I have ever read. While it was not the trashy bodice-ripping romance I always associated with Harlequin the love scene towards the end ruined an otherwise charming, funny as can be, fluffy novel.
I laughed so hard through the book and not just at the dog antics. I loved Fred. I have a bit of a soft spot for basset hounds because they always look so morose. And animals can be downright hilarious. But I enjoyed the banter between brothers Alex and Max. I was at Chick-fil-a eating lunch when I read the part where Max is telling Alex that 40-year-old women are insecure about their bodies. Alex asked him how he knows what a 40-year-old woman thinks. Max's reply "I'm a gynecologist." The whole conversation is funny and had me literally laughing out loud (which might have drawn a few looks in my direction).
I was telling everyone how funny and good the book was. I couldn't wait to see how it ended. Did Nina get over the 10 year age difference (I totally understand her dilemma. I live in a town where most single men are 18 -24 and I am 34)? Would Alex screw up everything by trying to meet his family's expectations of adulthood thinking it would impress Nina? Then when it seems that Nina and Alex are finally getting there act together, Jennifer Crusie ruins the book from me by providing a detailed account of their bedroom activities. Why must everything have sex in it? I am not prude enough to think that sex should never be mentioned in a book, but I don't want to be in bed with Nina and Alex.
Seriously, I think that is one of the reasons I dislike the romance genre so much. If I want a clean novel it seems that I must read a young adult novel or Christian fiction. In YA, I get silly romance that does not touch on the relationship difficulties that I experience as a 30 something and Christian fiction is so ideal that it leaves me disgusted with my own life. Why do authors of adult fiction feel the need to provide descriptive sex? Or maybe the question should be why do readers feel the need to read descriptive sex? Are there any books out there that don't have descriptive sex, but still deals with the real struggles of finding a date in a funny and upbeat manner?
Up to the sex scene, I would have read another book by Jennifer Crusie as I found Anyone but You to be truly humorous. But the ending upset me and if that is what her other books are like then I might just pass.
Buy Anyone but You at Amazon