by MK French
This is a collection of six short stories curated by horror editors.
Amazon affiliate links are used on this site. A free book was provided for an honest review.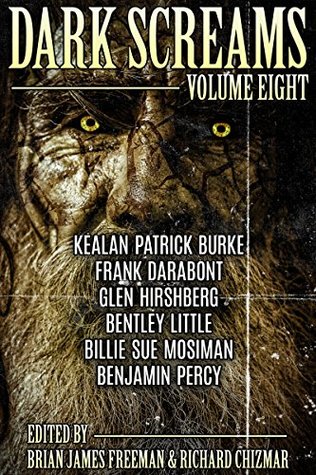 October 2017; Hydra; ebook (153 pages)
short stories, horror
"Walpulski's Typewriter" opens this collection, and it's every writer's nightmare: a deal with a demon to write bestsellers, which backfires spectacularly.
"The Boy" is creepy in an entirely different way. Instead of being dark and bloody and broody, this story takes place in a pristine suburban community, with a clique of stereotypical PTA moms who feel that there is one particular boy that drags down the perfection of the neighborhood. The action is sudden, and the horror is in the subtle way the story ends.
"Tumor" and "India Blue" both have elements of gory horror stories, but neither of them left me particularly horrified or disturbed. I think it's because there's a distance between the characters and the horror parts so that it's almost too far removed from the reader's awareness. I don't feel invested in any of the characters or events in those two stories.
"Twisted and Gnarled" is one that drew me in out of morbid fascination, as it chronicles a serial killer as he leaves bodies along the California coast. This is more of a suspense story as it goes on, and I enjoyed the climactic fight scene.
"The Palaver" is a nested story-within-a-story tale, which doesn't quite work as well for me. I actually enjoy the embedded story more than the framing one, though it's set up in such a way that the reader knows the events in the embedded story are meant to happen again.
I raced through the stories in this collection and found it an easy, quick read and in keeping with the Halloween spirit.
Buy Dark Screams Volume 8 at Amazon
Born and raised in New York City, M.K. French started writing stories when very young, dreaming of different worlds and places to visit. She always had an interest in folklore, fairy tales, and the macabre, which has definitely influenced her work. She currently lives in the Midwest with her husband, three young children, and golden retriever.
Get even more book news in your inbox, sign up today! Girl Who Reads is an Amazon advertising affiliate; a small commission is earned when purchases are made at Amazon using any Amazon links on this site. Thank you for supporting Girl Who Reads.