We are in the month of everything pumpkin spice and nothing goes better with those awesome treats than awesome new books. There are so many great books coming out this month. October 4 looks to be the hot date for new releases. Are any of your favorite authors releasing new books this month? We'll be featuring more new releases this week. so keep your wish lists handy.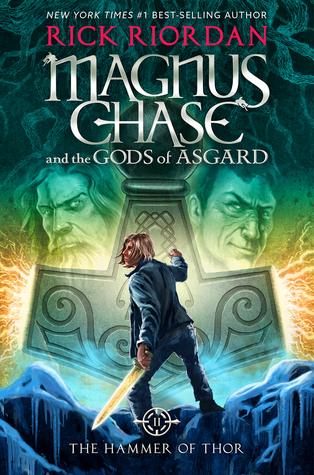 Thor's hammer is missing again. The thunder god has a disturbing habit of misplacing his weapon--the mightiest force in the Nine Worlds. But this time the hammer isn't just lost, it has fallen into enemy hands. If Magnus Chase and his friends can't retrieve the hammer quickly, the mortal worlds will be defenseless against an onslaught of giants. Ragnarok will begin. The Nine Worlds will burn. Unfortunately, the only person who can broker a deal for the hammer's return is the gods' worst enemy, Loki--and the price he wants is very high.
Available October 4
Buy The Hammer of Thor at Amazon
Antoinette Conway, the tough, abrasive detective from The Secret Place, is still on the Murder squad, but only just. She's partnered up with Stephen Moran now, and that's going well - but the rest of her working life isn't. Antoinette doesn't play well with others, and there's a vicious running campaign in the squad to get rid of her. She and Stephen pull a case that at first looks like a slam-dunk lovers' tiff, but gradually they realise there's more going on: someone on their own squad is trying to push them towards the obvious solution, away from nagging questions. They have to work out whether this is just an escalation in the drive to get rid of her - or whether there's something deeper and darker going on.
Available October 4
Gather under the mistletoe for one last round of caroling with the Quinn family in this heartwarming conclusion to Elin Hilderbrand's bestselling Winter Street Trilogy.
Some of the stormy weather of the past few seasons seems to have finally lifted for the Quinns. After a year apart, and an ill-fated affair with the Winter Street Inn's old Santa Claus, Mitzi has returned to rule the roost; Patrick is about to be released from prison; Kevin has a successful new business and is finally ready to tie the knot with Isabelle; and best of all, there's hopeful news about Bart, who has been captured by enemy forces in Afghanistan.
That doesn't mean there aren't a few dark clouds on the horizon. Kelley has recently survived a health scare; Jennifer can't quite shake her addiction to the drugs she used as a crutch while Patrick was in jail; and Ava still can't decide between the two lovers that she's been juggling with limited success. However, if there's one holiday that brings the Quinn family together to give thanks for the good times, it's Christmas. And this year promises to be a celebration unlike any other as the Quinns prepare to host Kevin and Isabelle's wedding at the inn. But as the special day approaches, a historic once-in-a-century blizzard bears down on Nantucket, threatening to keep the Quinns away from the place--and the people--they love most. Before the snow clears, the Quinns will have to survive enough upheavals to send anyone running for the spiked eggnog, in this touching novel that proves that when the holidays roll around, you can always go home again.
Available October 4
Set in the early 1970s against the specter of the Manson girls, when the peace and love movement begins to turn ugly, this is the story of a runaway teenager's disappearance and her sister's quest to discover the truth.
Caroline Leavitt is at her mesmerizing best in this haunting, nuanced portrait of love, sisters, and the impossible legacy of family.
It's 1969, and sixteen-year-old Lucy is about to run away with a much older man to live off the grid in rural Pennsylvania, a rash act that will have vicious repercussions for both her and her older sister, Charlotte. As Lucy's default caretaker for most of their lives, Charlotte's youth has been marked by the burden of responsibility, but never more so than when Lucy's dream of a rural paradise turns into nightmare.
With gorgeous prose and indelible characters,
Cruel Beautiful World
examines the intricate, infinitesimal distance between seduction and love, loyalty and duty, and what happens when you're responsible for things you can't fix.
Available October 4
Buy Cruel Beautiful World at Amazon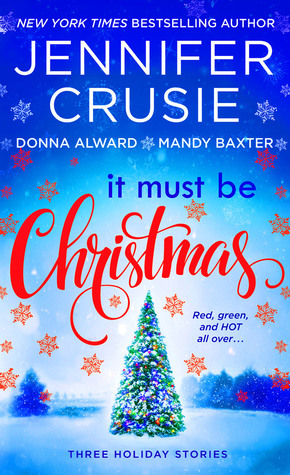 It's the most wonderful time of the year, when love is in the cold and frosty air—and desire reaches the boiling point. . .
Hot Toy
From New York Times bestselling author Jennifer Crusie comes a hilarious, sexy story about a determined shopper who grabs the last action figure off the shelf, only to find herself plunged into the arms of a sexy secret agent. Mayhem under the mistletoe ensues. Business as usual this Christmas season…right?
Christmas with the Billionaire Rancher
Nate wants to stay away from all the women who want his money in Mandy Baxter's story set deep in the heart of Texas. But when gorgeous do-gooder Chloe Benson comes knocking at his door—in search of funds for her charity—Nate can't ignore the passion he feels for her. Maybe love is priceless after all?
Christmas at Seashell Cottage
'Tis the season in Jewell Cove when local doctor Charlie Yang finds her quiet, steady life disrupted by both an abandoned baby in the nativity manger and ex-SEAL Dave Ricker. Are these turn of events too good to be true? Or is Christmas working its magic—for real— Donna Alward's heartwarming holiday story?
Available October 4
Buy It Must Be Christmas at Amazon
Return to the American Revolution in this blistering conclusion to the trilogy that began with the bestselling National Book Award Finalist Chains and continued with Forge, which The New York Times called "a return not only to the colonial era but to historical accuracy."
Return to the American Revolution in this blistering conclusion to the trilogy that began with the bestselling National Book Award Finalist Chains and continued with Forge, which The New York Times called "a return not only to the colonial era but to historical accuracy."
As the Revolutionary War rages on, Isabel and Curzon have narrowly escaped Valley Forge—but their relief is short-lived. Before long they are reported as runaways, and the awful Bellingham is determined to track them down. With purpose and faith, Isabel and Curzon march on, fiercely determined to find Isabel's little sister Ruth, who is enslaved in a Southern state—where bounty hunters are thick as flies.
Heroism and heartbreak pave their path, but Isabel and Curzon won't stop until they reach Ruth, and then freedom, in this grand finale to the acclaimed Seeds of America trilogy from Laurie Halse Anderson.
Available October 4
Continuing in a festive annual tradition, #1 New York Times bestselling author Debbie Macomber returns with a new original holiday novel full of romance and cheer—and the magical prospect of finding love in the most unexpected places.
Friendly and bubbly, Julia Padden likes nearly everyone, but her standoffish neighbor, Cain Maddox, presents a particular challenge. No matter how hard she's tried to be nice, Cain rudely rebuffs her at every turn, preferring to keep to himself. But when Julia catches Cain stealing her newspaper from the lobby of their apartment building, that's the last straw. She's going to break through Cain's Scrooge-like exterior the only way she knows how: by killing him with kindness.
To track her progress, Julia starts a blog called The Twelve Days of Christmas. Her first attempts to humanize Cain are far from successful. Julia brings him homemade Christmas treats and the disagreeable grinch won't even accept them. Meanwhile, Julie's blog becomes an online sensation, as an astonishing number of people start following her adventures. Julia continues to find ways to express kindness and, little by little, chips away at Cain's gruff façade to reveal the caring man underneath. Unbelievably, Julia feels herself falling for Cain—and she suspects that he may be falling for her as well. But as the popularity of her blog continues to grow, Julia must decide if telling Cain the truth about having chronicled their relationship to the rest of the world is worth risking their chance at love.
Available October 4
Buy Twelve Days of Christmas at Amazon
When the elderly mother of Wyoming police chief John Graham goes missing, he travels to Chicago and pairs up with a savvy female cop to investigate. They discover her disappearance is no accident, and a race against the clock begins.
Available October 4
Zoe Dawson returns to Laurel Falls, Montana, where big sky meets true love in Maybe Tomorrow, as a jaded New Yorker and a small-town mayor teach each other that the good things in life are meant to be savored.
After growing up dirt poor, Greg Chambers relishes his job as the CEO of a high-powered marketing agency. He couldn't imagine leaving New York for Laurel Falls, a town so rundown he can practically see the tumbleweeds. But while there to spearhead a new tourism campaign, Greg admits that there's one bright spot: the widowed mayor whose fighting spirit and exquisite good looks have him struggling to keep things professional.
Trinity Gill is doing everything in her power to revitalize her dazzling but declining town—even while mourning her husband and trying to keep her family together. The last thing she needs is a distraction like Greg, a fast-talking city slicker who works hard and plays harder. So why does her body long for his touch? And why can't she get his open smile and gleaming eyes off her mind?
Greg has been running on empty for years, but when he finally takes the time to smell the roses, he makes a startling realization: He can be the one to heal Trinity's wounded heart. And if Trinity would face her deepest fears, maybe tomorrow could be the start of a whole new beginning—together.
Available October 11
Buy Maybe Tomorrow at Amazon
From New York Times bestselling author Meg Cabot comes the sweetly humorous story of a man who has to face his past in order to find his future.
Sometimes to move forward, you have to go back…
One post. That's all it took to destroy the care free, glamorous life of pro golfer Reed Stewart. One tiny post on the Internet.
Then again, it's not like Reed's been winning many tournaments lately, and his uncle isn't the only one who says it's because of the unfinished business he left behind back home in Bloomville, Indiana—namely Reed's father, the Honorable Judge Richard P. Stewart, and the only girl Reed ever loved, Becky Flowers.
But Reed hasn't spoken to either his father or Becky in over a decade.
Until that post on the Internet. Suddenly, Reed's family has become a national laughingstock, his publicist won't stop calling, his siblings are begging for help, and Reed realizes he has no other choice: He's got to go home to face his past . . . the Judge and the girl he left behind.
Becky's worked hard to build her successful senior relocation business, but she's worked even harder to forget Reed Stewart ever existed—which hasn't been easy, considering he's their hometown's golden boy, and all anyone ever talks about. It was fine while they were thousands of miles apart, but now he's back in Bloomville. She has absolutely no intention of seeing him—until his family hires her to help save his parents.
Now Reed and Becky can't avoid one another…or the memories of that one fateful night.
Can the quirky residents of Bloomville bring these two young people back together, or will Reed and Becky continue to allow their pasts to deny them the future they deserve?
This warm, thought-provoking book, told entirely in texts, emails, and journal entries, is as much about the enduring bond of families as it is about second chances at love, and will delight as much as it entertains.
Available October 18
Kit Foster thought a week in the woods would be the perfect way to recover from the family scandal that shattered her world. No reporters, no gossip and no drama. Then a helicopter dumps an injured man in her path.
Mick Harris is having a bad day. It was bad enough that he botched an op, but then he awakes beaten and left for dead in the middle of a forest. He is lucky to be alive, but now he is at the mercy of Kit- the only person who knows the route home.
During the time it takes to hike back to civilization, Kit and Mick become friends and explore their growing attraction. While the way out is hampered by bad memories and an assassin, they manage to grow close enough to attempt a real relationship.
However, that bliss is short-lived when Mick's job again threatens Kit's life and destroys their happiness. Can a second chance bring them back together?
Available October 18
Get even more book news in your inbox by signing up for our newsletter: http://eepurl.com/mHTVL. Girl Who Reads is an Amazon advertising affiliate; a small commission is earned when purchases are made at Amazon using any Amazon links on this site. Thank you for supporting Girl Who Reads.