by Susan Roberts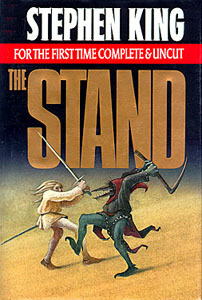 This is the way the world ends: with a nanosecond of computer error in a Defense Department laboratory and a million casual contacts that form the links in a chain letter of death. And here is the bleak new world of the day after: a world stripped of its institutions and emptied of 99 percent of its people. A world in which a handful of panicky survivors choose sides -- or are chosen.
When a man escapes from a biological testing facility, he sets in motion a deadly domino effect, spreading a mutated strain of the flu that will wipe out 99 percent of humanity within a few weeks. The survivors who remain are scared, bewildered, and in need of a leader. Two emerge--Mother Abagail, the benevolent 108-year-old woman who urges them to build a community in Boulder, Colorado; and Randall Flagg, the nefarious "Dark Man" who delights in chaos and violence.
The Stand
by Stephen King is one of the top
100 Best Loved Books
on the new PBS Series American Reads.
Have you read it?  Do you agree that it should be one of the top American books?