We are continuing our Summer of Swag Giveaways this week with some goodies from
Lev Grossman
's Magicians Trilogy. (There's still a little time left in
last week's giveaway
to win Diana's commonplace book from
Shadow of Night
by Deborah Harkness).
This summer, Viking is thrilled to release
THE MAGICIAN'S LAND
, the spectacular conclusion to Lev Grossman's New York Times bestselling Magicians trilogy (On-sale: August 5, 2014; 978-0-670-01567-2; $27.95).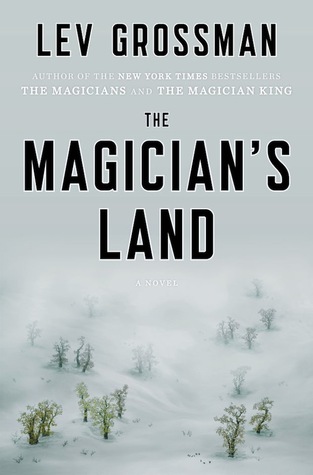 The trilogy opened with The Magicians which Junot Díaz called, "Stirring, complex, adventurous…[a] superb coming of age fantasy." NPR called the sequel The Magician King "a spellbinding stereograph, a literary adventure novel that is also about privilege, power and the limits of being human." Legions of fans now await The Magician's Land, a novel full of the subversive brilliance that has put Grossman at the forefront of modern fantasy, which will bring the Magicians trilogy to a shattering, triumphant conclusion.
Familiar faces return alongside new characters in
The Magician's Land
. After being booted unceremoniously from
Fillory
, Quentin Coldwater returns to his alma mater, Brakebills Preparatory College of Magic, to stake out a new life as a teacher. But the past catches up to him, and before long, he and the brilliant student Plum must set out on a black market adventure, taking him to old haunts, like Antarctica, and to buried secrets and old friends he thought were lost forever. Quentin discovers a spell that could create a magical utopia, a new Fillory—but casting it would set in motion a chain of events that will bring Earth and Fillory crashing together. To save them, he must risk sacrificing everything.
The Magician's Land
is a tale of love and redemption—the story of a boy becoming a man, an apprentice becoming a master, and a broken land finally becoming whole. Old readers will devour the rich and riveting final book, and the completed arc will welcome newcomers who can binge-read the series in full. You can learn more about Lev Grossman on his website
www.levgrossman.com
and follow him on Twitter
@leverus
.
Pre-order The Magician's Land at Amazon
a Rafflecopter giveaway
Girl Who Reads is an Amazon advertising affiliate; a small fee is earned when purchases are at Amazon through the link above. Giveaway is sponsored by the publisher.