The unforgettable story of Grant and Harlow from Take a Chance continues in this brand-new novel in the Rosemary Beach series from #1 New York Times bestselling author Abbi Glines.
She was it. His one. His only. Then he made the mistake of letting her go.
After fighting his way into Harlow Manning's heart and revealing a side of himself no one had ever seen before—Grant Carter destroyed his own heart by giving in to his greatest fears and doubts. Months later, he's stuck in a miserable routine. Work relentlessly. Beg his best friend Rush for news about Harlow. Avoid all other friends. Leave nightly voicemails for Harlow, pleading with her to come back to Rosemary Beach. Fall asleep alone. Repeat.
Miles away, on her brother's Texas ranch, Harlow can't bring herself to listen to Grant's voicemails. Though she wants to be with him, and knows he regrets letting her go, she doesn't know if she can trust him. When he discovered the truth behind her sheltered upbringing, it shattered their relationship, but the secret she carries now has far greater consequences. Can she risk giving Grant one more chance, or will the gamble ultimately destroy her?
Available September 2
When former national baseball star Tyler Ames suffers a career-ending injury, all he can think about is putting his life back together the way it was before. He has lost everyone he loves on his way to the big leagues. Then just when things seem to be turning around, Tyler hits rock bottom. Across the country, Tyler's one true love Sami Dawson has moved on.
A series of small miracles leads Tyler to a maintenance job at a retirement home and a friendship with Virginia Hutcheson, an old woman with Alzheimer's who strangely might have the answers he so desperately seeks.
A team of Angels Walking take on the mission to restore hope for Tyler, Sami, and Virginia. Can such small and seemingly insignificant actions of the unseen bring healing and redemption? And can the words of a stranger rekindle lost love? Every journey begins with a step.
It is time for the mission to begin…
Available September 2
Archie Morningstar's dad drives a taxi through outer space! And with the help of a talking cat named Pockets, Archie and his dad help fight crime across the universe.
In the second book in this series, Archie, his dad, and Pockets fly to a planet in peril: someone is stealing the water from this underwater world! Can Archie and Pockets save the day?
Available September 9
Buy Space Taxi: Water Planet Rescue at Amazon
Ackerman is justly celebrated for her unique insight into the natural world and our place in it. In this landmark book, she confronts the unprecedented reality that one prodigiously intelligent and meddlesome creature, Homo sapiens, is now the dominant force shaping the future of planet Earth. Humans have "subdued 75 percent of the land surface, concocted a wizardry of industrial and medical marvels, strung lights all across the darkness." We tinker with nature at every opportunity; we garden the planet with our preferred species of plants and animals, many of them invasive; and we have even altered the climate, threatening our own extinction. Yet we reckon with our own destructive capabilities in extraordinary acts of hope-filled creativity: we collect the DNA of vanishing species in a "frozen ark," equip orangutans with iPads, and create wearable technologies and synthetic species that might one day outsmart us. With her distinctive gift for making scientific discovery intelligible to the layperson, Ackerman takes us on an exhilarating journey through our new reality, introducing us to many of the people and ideas now creating perhaps saving our future and that of our fellow creatures.
Available September 10
Christmastime is here, and justice is the gift that keeps on giving for the Sisterhood and their menfolk in the third part of an exhilarating series by #1 New York Times bestselling author Fern Michaels.
Victory is sweet, but for the Sisterhood and their allies, it's also short-lived. Now that they've convinced some coldblooded slum landlords to pay very dearly for their crimes, they're ready for another mission. While Jack Emery prepares a Christmas feast at his house, the gang gathers to provide one of their own with a yuletide miracle.
Nikki, Jack's significant other, has been handling class-action lawsuits filed by victims of Andover Pharmaceuticals. A new leukemia drug was supposed to save children's lives. Instead, it destroyed them. Andover is fighting the suit with all its wealth and influence, and Nikki is losing hope. It's time for Jack and his crew to give Andover a taste of its own medicine—and show them that messing with the Sisterhood's other half has all kinds of unpleasant side effects…
Available September 16
Darcy burned with the pain of knowing she'd failed. What happened when a prophecy didn't come true? It must not have been much of a prophecy in the first place. And if they couldn't trust in that, then they couldn't trust in anything at all.
Five years ago, Darcy first received the prophecy of the Six, which stated she and her friends would save the land of Alitheia from a shadowy foe. For five years, she hasn't known what the end will look like, but she certainly didn't expect this.
Thrust back into Alitheia through unexpected means, Darcy winds up alone, scared, and without her recent memory. As she struggles to regain her lost memories and reunite with the ones she loves, she pieces together the prophecies and the oracles to find they all converge into one story—a story that tells her just how much she'll have to give to save both worlds, and everyone she loves.
Available September 18
Buy The Bone Whistle at Amazon
Becky Brandon (née Bloomwood) has stars in her eyes. She and her daughter, Minnie, have joined husband Luke in LA—city of herbal smoothies, multimillion-dollar yoga retreats, and the lure of celebrity. Luke is there to help manage the career of famous actress Sage Seymour—and Becky is convinced she is destined to be Sage's personal stylist, and go from there to every A-list celebrity in Hollywood! But things become complicated when Becky joins the team of Sage's archrival. How will charming and supportive Luke deal with this conflict? Is it possible that what Becky wants most will end up hurting those she loves most? Shopaholic fans old and new will devour Sophie Kinsella's newest adventure!
Available September 25
Buy Shopaholic to the Stars at Amazon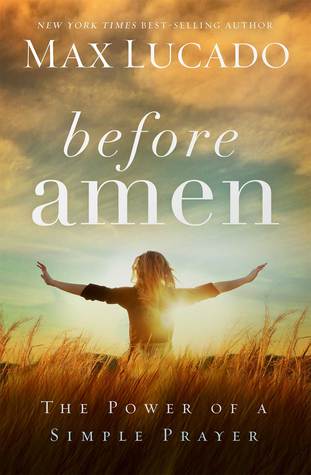 We all pray . . . some.
We pray to stay sober, centered, or solvent. When the lump is deemed malignant. When the money runs out before the month does. When the marriage is falling apart. We pray.
But wouldn't we like to pray more? Better? Stronger? With more fire, faith, and fervency?
Yet we have kids to feed, bills to pay, deadlines to meet. The calendar pounces on our good intentions like a tiger on a rabbit. And what about our checkered history with prayer? Uncertain words. Unmet expectations. Unanswered requests.
We aren't the first to struggle with prayer. The first followers of Jesus needed prayer guidance too. In fact, prayer is the only tutorial they ever requested.
And Jesus gave them a prayer. Not a lecture on prayer. Not the doctrine of prayer. He gave them a quotable, repeatable, portable prayer. Couldn't we use the same?
In "Before Amen" best-selling author Max Lucado joins readers on a journey to the very heart of biblical prayer, offering hope for doubts and confidence even for prayer wimps. Distilling prayers in the Bible down to one pocket-sized prayer, Max reminds readers that prayer is not a privilege for the pious nor the art of a chosen few. Prayer is simply a heartfelt conversation between God and his child. Let the conversation begin.
Available September 30
Past, present, and future collide to throw respected forensic anthropologist Bill Brockton's successful, secure life into devastating turmoil in this poignant novel in the New York Times bestselling Body Farm mystery series
"The Real Deal." —Kathy Reichs
It's been ten years since Dr. Bill Brockton created the Body Farm—the world's first postmortem research facility dedicated to advancing the frontiers of forensic science—and the researcher is at the pinnacle of his career. Under his leadership, the University of Tennessee's forensic anthropology program has become the most prominent in the world, and Brockton's skills and knowledge are in high demand among top law enforcement. Calling him in for a number of high profile cases, the FBI now wants him to identify the charred remains of a maverick millionaire, killed in a fiery plane crash.
But a storm is about to hit Brockton with cataclysmic force. First, his identification of the crash victim is called into question. Then he receives a threatening message from the serial killer who attempted to murder the scientist and his family a decade ago. And from Brockton's beloved wife Kathleen—his lodestone and his source of security—he gets the most shocking news of all. Will Brockton be able to weather this deluge . . . or has he finally reached the breaking point?
Available September 30
Buy The Breaking Point at Amazon
Tessa Haines never imagined she'd be a single mom at the age of twenty-two. Jilted at the altar by her college boyfriend; she had no choice but to drop her dreams of a career in the theater for a more lucrative job in finance. Between working overtime for her unappreciative and over-demanding boss and taking care of her daughter, Tessa had no time for a social life. Nor was she anxious to have one. Men couldn't be trusted. Period. But when Todd Mitchell, the handsome assistant of one of her wealthy clients comes to her office, she begins to have second thoughts. Is it safe to let Todd into her heart, or will her heart and wishes be broken once again?
Available September 30
Girl Who Reads is an Amazon advertising affiliate; a small fee is earned when purchases are made through the above links. Covers and descriptions are from Goodreads.com. Dates are subject to change.