Students will be heading back to classes soon and that means book reports! Help your student start off the school on the right foot by picking up these popular young adult books. Do you agree with this list or do you think a great young adult book was left off?
What if the person you were falling for was a total mystery?
While Lily is spacing out in Chemistry one day, she picks up her pencil and scribbles a line from one of her favorite songs on the desk. The next day, someone else has written back to her on the desk! Soon enough Lily and the mystery student are exchanging notes, and lyrics, and even sharing secrets. When Lily finds out that her anonymous pen pal is a guy, she's flustered -- and kind of feels like she's falling for him. She and her best friend set out to unravel the identity of the letter writer -- but when the truth is revealed, the guy is the LAST person Lily could have ever imagined it to be. Now that Lily knows the truth, can she untangle her feelings and gather the courage to listen to her heart?
From beloved author Kasie West (The Distance Between Us) comes an utterly charming story about mixed messages, missed connections, and the magic of good old-fashioned secret admirer notes.
Brimming with humor and one-of-a-kind characters, this end-of-the world novel will grab hold of Andrew Smith and Rainbow Rowell fans.
An asteroid is hurtling toward Earth. A big, bad one. Yuri, a physicist prodigy from Russia, has been called to NASA as they calculate a plan to avoid disaster. He knows how to stop the asteroid: his research in antimatter will probably win him a Nobel prize--if there's ever another Nobel prize awarded. But Yuri's 17, and having a hard time making older, stodgy physicists listen to him. Then he meets Dovie, who lives like a normal teenager, oblivious to the impending doom. Being with her, on the adventures she plans when he's not at NASA, Yuri catches a glimpse of what it means to save the world and save a life worth living.
Prepare to laugh, cry, cringe, and have your mind burst open with questions of the universe.
Buy Learning to Swear in America at Amazon
It's the Salem Witch Hunt meets Mean Girls in this deliciously suspenseful novel by an author who is a descendant of one the real trial's most infamous accusers.
Samantha Mather has just moved to Salem, Massachusetts from New York City in the wake of her father's mysterious illness. But Mathers have lived in Salem for centuries and Sam is the ancestor of Cotton Mather—one of the architects of the Salem Witch Trials. Her name precedes her, and comes with too many stigmas. Before long, Sam finds herself at odds with The Descendants, a powerful group of girls who also have ties to the trials; only their ancestors were on the other end of the noose.
Before long, Sam realizes she is at the center of a centuries old curse that is tying her fate, as well as her father's, to her new enemies. Can she overcome her family's past and break the cycle of unexplained deaths or will she discover just how easy it can be to hang a witch?
Buy How to Hang a Witch at Amazon
They tell me that my memory will never be the same, that I'll start forgetting things. At first just a little, and then a lot. So I'm writing to remember.
Sammie was always a girl with a plan: graduate at the top of her class and get out of her small town as soon as humanly possible. Nothing will stand in her way--not even a rare genetic disorder the doctors say will slowly start to steal her memories and then her health. What she needs is a new plan.
So the Memory Book is born: Sammie's notes to her future self, a document of moments great and small. It's where she'll record every perfect detail of her first date with longtime crush, Stuart--a brilliant young writer who is home for the summer. And where she'll admit how much she's missed her childhood best friend, Cooper, and even take some of the blame for the fight that ended their friendship.
Through a mix of heartfelt journal entries, mementos, and guest posts from friends and family, readers will fall in love with Sammie, a brave and remarkable girl who learns to live and love life fully, even though it's not the life she planned.
Seventeen-year-old Nina Barrows knows all about the Thief. She's intimately familiar with his hunting methods: how he stalks and kills at random, how he disposes of his victims' bodies in an abandoned mine in the deepest, most desolate part of a desert.
Now, for the first time, Nina has the chance to do something about the serial killer that no one else knows exists. With the help of her former best friend, Warren, she tracks the Thief two thousand miles, to his home turf—the deserts of New Mexico.
But the man she meets there seems nothing like the brutal sociopath with whom she's had a disturbing connection her whole life. To anyone else, Dylan Shadwell is exactly what he appears to be: a young veteran committed to his girlfriend and her young daughter. As Nina spends more time with him, she begins to doubt the truth she once held as certain: Dylan Shadwell is the Thief. She even starts to wonder . . . what if there is no Thief?
Buy The Killer in Me at Amazon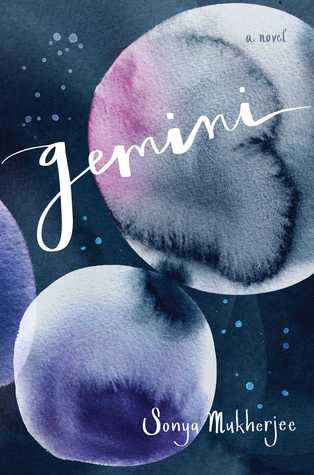 In a powerful and daring debut novel, Sonya Mukherjee shares the story of sisters Clara and Hailey, conjoined twins who are learning what it means to be truly extraordinary.
Seventeen-year-old conjoined twins Clara and Hailey have lived in the same small town their entire lives—no one stares at them anymore. But there are cracks in their quiet existence, and they're slowly becoming more apparent. Clara and Hailey are at a crossroads. Clara wants to stay close to home, avoid all attention, and study the night sky. Hailey wants to travel the world, learn from great artists, and dance with mysterious boys. As high school graduation approaches, each twin must untangle her dreams from her sister's, and figure out what it means to be her own person.
Told in alternating perspectives, this unconventional coming-of-age tale shows how dreams can break your heart—but the love between sisters can mend it.
What young adult novel have you read this month that you think should have made this list?
Get even more book news in your inbox by signing up for our newsletter: http://eepurl.com/mHTVL. Girl Who Reads is an Amazon advertising affiliate; a small commission is earned when purchases are made at Amazon using any Amazon links on this site. Thank you for supporting Girl Who Reads.