The Discover Indies Book Club has chosen its May read:
The Brown House
by Christy Sloat. This young adult paranormal thriller has 96 five star reviews at Amazon. Will you join us in reading and discussing
The Brown House?
The Discover Indies Book Club is a virtual book club that meets on Facebook:
JOIN HERE
.
We will discuss
The Brown House
May 18 - May 22.
About the Book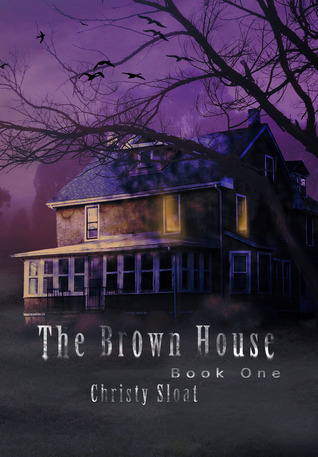 Some secrets should never be revealed... Brylee Branson begrudgingly made the excruciating move with her family from the warm sandy beaches of California to small town living in New Jersey. As if she wasn't miserable enough, they've moved into a creepy old house that everyone in the area claims is haunted. Brylee dismisses the idea of ghosts and hauntings, until she begins to see and hear things that can't be explained... Brylee has no choice but to seek the help of new friends to unlock the secrets of this place she now calls home. But some secrets should never be revealed. Can the teens find a way to release the spirits imprisoned within the walls? Or will the curse claim them, too?
READ A SAMPLE BELOW
About the Author
Christy Sloat is a SoCal born girl who resides in New Jersey currently with her husband, two daughters and Sophie her Chihuahua. Christy has embraced the love of reading and writing since her youth and was inspired by her grandmother's loving support. Christy passes that love of reading, writing, and creativity to her daughters, family, and friends. When you do not find Christy within the pages of a book you can find her being mommy, wife, crafter, and dear friend. She loves adventurous journeys with her friends and can be known to get lost inside a bookstore. Be sure to venture into her Past Lives Series, The Visitor's Series, and watch for many more exciting things to come.




Facebook
*
Twitter
*
Goodreads
*
website
Read a Sample
SIGNED paperbacks are available for order (US residents only). The book is $12 plus s&h. Contact Donna to order a paperback - donna (at) girl-who-reads.com. If you prefer ebooks or reside outside the US, The Brown House is available at Amazon (links to all Amazon stores)
Girl Who Reads is an Amazon advertising affiliate; a small commission is earned when purchases are made at Amazon through the above link. Thank you for supporting this blog.
Donna, as an independent BookSurf representative, will also earn a small commission on any paperbacks ordered.