by Susan Roberts
Mary Alice Monroe is a best selling author who writes environmental fiction about my favorite place, the South Carolina sea coast. She weaves the beautiful SC settings with wonderful characters and also imparts her feelings about the wildlife of the area - the sea turtles, dolphins and monarch butterflies. Her readers are rewarded with not only beautiful stories but also lessons on the environment. She has written many great Southern fiction novels and her latest is a series called Low County Summer.
The Summer Girls
(Lowcountry Summer #1)
This is a fantastic beach read -- it made me want to pack up and take a trip to the beach. Mary Alice Monroe has been a writer of excellent Southern fiction for years and this book puts her at the top of her game. Its the first book of a trilogy about three half- sisters and their grandmothers's goal to bring them closer to each other. They all spent summers together at the beach but have become estranged and live totally different lives. The grandmother insists that they all need to spend the summer at the beach together or be taken out of her will. I really enjoyed Carson's story and can't wait to read about the other sisters. Carson is the first of the sisters to return to the beach. She has lost her job in California and is drifting - she doesn't know what to do but she knows that she needs to re-connect with her childhood home in SC.
Buy The Summer Girls at Amazon
The Summer Wind
(Lowcountry Summer #2)
This is the second book in Mary Alice Monroe's Summer Girls series. The series is about three half sisters who visit their grandmother on Sullivan's Island in South Carolina. She has let them know if they don't spend this last summer with her, they will all be cut out of her will. So they all reluctantly make plans to spend the summer in the SC lowcountry. As usual with this author, her description of the area is beautiful, you can almost smell the salt air while you are reading the book. This book concentrates mostly on Dora who, despite trying to live her life as a proper Southern lady, is in the midst of a divorce. She has an autistic son and is struggling to find herself again after a difficult marriage. The book is about family dynamics between the three very different sisters and it's about love and trust. It's a perfect beach read and and I am anxious for book three in the series so that I can read everyone's happily every after ending.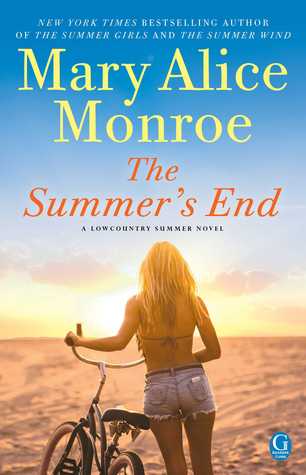 The Summer's End
(Lowcountry Summer #3)
Reading the third book in the Low Country Summer trilogy was like sitting down with old friends to catch up on what was going on in their lives. The characters had been so well drawn in the first books, that I felt like I knew them personally.Book 1 -
The Summer Girls
was Carson's story, Book 2 -
The Summer Wind
was Dora's story and the final book in the trilogy was Harper's story. The three half sisters were all pulled together by their paternal grandmother Mamaw who owned Sea Breeze house on Sullivan's Island where they are spending the summer before she sells the house to move into a nursing home. In this final book of the trilogy, we see Harper get out from under the thumb of her demanding mother and learn to be an independent and loving woman. Its a fantastic book and would be a great book to read at the beach because you can almost hear the ocean in the background as you read it. This book wraps up almost all of the loose ends of the novel but it would be so wonderful to meet these old friends again in another book.
Buy The Summer's End at Amazon
A Lowcountry Wedding
(Lowcountry Summer #4)
This is book 4 in Mary Alice Monroe's Low Country Summer series. The series needs to be read in order because there are lots of references to the previous books.
Once again we are back on Sullivan's Island SC with the Muir family at Sea Breeze while Harper and Carson plan their weddings. Their planning is helped by Dora, their grandmother and Harper's grandmother from England. If planning two weddings a day apart - one on the beach and one at a plantation - isn't stressful enough, there is a surprise visitor who joins the family and really changes the family dynamics. And of course, there is the beautiful South Carolina low country, the ocean and Delphane, the dolphin from the earlier books. The characters are well done and very real and the scenery makes you feel like you are ready to dip your toes into the ocean.
I love Mary Alice Monroe's book and I really love this series. I'm sad that this is the end of the series and that we won't go back and spend more time with these characters that we've grown to know so well. This is a great series and I highly recommend it!
Buy A Lowcountry Wedding at Amazon
SURPRISE!!
COMING IN OCTOBER 2016
A Lowcountry Christmas
Susan Roberts, reviewer. Susan grew up in the Detroit area but after deciding that city life wasn't for her she moved to North Carolina after college. She and her husband have several acres of land and they enjoy gardening and canning vegetables in the summer. They travel extensively. Susan reads almost anything (and the piles of books in her house prove that) but her favorite genres are Southern fiction, women's fiction and thrillers. Susan is a top 1% Goodreads Reviewer. You can connect with Susan on Facebook or Twitter.
Get even more book news in your inbox by signing up for our newsletter: http://eepurl.com/mHTVL. Girl Who Reads is an Amazon advertising affiliate; a small commission is earned when purchases are made at Amazon using any Amazon links on this site. Thank you for supporting Girl Who Reads.