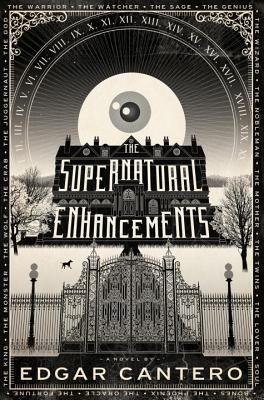 What begins as a clever, gothic ghost story soon evolves into a wickedly twisted treasure hunt in The Supernatural Enhancements, Edgar Cantero's wholly original, modern-day adventure.
When twentysomething A., the unexpected European relative of the Wells family, and his companion, Niamh, a mute teenage girl with shockingly dyed hair, inherit the beautiful but eerie estate of Axton House, deep in the woods of Point Bless, Virginia, it comes as a surprise to everyone—including A. himself. After all, he never even knew he had a "second cousin, twice removed" in America, much less that the eccentric gentleman had recently committed suicide by jumping out of the third floor bedroom window—at the same age and in the same way as his father had before him . . .
Together, A. and Niamh quickly come to feel as if they have inherited much more than just a rambling home and a cushy lifestyle. Axton House is haunted, they know it, but that's just the tip of the iceberg when it comes to the secrets they slowly but surely uncover. Why all the suicides? What became of the Axton House butler who fled shortly after his master died? What lurks in the garden maze and what does the basement vault keep? And what of the rumors in town about a mysterious gathering at Axton House on the night of the winter solstice?
Told vividly through a series of journal entries, scrawled notes, recovered security footage, letters to Aunt Liza, audio recordings, complicated ciphers, and even advertisements, Edgar Cantero has written a dazzling and original supernatural adventure featuring classic horror elements with a Neil Gaiman-ish twist.
Buy The Supernatural Enhancements at Amazon
New York Times bestselling author Hampton Sides returns with a white-knuckle tale of polar exploration and survival in the Gilded Age
In the late nineteenth century, people were obsessed by one of the last unmapped areas of the globe: the North Pole. No one knew what existed beyond the fortress of ice rimming the northern oceans, although theories abounded. The foremost cartographer in the world, a German named August Petermann, believed that warm currents sustained a verdant island at the top of the world. National glory would fall to whoever could plant his flag upon its shores.
James Gordon Bennett, the eccentric and stupendously wealthy owner of The New York Herald, had recently captured the world's attention by dispatching Stanley to Africa to find Dr. Livingstone. Now he was keen to re-create that sensation on an even more epic scale. So he funded an official U.S. naval expedition to reach the Pole, choosing as its captain a young officer named George Washington De Long, who had gained fame for a rescue operation off the coast of Greenland. De Long led a team of 32 men deep into uncharted Arctic waters, carrying the aspirations of a young country burning to become a world power. On July 8, 1879, the USS Jeannette set sail from San Francisco to cheering crowds in the grip of "Arctic Fever."
The ship sailed into uncharted seas, but soon was trapped in pack ice. Two years into the harrowing voyage, the hull was breached. Amid the rush of water and the shrieks of breaking wooden boards, the crew abandoned the ship. Less than an hour later, the Jeannette sank to the bottom,and the men found themselves marooned a thousand miles north of Siberia with only the barest supplies. Thus began their long march across the endless ice-a frozen hell in the most lonesome corner of the world. Facing everything from snow blindness and polar bears to ferocious storms and frosty labyrinths, the expedition battled madness and starvation as they desperately strove for survival.
With twists and turns worthy of a thriller, In The Kingdom of Ice is a spellbinding tale of heroism and determination in the most unforgiving territory on Earth.
Buy In the Kingdom of Ice at Amazon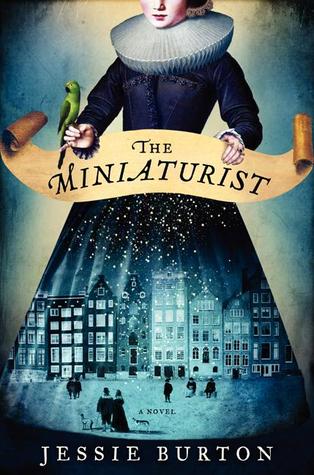 Set in seventeenth century Amsterdam-a city ruled by glittering wealth and oppressive religion-a masterful debut steeped in atmosphere and shimmering with mystery, in the tradition of Emma Donoghue, Sarah Waters, and Sarah Dunant
"There is nothing hidden that will not be revealed…"
On a brisk autumn day in 1686, eighteen-year-old Nella Oortman arrives in Amsterdam to begin a new life as the wife of illustrious merchant trader Johannes Brandt. But her new home, while splendorous, is not welcoming. Johannes is kind yet distant, always locked in his study or at his warehouse office-leaving Nella alone with his sister, the sharp-tongued and forbidding Marin.
But Nella's world changes when Johannes presents her with an extraordinary wedding gift: a cabinet-sized replica of their home. To furnish her gift, Nella engages the services of a miniaturist-an elusive and enigmatic artist whose tiny creations mirror their real-life counterparts in eerie and unexpected ways . . .
Johannes' gift helps Nella to pierce the closed world of the Brandt household. But as she uncovers its unusual secrets, she begins to understand-and fear-the escalating dangers that await them all. In this repressively pious society where gold is worshipped second only to God, to be different is a threat to the moral fabric of society, and not even a man as rich as Johannes is safe. Only one person seems to see the fate that awaits them. Is the miniaturist the key to their salvation . . . or the architect of their destruction?
Enchanting, beautiful, and exquisitely suspenseful, The Miniaturist is a magnificent story of love and obsession, betrayal and retribution, appearance and truth.
A delicious memoir from the author of The Sharper Your Knife, the Less You Cry
In this family history interwoven with recipes, Kathleen Flinn returns readers to the mix of food and memoir beloved by readers of her bestselling The Sharper Your Knife, the Less You Cry. Burnt Toast Makes You Sing Good explores the very beginnings of her love affair with food and its connection to home. It is the story of her midwestern childhood, its memorable home cooks, and the delicious recipes she grew up with. Flinn shares tales of her parents' pizza parlor in San Francisco, where they sold Uncle Clarence's popular oven-fried chicken, as well as recipes for the vats of chili made by her former army cook Grandpa Charles, fluffy Swedish pancakes from Grandma Inez, and cinnamon rolls for birthday breakfasts. Through these dishes, Flinn came to understand how meals can be memories, and how cooking can be a form of communication. Brimming with warmth and wit, this book is sure to appeal to Flinn's many fans as well as readers of Marcus Samuelsson, Ruth Reichl, and Julie Powell.
Buy Burnt Toast Makes You Sing Good at Amazon
Born in 1941, Eileen Tumulty is raised by her Irish immigrant parents in Woodside, Queens, in an apartment where the mood swings between heartbreak and hilarity, depending on whether guests are over and how much alcohol has been consumed.
When Eileen meets Ed Leary, a scientist whose bearing is nothing like those of the men she grew up with, she thinks she's found the perfect partner to deliver her to the cosmopolitan world she longs to inhabit. They marry, and Eileen quickly discovers Ed doesn't aspire to the same, ever bigger, stakes in the American Dream.
Eileen encourages her husband to want more: a better job, better friends, a better house, but as years pass it becomes clear that his growing reluctance is part of a deeper psychological shift. An inescapable darkness enters their lives, and Eileen and Ed and their son Connell try desperately to hold together a semblance of the reality they have known, and to preserve, against long odds, an idea they have cherished of the future.
Through the Learys, novelist Matthew Thomas charts the story of the American Century, particularly the promise of domestic bliss and economic prosperity that captured hearts and minds after WWII. The result is a riveting and affecting work of art; one that reminds us that life is more than a tally of victories and defeats, that we live to love and be loved, and that we should tell each other so before the moment slips away.
Epic in scope, heroic in character, masterful in prose, We Are Not Ourselves heralds the arrival of a major new talent in contemporary fiction.
Buy We Are Not Ourselves at Amazon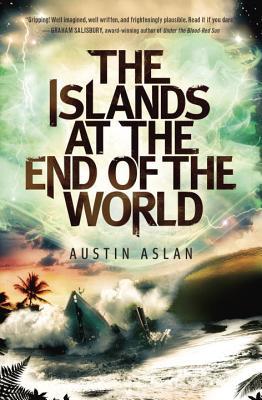 In this fast-paced survival story set in Hawaii, electronics fail worldwide, the islands become completely isolated, and a strange starscape fills the sky. Leilani and her father embark on a nightmare odyssey from Oahu to their home on the Big Island. Leilani's epilepsy holds a clue to the disaster, if only they can survive as the islands revert to earlier ways.
A powerful story enriched by fascinating elements of Hawaiian ecology, culture, and warfare, this captivating and dramatic debut from Austin Aslan is the first of two novels. The author has a master's degree in tropical conservation biology from the University of Hawaii at Hilo.
Buy The Islands at the End of the World at Amazon
Girl Who Reads is an Amazon advertising affiliate; a small fee is paid by Amazon when purchases are made through the above links. Covers and descriptions are from Goodreads.com