by Donna Huber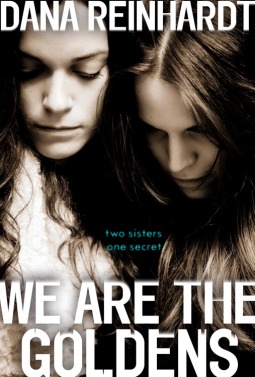 On the heels of reading
That Night
by Chevy Stevens,
I picked up
We are the Goldens
by Dana Reinhardt. I thought it was an interesting follow up book on my part as they were both about sisters and the secrets they keep. However, whereas
That Night
is for adults,
We are the Goldens
is young adult.
In We are the Goldens, Nell is writing to her sister recounting the year. Nell looks up to her older sister, idolizes her, wants to be her. When they were younger, Nell even thought they were the same person. But like so many teens on the brink of adulthood, Layla is wanting to be older than she is. While she loves her sister, Layla wants to be her own person. But is the secretness and changes in Layla just her establishing her independence or is there more to the story.
Nell tells you all she knows as she seeks forgiveness from her sister. I think it is also Nell's way of sorting out all the chaos she is experiencing during her own period of transition.
We are the Goldens
is such a moving story, especially given that it is on the rather short side. You can tell a great deal of thought and care went into each word, each action, each plot turn. It is perfectly crafted. I loved this story right up to the end, though I'm unsure of how I feel about the ending. I will let you make up your own decision.
Buy We Are the Goldens at Amazon
Book info:
hardcover
Published: May 2014 by Wendy Lamb Books
ISBN13: 9780385742573
Source: Netgalley
Read: June 2014
Girl Who Reads is an Amazon advertising affiliate; a small fee is paid by Amazon when purchases are made through the above links. A free egalley was provided for this review.