by Donna Huber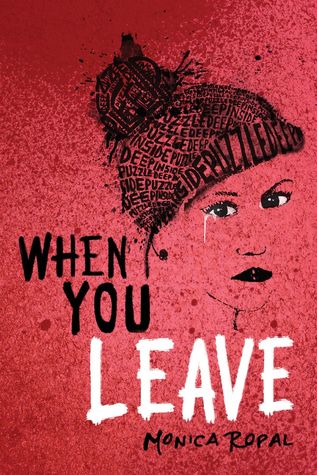 I fought the tickle, my nose to the blackboard, stifling the urge to sneeze.
Old school detention was medieval. It would be a slow cruel death of boredom. Under my uniform skirt my knees bobbed. I glanced down to where my bag was flopped open on the floor next to me. I could see the inside pocket that held my phone. It would take me twenty seconds tops to text Mattie. He'd give me a thumb lashing for getting in bad with the Sister again, but any communication would help dash away the quiet in the empty room and calm the noise in my brain. page 1
The Interview:
Hi Monica! Thanks for stopping by to answer some questions. Why don't you introduce yourself?
Thanks for hosting me! I am a married Minnesota mother of three. I've been writing for nearly nine years and WHEN YOU LEAVE (out April 7th) is my first published novel. I enjoy reading, coffee dates, and I belong to two fandoms, one active and one dormant.
I loved your debut novel When You Leave. With the popularity of Harry Potter, Twilight, and Divergent, why did you decide to write a murder mystery rather than something in the sci-fi/fantasy genre?
I guess partly BECAUSE of the popularity of those genres. I wanted to do something different. And because it allowed me to pair what I love about the mystery genre (suspense and intrigue) with what I love about YA (emotional stakes and interpersonal conflict).
If it hadn't been for the teenaged characters, I would have forgotten that When You Leave is a young adult novel. There was a sophistication to the writing that didn't really feel YA. Did you struggle with writing a book for young adults without "talking down" to your audience?
Thank you! Well, after all, young adults are people who happen to be teenaged. I think you never want to talk down to your audience. I think lessons I learned early on in my writing is that I have to be honest and serve these characters and the world they reflect. Im not writing as a mom, with lessons to teach, or morality to serve down. I am writing through their eyes from an honest place of reflection.
What was your inspiration for When You Leave?
It all started with Mattie and Cass. Two best friends that are on the precipice of something more. When I decide I wanted to write them into a mystery, I wanted that mystery to be a very personal one. I didn't want Cass to be a hard-boiled detective that we often see in adult mystery, I wanted to have it be an exploration also of the emotional fallout more true to the YA genre.
I really identified with Cass and the walls she put up around her (though for different reasons). Is there one character in the book that you most identify with?
I think there's def. some of me in Cass. There is part of me that has a tendency to emotionally distance myself from people. I hate saying goodbye. But there is probably part of me in a lot of characters. For instance, I am a very emotional person, and can sponge up the emotions of others, and so that is the me in Mattie.
Who were some of your favorite authors growing up? Do you think they had an impact on your writing style?
The two books that seriously came to mind were S.E. Hinton's
THE OUTSIDERS
and
Jane Austen's PRIDE AND PREJUDICE
. I'm not sure they effected my writing style per se, but they do reflect the mix of genres I like to play in.
So many books these days, particularly for young adults, are series. I felt like When You Leave was very much a stand-alone novel. Am I wrong and you have plans to revisit these characters?
I don't have immediate plans to do so. though as an author I think that maybe you can't help but think about your characters in a wider scope, how they existed before the story, and how they will exist after. But my editor and I had agreed that this book should be able to stand alone.
I know I'm looking forward to reading more from you. Can you tell us a little about any projects you have in the works?
I am very proprietary about my work when it's in it's rough form. But I can tell you that I am continuing to explore events that have emotion fallouts, though this time the catalyst will not be murder. And only YA for me ;)
Thanks again, Monica, for chatting with me.
***
I hope you enjoyed the interview with Monica Ropal. I know there are a number of new novels hitting shelves today (I mentioned several of them in last week's
new releases post
), but
When You Leave
has been one of the best books I've read this year. If you enjoy emotional reads where the characters come off the page, then you will want to pick this book up.
The views, opinions, and beliefs expressed by guests are their own and do not necessarily reflect those of Girl Who Reads. Girl Who Reads is an Amazon advertising affiliate; a small commission is earned when purchases are made at Amazon using the above links. Thank you for supporting this blog.