by Donna Huber
K.B. Hoyle and me at Bogart's Books & More Festival (picture by: Bowen Craig)
Here we are at the last Monday of the month. It has been a busy month with the university starting back with its fall semester. While I don't deal with students so much there were somethings at work that follow the academic schedule so my days were a bit more structured by those activities. The exercise classes that are free to staff at the university also started back. I've been taking the yoga class, but I decided to try the indoor cycling class. I couldn't walk for 3 days after the first class. I'm not pushing myself quite as hard and have really enjoyed the last two classes so I will keep up with that.
I also helped organize my town's Book & More Festival this month. It was a lot of fun and I got to meet a favorite author, K. B. Hoyle, for the first time in person. After the festival, we went to dinner and had a great conversation about publishing, the changes going on in young adult literature, how to handle diversity and the #MeToo movement in storytelling, family, food, and of course the re-release of her fantasy series The Gateway Chronicles. It was fun to get her perspective on certain parts of the books and characters that I have been thinking about. (You can learn more about her books below).
Even with all the was going on, I still managed to read 11 books: 4 audiobooks (2 of which were for a review), 7 print/ebooks (5 of which were for a review).
I hope I can keep up with my reading as we move into fall, but there are several television shows starting next month that I enjoy which might cut into my reading time. I'm excited about the new Amazon Prime show
Jack Ryan
. I love the series by Tom Clancy and I hope they did a good job translating it into a television series.
Amazon affiliate links are used on this site.
Read:
In audio...
A Quiet Life in the Country
by T.E. Kinsey
I really liked the characters. I'm not sure how much I cared about the mystery. After I finished listening to it, I couldn't even really remember what the mystery was. But I would listen in another Lady Hardcastle Mystery because I liked the characters that much. This was a free read and listen for Amazon Prime members.
Lady Emily Hardcastle is an eccentric widow with a secret past. Florence Armstrong, her maid and confidante, is an expert in martial arts. The year is 1908 and they've just moved from London to the country, hoping for a quiet life.
But it is not long before Lady Hardcastle is forced out of her self-imposed retirement. There's a dead body in the woods, and the police are on the wrong scent. Lady Hardcastle makes some enquiries of her own, and it seems she knows a surprising amount about crime investigation...
As Lady Hardcastle and Flo delve deeper into rural rivalries and resentment, they uncover a web of intrigue that extends far beyond the village. With almost no one free from suspicion, they can be certain of only one fact: there is no such thing as a quiet life in the country.
Buy A Quiet Life in the Country at Amazon
The Calculating Stars
by Mary Robinette Kowal
This audiobook was recommended to me by my contact at Audible. I wasn't sure if I would like it but decided to give it a try. It was so good. Much better than I expected. When I finished it, I immediately looked for the sequel. Thankfully I didn't have to wait long as it came out last week. I received a free audiobook from Audible. Read my full review.
A meteor decimates the U.S. government and paves the way for a climate cataclysm that will eventually render the earth inhospitable to humanity. This looming threat calls for a radically accelerated timeline in the earth's efforts to colonize space, as well as an unprecedented opportunity for a much larger share of humanity to take part.
One of these new entrants in the space race is Elma York, whose experience as a WASP pilot and mathematician earns her a place in the International Aerospace Coalition's attempts to put man on the moon. But with so many skilled and experienced women pilots and scientists involved with the program, it doesn't take long before Elma begins to wonder why they can't go into space, too—aside from some pesky barriers like thousands of years of history and a host of expectations about the proper place of the fairer sex. And yet, Elma's drive to become the first Lady Astronaut is so strong that even the most dearly held conventions may not stand a chance.
Buy The Calculating Stars at Amazon
The Midwife's Revolt
by Jodi Daynard
I have a confession to make: I chose this book purely based on the cover. I didn't know anything about it, but it was being offered as a free ebook for Prime members with free Audible narration so I selected it. I don't read books set during the American Revolution. However, this was a really well-done story. I loved the characters and if this is a time period you enjoy I highly recommend the book.
On a dark night in 1775, Lizzie Boylston is awakened by the sound of cannons. From a hill south of Boston, she watches as fires burn in Charlestown, in a battle that she soon discovers has claimed her husband's life.
Alone in a new town, Lizzie grieves privately but takes comfort in her deepening friendship with Abigail Adams. Soon, word spreads of Lizzie's extraordinary midwifery and healing skills, and she begins to channel her grief into caring for those who need her. But when two traveling patriots are poisoned, Lizzie finds herself with far more complicated matters on her hands—she suspects a political plot intended to harm Abigail and her family. Determined to uncover the truth, Lizzie becomes entangled in a conspiracy that could not only destroy her livelihood—and her chance at finding love again—but also lead to the downfall of a new nation.
Buy The Midwife's Revolt at Amazon
The Fated Sky
by Mary Robinette Kowal
I did not want this book to end. It was so good. Possibly better than The Calculating Stars. I still have the novella to read but I would love for the world Kowal has created to go on forever.
Continuing the grand sweep of alternate history laid out in The Calculating Stars, The Fated Sky looks forward to 1961, when mankind is well-established on the moon and looking forward to its next step: journeying to, and eventually colonizing, Mars.
Of course the noted Lady Astronaut Elma York would like to go, but could the International Aerospace Coalition ever stand the thought of putting a woman on such a potentially dangerous mission? Could Elma knowingly take the place of other astronauts who have been overlooked because of their race? And could she really leave behind her husband and the chance to start a family? This gripping look at the real conflicts behind a fantastical space race will put a new spin on our visions of what might have been.
Buy The Fated Sky at Amazon
In print or ebook...
The White Thread
by K. B. Hoyle
I started this series last month and you can read my review of the first two books, The Six and The Oracle. The White Thread has usually been my least favorite book in the series (I'm reading the series for the third time), but in the new expanded edition that was just released this summer there's a new scene (and a few other changes) and I liked it more than I remember. I received a free egalley from the author. Read my full review.
Darcy Pennington spent her freshman year agonizing over the sacrifice of her dear friend Yahto Veli, the nark who gave himself to the Oracle to set her free. But when she returns to Alitheia determined to rescue him, she soon comes to realize there's much more at stake than just the fate of her friend.
Alitheia is in turmoil, and a new riddle from the Oracle hangs over their heads. The Six, the alchemist Rubidius, and Prince Tellius must set off on a sea voyage into the realm of a legendary archipelago to try and set things right. The foes they meet along the way are both deceptive and charming, and on board the ship, Darcy's heart and mind feel just as conflicted as the mysteries she has to solve.
Darcy isn't sure if she's prepared for another meeting with the Oracle, but if she wants any chance of saving Yahto Veli, she must try.
Buy The White Thread at Amazon
Booked for Murder
by CeeCee James
It was okay. It felt like it could have been polished a bit more to help the flow of the story - at times I felt the story was a bit ADD. This ebook was free for Prime members.
When Maisie Swenson takes over as manager at Florida's elite Oceanside hotel, she's thrilled to move on site with her Momma and their basset hound, Bingo. She expected by the job description to cater to the crazy whims of some of the richest people in America.
Make it snow in Florida--check. Helicopter wedding--check. Deliver a baby--check.
But what was never on her job resume was dealing with the murder of business mogul Norman Olsen. He's a huge figure in the gaming video business, but now it looks like he had some dangerous enemies – including his own wife and son.
When the murderer targets the hotel again. Maisie thought the worst of her worries was getting fired. But, as she uncovers clues, the murderer focuses on Maisie. Suddenly, it's personal.
Buy Booked for Murder at Amazon
Sweet Home Cowboy
by Marin Thomas
I was looking for something else and I ran across this book on the free bestselling list at Amazon. I kind of overdosed earlier in the year on the Marietta universe series but I really love this Love at the Chocolate Shop series so couldn't pass it up. When I found myself at lunch without a Gateway Chronicles book, I decided to start it. It was cute and I really enjoyed it.
When Marietta newcomer Elena Puente is coerced into attending a speed dating event at the popular Copper Mountain Chocolate Shop, she's blindsided by a serious attraction to local cowboy, Wesley Banks.
Still recovering from a broken engagement, the first-grade teacher from Las Vegas isn't looking for romance. She's in Montana to get to know the great-grandfather she never knew existed until she found some hidden family letters. Judge Kingsley is a grouchy recluse and he's far from welcoming, but Elena is determined to stay in town long enough to give his neglected estate on Bramble Lane a facelift.
Elena's resolve to avoid romance is tested when she discovers Wesley is the caretaker of her grandfather's rural property. Soon, she and the cowboy are attending more speed dating events at the chocolate shop and she's seeking his advice on how to deal with his ornery boss. Local gossips wager the old Judge will run Elena out of town before anything serious develops between her and Wesley. But Wesley's a determined man, too, and he's betting Elena belongs in Marietta forever…with him.
Buy Sweet Home Cowboy at Amazon
The Enchanted
by K. B. Hoyle
This one has always been my favorite in the series. As I'm enjoying the series so much more this time around, I'm not sure I can really name one book as my favorite. That being said, I may have loved The Enchanted a little more than I did the first time, or maybe just in a different way. I definitely still cried. So have a tissue handy. I received an egalley from the author. Read my full review.
Darcy Pennington's course was plotted out for her long before she ever stepped foot in Alitheia, but Colin Mackaby seems determined to hamper and confuse the way as much as he can. Darcy begins to suspect that it is not Colin working against her, but a malevolent force working through him—a force seeking to hasten Darcy's transformation into one of the very creatures she is supposed to fight. Darcy is finally willing to follow the prophesied path, even agreeing to her much-resisted marriage to Tellius, but soon after she returns to Alitheia, everything spirals out of her control. A painful rejection almost pushes her over the edge, and when she demands answers from Rubidius, he provides her only with more painful secrets she must keep from the others. In the meantime, Darcy and her friends finally set out to confront one of Tselloch's gateways, fulfilling—so they think—the great prophecy of the Six. But when faced with practicing their magic against Tselloch's evil power, nothing turns out as expected.
Enchantments protect them as sorcery attacks them, and Colin Mackaby dogs their every step along the way. In the minds of the Alitheians, if Darcy cannot repair the breach that has formed between herself and Tellius, nothing will turn out as it was foretold. Darcy wonders, in the end, if there is any hope at all for her, or for Alitheia.
Buy The Enchanted at Amazon
Infidelity: A Love Story
by Ann Pearlman
This probably wouldn't have been a book I picked up for myself because of the subject matter, but it was a well written and interesting memoir. I received a free ARC from the author. Read my full review.
It is estimated that an alarming four out of five married couples experience infidelity. Growing up with a mother and grandmother who painfully accepted the existence of their respective husbands' mistresses, Ann Pearlman set out to beat the odds. She embarked on a career as a therapist who helped hundreds of unhappily married patients build new lives. She also found a husband with whom she felt secure. But after thirty years of rewarding marriage and parenthood, she discovered that her husband was having an affair with one of his art students. Infidelity is the moving account of her shattered trust, and the women in her family who endured similar wounds in the radically different climate of America before 1960.
Written in precisely drawn, vivid scenes, Infidelity traces Pearlman's first understanding of unfaithfulness through her father. A gifted and intelligent man, he took the time to explain Freud's theories to her during dinner, a meal often served late because of his after-work trysts. Falling in love with Ty, an African American football player and artist, she basked in a strong marriage that even shrugged off interracial bias and inspired her to write a book on how to foster vitality in a marriage. Yet as her own unraveled, she arrived at a turning point that would test everything she had taught and believed. Compelling reading for men and women alike, Infidelity is an eye-opening testament to commitments made and broken, and the experience of matrimony across three very different yet strikingly connected lifetimes.
Buy Infidelity: A Love a Story at Amazon
Clutch
by Lisa Becker
I was excited to read this book since I loved Becker's Links, but it just didn't work for me. Caroline is a bit too much of a damsel needing to be rescued. I like my female characters to be a bit stronger. Also, I thought both Caroline and Mike were too self-centered. I felt like I probably would have liked it more if I was in my 20s instead of my 40s. I received a free ebook from the author. My full review will post next week.
Clutch: a novel
is the laugh-out-loud, chick-lit romance chronicling the dating misadventures of Caroline Johnson, a single purse designer who compares her unsuccessful romantic relationships to styles of handbags – the "Hobo" starving artist, the "Diaper Bag" single dad, the "Briefcase" intense businessman, etc. With her best friend, bar owner Mike by her side, the overly-accommodating Caroline drinks a lot of Chardonnay, puts her heart on the line, endures her share of unworthy suitors and finds the courage to discover the "Clutch" or someone she wants to hold onto.
Buy Clutch at Amazon
The Scroll
by K.B. Hoyle
If I had to sum up the theme of this book it would be 'hurry up and wait'. Since it starts just where The Enchanted ended you think that there's going to be a lot going on in this book. While a key piece of information is revealed there is also a lot of waiting around, not doing much. Though this is pretty typical in the days leading up to a big operation. I don't think I like Rubidus very much at this point. I received a free egalley from the author. Read my full review.
Darcy Pennington may once have been an average teenager, but not anymore. Living each year twice, once in her world and once in Alitheia, has made her into someone who cares little for normal teenage activities. She's got more important things to do, like save the mythical, magical world of Alitheia. But this time, Darcy can't save Alitheia until she saves Tellius, the love of her life.
A window between the worlds allows Darcy to see Tellius from her home in Chicago. But, far from being reassured, she plunges into despair when she sees Tellius captured, imprisoned, and tortured. All her plans for her future life in Alitheia are put on hold as Darcy faces a singular goal: save Tellius, even if it means giving Tselloch something in return.
Intrigue is high upon her return to the castle, where old friends tell new lies, best friends hide crucial secrets, deceptive apparitions roam the halls, and betrayal lingers around every corner. The only way to unravel the mysteries and protect Alitheia is to bring Tellius home, but Darcy lacks the necessary magic for that.
As time runs low, Rubidius keeps to himself, and even Sam has her own secret this year. Darcy wonders if anyone else cares the way she does, and why it's always a fight to get anything done. Still, she'll do anything to rescue her future husband, including surrender herself to the fate she knows is coming anyway. Now, if only The Six could unveil the scroll, they might learn the greatest secret of all, before everything burns to ashes around them.
Buy The Scroll at Amazon
Currently Reading:
In print/ebook...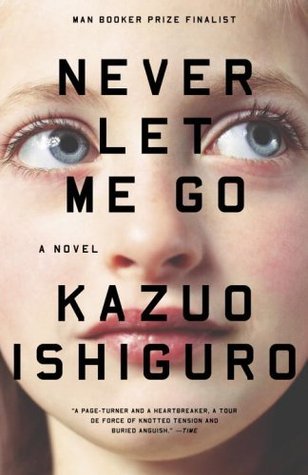 Never Let Me Go
by Kazuo Ishiguro
This is my post-apocalyptic book club read for September. We meet the first Thursday of the month so I have just over a week to read it (I usually don't pick up the book until the weekend before). I'm not very far into it but it reminds me a bit of The Handmaid's Tale. Have you read it?
Hailsham seems like a pleasant English boarding school, far from the influences of the city. Its students are well tended and supported, trained in art and literature, and become just the sort of people the world wants them to be. But, curiously, they are taught nothing of the outside world and are allowed little contact with it.
Within the grounds of Hailsham, Kathy grows from schoolgirl to young woman, but it's only when she and her friends Ruth and Tommy leave the safe grounds of the school (as they always knew they would) that they realize the full truth of what Hailsham is.
Never Let Me Go breaks through the boundaries of the literary novel. It is a gripping mystery, a beautiful love story, and also a scathing critique of human arrogance and a moral examination of how we treat the vulnerable and different in our society. In exploring the themes of memory and the impact of the past, Ishiguro takes on the idea of a possible future to create his most moving and powerful book to date.
Buy Never Let Me Go at Amazon
Broken Branches
by Ben Ellis
Since buying my Kindle, I've slowly added my ebooks for review. Right now I'm going through the ones that are already in mobi or pdf as I will have to get out my half-working laptop to convert the epubs to mobi. This dystopian novel is one that I had loaded and I started it the other day when I found myself having to stop for lunch while running errands. The start of it is interesting and I'm looking forward to really getting into it.
All men are sterile. Fertility drugs are given only to couples whose genetic matches are approved. Those without a family history to prove their genetic heritage are outcast from society.
Grace is a broken branch. As an orphan, she has no link to The National Family Tree, so she and her husband, Tom, are ecstatic when they're approved to have a baby. But that was the easy part. Grace's twin brother inadvertently gets a girl pregnant after a one-night stand, and his girlfriend isn't happy because it should've been her. Both sets of parents soon become the target of a violent terrorist group that advocates genetic purity. To make matters worse, there's something strange about the unborn children that's attracting government attention.
Buy Broken Branches at Amazon
In audio...
The Woodcutter
by Kate Danley
Another book I found for free for Prime members with free Audible narration. It is not something I would typically pick up. I try to read outside my comfort genres from time to time and a free audiobook is usually a good way to give different genres a try.
Deep within the Wood, a young woman lies dead. Not a mark on her body. No trace of her murderer. Only her chipped glass slippers hint at her identity.
The Woodcutter, keeper of the peace between the Twelve Kingdoms of Man and the Realm of the Faerie, must find the maiden's killer before others share her fate. Guided by the wind and aided by three charmed axes won from the River God, the Woodcutter begins his hunt, searching for clues in the whispering dominions of the enchanted unknown.
But quickly he finds that one murdered maiden is not the only nefarious mystery afoot: one of Odin's hellhounds has escaped, a pixie-dust drug trade runs rampant, and more young girls go missing. Looming in the shadows is a malevolent, power-hungry queen, and she will stop at nothing to destroy the Twelve Kingdoms and annihilate the Royal Fae...unless the Woodcutter can outmaneuver her and save the gentle souls of the Wood.
Buy The WoodCutter at Amazon
Up Next:
I'm so looking forward to reading the final book in the Gateway Chronicles:
The Bone Whistle
. But K.B. Hoyle is still working on it so I'm not sure when it will be ready. I will probably drop everything when I get my hands on it.
What did you read this month?
Linked to:
It's Monday! What Are You Reading
? at Book Date,
Month in Review
at Book Date, and
Monthly Wrap-up
(with giveaway) at Feed Your Fiction Addiction.
Donna Huber is an avid reader and natural encourager. She is the founder of Girl Who Reads and the author of how-to marketing book Secrets to a Successful Blog Tour.
Get even more book news in your inbox, sign up today! Girl Who Reads is an Amazon advertising affiliate; a small commission is earned when purchases are made at Amazon using any Amazon links on this site. Thank you for supporting Girl Who Reads.