by Donna Huber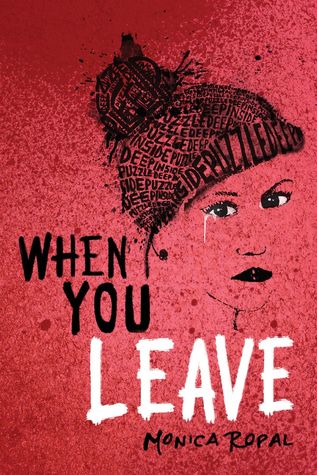 Have you ever read a book that was so good that it made all that followed pale in comparison? That is exactly how I feel after reading
When You Leave
by Monica Ropal. It was beautifully written with rich characters.
Cassie is a slightly troubled high school student. She grew up poor after her dad walked out on her mom and brother. Recently her mom has remarried and they have been moved to the better side of town and Cassie is at a private school. Cassie and her friends from the "wrong side of the tracks" have always promised themselves that they would get themselves out poverty. And Cassie knows this school will get her into a good college. But that doesn't mean she has to be friends with any of these snobby rich kids. She escapes each afternoon on her skateboard with her real friends.
However, a serendipitous encounter with the boy whose locker is next to hers has her getting closer than she ever imagined she would to any of the preppy school kids. But her greatest fear is realized - Cooper leaves her. Not by choice. He's murdered and worse yet, one of her best friends is accused.
This young adult murder mystery is full of emotion and the reader is transported within the pages of the story. I didn't want to put it down and was constantly thinking about it. The characters are varied enough that I'm sure every reader could identify with at least one of the characters. And though it is a young adult novel, the writing is sophisticated enough to be enjoyed by adults.
When You Leave
was also a nice reprieve from the multitude of dystopian fantasy novels that are currently gracing bookstore shelves. It was also wasn't a silly angst ridden story of boy meets girl. There is definitely some meat to this story. Even though I had trouble putting the book down, I didn't feel like I was breezing through it. The pacing was spot on.
I highly recommend
When You Leave
by Monica Ropal. But do beware that after reading it you may be disappointed with your next book.
Book info
available formats: ebook and print (336 pages)
published: April 2015 by Running Press Kids
ISBN13: 9780762454556
genres: mystery
audience: young adult
source: Publisher
read: March 2015
A free book was provided for this review. Girl Who Reads is an Amazon advertising affiliate; a small commission is earned when purchases are made at Amazon through the above link. Thank you for supporting this blog.