This year I read two amazing books about World War II: The Nightingale by Kristin Hannah and All the Light We Cannot See by Anthony Doerr. Lovely and tragic as jewels on a woman killed by gunfire, these books are deadly wonders.
The novels are similar and different at the same time. Both are set in France during WWII. Both feature Germans in sympathetic roles, Hannah and Doerr sidestepping cardboard cut-out characterizations. Both books feature bravery that comes from ordinary people in extraordinary circumstances.
The Nightingale by Kristin Hannah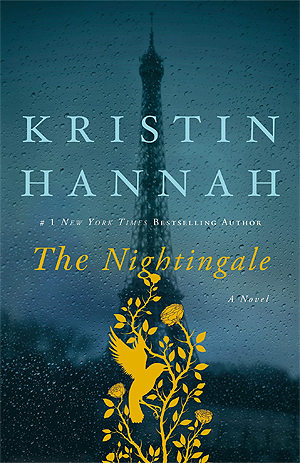 Unsparing in its description of the horrors of everyday life in the midst of wartime, Hannah jumps into her story with French refugees. As the starving families flee their farms and the German army, they in turn spread ruination, the kind that comes from starvation and despair.
Two sisters, Vianne and Isabelle, are drawn into the war. Isabelle, a headstrong beauty, goes gladly. Vianne, a married housewife, protests her involvement…yet each will be tested to the utmost.
The daughters of a WWI veteran (whose involvement in the Great War has left terrible scars,) Vianne and Isabelle seem, at first, complete opposites. One accepts the German invasion philosophically, determined to make the best of a bad situation. Vianne is the one running their parents' house, the one who is married and has a child. Her focus is to keep the house running during the wave of refugees. Her goals are simple: do her teacher's job and put food on the table.
Isabelle is infuriated by Vianne's complaceney. She wants to reach out to the refugee families, fight against the Germans, and follow her new love to Paris to become part of the Resistance. A headstrong young girl expelled from several schools, she doesn't understand fighting the Germans (or even helping refugees) brings its own terrible consequence.
As the war winds on, Isabelle is drawn into helping downed pilots in France but finds Resistance is not as romantic as she thought. As for Vianne, she finds it is impossible to stay completely sheltered from the war.
Hannah doesn't shy away from the grim face of war or the horrors of torture and starvation. If you like learning about French life during WWII, I highly recommend this book. Once I began, it was nearly impossible to put down – although the writing was fairly standard stuff. This is a Ken Follett-type of novel, where events are so fascinating you have to find out what happens on the next page, but the author doesn't bother with poetic language. Hannah prose is as straightforward as Vianne herself, although there are times when it sings – during a first kiss, a dreadful parting, or the family ceremony of tying wool on a tree to represent a person or memory.

All the Light We Cannot See by Anthony Doerr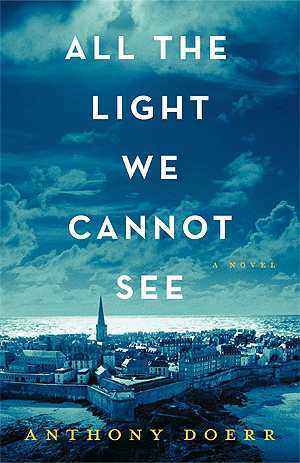 Doerr's novel is told with soaring language and endlessly inventive turns of phrase. The story of Marie-Laure, a blind girl left behind in Saint-Malo when her father is brought to prison in Germany. It is also the story of Werner Pfenning, a boy genius with technology and radios who is conscripted into the German army.
And, wonderfully, Light is also a fable of a fabulous diamond called The Sea of Flames. The gem has been cursed and hidden away behind 13 doors in the Natural Museum where M. LeBlanc, Marie-Laure's father, is a locksmith. Entrusted with the Sea of Flames or perhaps its copy, he takes his daughter to Saint-Malo to escape the invasion of Paris.
This is told in tiny, flashing chapters – each one a gem on its own. I loved the quick pace of the novel, showing tantalizing glimpses of Werner holed up in the Hotel of Bees, Marie-Laure figuring out the puzzles her father makes for her, and the importance of radio during the invasion.
As Marie-Laure learns to read an enormous Braille copy of 20,000 Leagues Under the Sea, her father makes an intricate copy of Saint Malo for her so she can touch the streets and learn her way.
All the Light We Cannot See
unfolds with the amazing properties of radio and how science is both magical and miraculous. Doerr strikes the perfect tone, never too tremulous or overreaching. For example, the episodes of the scientific radio program for children accidentally discovered by Werner and his sister are so lovely they made me breathless:
'The brain is locked in total darkness, of course, children… It floats in a clear liquid inside the skull, never in the light. And yet the world it constructs in the mind is full of light. It brims with color and movement. So how, children, does the brain, which lives without a spark of light, build for us a world full of light?'
For Marie-Laure, of course, there is no light except that which her father constructs for her by his little puzzles and the amazing toy version of their city. So when he is taken away, she is left in the dark… or is she?
Buy All the Light We Cannot See at Amazon
Both
All the Light We Cannot See
and
The Nightingale
'come unstuck in time' like Billy Pilgrim to visit our recent past (in
Light
's case, the 1970's.) As we spend our days reading news items about attacks to citizens and police, why would we turn to novels about further gunfire? Perhaps it's part of our search to make sense of it all. Both books calmly present their horrors, making them all the worse for the silence in which they're experienced. And both, in the end, discover the seemingly forbidden gem of humanity among all the bullets.
Both books fascinated and enlightened me.
The Nightingale
is the more typical type of summer read, so if you're looking for a poolside or beach volume, it's a great choice.
All the Light We Cannot See
, however, is poetic as well as compelling. In the end, it was my favorite of the two, although I enjoyed
The Nightingale
as well. Load up your Kindle with these World War II novels before you go away on a summer destination. I can't think of two more perfect travel companions.
Alison DeLuca is the author of a steampunk series and several other books. She lives with her family in New Jersey, wrestling words and laundry.
Get even more book news in your inbox by signing up for our newsletter: http://eepurl.com/mHTVL. Girl Who Reads is an Amazon advertising affiliate; a small commission is earned when purchases are made at Amazon using any Amazon links on this site. Thank you for supporting Girl Who Reads.