If you'd rather be cozying up with a wonderful romance rather than hiding under the covers with latest Halloween horror novel, then this list is for you
.
"Where'd you go? I miss you so. Seems like it's been forever that you've been gone."
Misha
I can't help but smile at the lyrics in her letter. She misses me.
In fifth grade, my teacher set us up with pen pals from a different school. Thinking I was a girl, with a name like Misha, the other teacher paired me up with her student, Ryen. My teacher, believing Ryen was a boy like me, agreed.
It didn't take long for us to figure out the mistake. And in no time at all, we were arguing about everything. The best take-out pizza. Android vs. iPhone. Whether or not Eminem is the greatest rapper ever…
And that was the start. For the next seven years, it was us.
Her letters are always on black paper with silver writing. Sometimes there's one a week or three in a day, but I need them. She's the only one who keeps me on track, talks me down, and accepts everything I am.
We only had three rules. No social media, no phone numbers, no pictures. We had a good thing going. Why ruin it?
Until I run across a photo of a girl online. Name's Ryen, loves Gallo's pizza, and worships her iPhone. What are the chances?
F*ck it. I need to meet her.
I just don't expect to hate what I find.
Ryen
He hasn't written in three months. Something's wrong. Did he die? Get arrested? Knowing Misha, neither would be a stretch.
Without him around, I'm going crazy. I need to know someone is listening. It's my own fault. I should've gotten his phone number or picture or something.
He could be gone forever.
Or right under my nose, and I wouldn't even know it.
*
Punk 57
is a standalone New Adult romance. It is suitable for ages 18+.
DON'T LOOK BACK
Under siege. That's how Ryker Jones feels. The Lost Bastards Investigative Agency he opened up with his blood brothers has lost a client in a brutal way. The past he can't outrun is resurfacing, threatening to drag him down in the undertow. And the beautiful woman he's been trying to keep at arm's length is in danger...and he'll destroy anything and anyone to keep her safe.
Paralegal Zara Remington is in over her head. She's making risky moves at work by day and indulging in an affair with a darkly dangerous PI by night. There's a lot Ryker isn't telling her and the more she uncovers, the less she wants to know. But when all hell breaks loose, Ryker may be the only one to save her. If his past doesn't catch up to them first...
Full of twists and turns you won't see coming, DEADLY SILENCE is New York Times bestselling author Rebecca Zanetti at her suspenseful best...
A Blood Brothers Novel
NEVER SEND A DEBUTANTE
William Ryder, Earl of Castleton, is at the end of his noble rope. Not only has he broken ties with his longtime mistress, his mother has publicly announced her wish for him to marry a suitable young lady―if only to help him raise the twins left in his care. Hiring a governess should solve some of Will's problems…but when he meets the candidate in question, he finds himself in an entirely new predicament.
TO DO A WALLFLOWER'S JOB
Miss Margaret Lacey is brainy, beautiful, and, once upon a time, Will's betrothed. But she bowed out of the engagement―and, since then, has never been the same. A tragic accident robbed her of everything, and now, at age twenty-three, her marital prospects are slim to none. Penniless but not without pride, Meg convinces the vexingly handsome Will to hire her for the job. What neither of them could have expected from this arrangement, however, is an attraction that burns stronger than ever. Are these two lost souls finally ready to be schooled in the art of love?
Buy My Brown-Eyed Earl at Amazon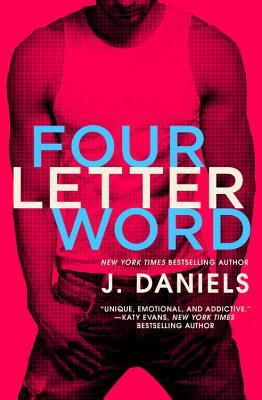 Fate. Hate. Love. Lies.
Which four letter word will change their lives forever?
Sydney Paige was never so mortified to hear the words "wrong number" in her life. She meant to tell off the guy who broke her best friend's heart but unleashed her anger on a perfect stranger instead. And now her world is turned upside down by the captivating man who wants to keep her on the line.
Brian Savage is living a life he's quickly come to hate-until Sydney's wild rant has him hooked and hungry for more. Soon the sexy woman on the phone becomes the lover in his bed. But Brian has secrets, and the closer he lets Syd get, the harder it is to shield her from the devastating mistakes of his past . . .
Buy Four Letter Word at Amazon
Cinderella never had to deal with this crap.
Jane isn't entirely sure that Cinderella got such a raw deal. Sure, she had a rough start, but didn't she eventually land a prince and a happily-ever-after? Meanwhile, Jane is busy waiting on her demanding, entitled sisters, running her cleaning business, and . . . yep, not a prince in sight. Until a party and a broken shoe incident leave Jane wondering if princes---or at least, a certain deliciously hunky billionaire---maybe do exist.
Except Brock Wellington isn't anyone's dream guy. Hell, a prince would never agree to be auctioned off in marriage to the highest bidder. Or act like an arrogant jerk---even if it was just a façade. Now, as Brock is waiting for the auction chopping block, he figures it's karmic retribution that he's tempted by a sexy, sassy woman he can't have. But while they can't have a fairy-tale ending, maybe they can indulge in a little bit of fantasy . . .
Buy The Bachelor Auction at Amazon
Get even more book news in your inbox by signing up for our newsletter: http://eepurl.com/mHTVL. Girl Who Reads is an Amazon advertising affiliate; a small commission is earned when purchases are made at Amazon using any Amazon links on this site. Thank you for supporting Girl Who Reads.