by Donna Huber
Another new month and a few new books on my reading list. I'm feeling the push to meet my Goodreads reading challenge goal for the year of 75 books. I've read 58 so far - this doesn't count the Harry Potter series I re-read. I typically set my goal without counting books that I might re-read during the year, and hopefull I will make it there by December 31.
Finished:
I finished up all the books from my
October Reading list
including the addition of
Some Like It Perfect
(
read my review
). My review of
Love is a Four-legged Word
will post tomorrow. This month I've already listened to a couple of audio books:
I have listened to all the books in The Selection series in audio and
The Crown
was no except. I have loved the narrator. I thought
The Crown
was a bit boring, like there really wasn't much story there. I think this series has run it course, though maybe a few novella could still come out.
Kiera Cass's #1 New York Times bestselling Selection series has captured the hearts of readers from its very first page. Now the end of the journey is here. Prepare to be swept off your feet by The Crown—the eagerly awaited, wonderfully romantic fifth and final book in the Selection series.
In The Heir, a new era dawned in the world of The Selection. Twenty years have passed since America Singer and Prince Maxon fell in love, and their daughter is the first princess to hold a Selection of her own.
Eadlyn didn't think she would find a real partner among the Selection's thirty-five suitors, let alone true love. But sometimes the heart has a way of surprising you…and now Eadlyn must make a choice that feels more difficult—and more important—than she ever expected.
I've seen this series at the digital library, but I din't really think it would be something I would enjoy.
Halfway to the Grave
is one of the Prime exclusives at Audible so I gave it a try. It was okay, but I probably won't be picking the rest of the books.
Half-vampire Catherine Crawfield is going after the undead with a vengeance, hoping that one of these deadbeats is her father—the one responsible for ruining her mother's life. Then she's captured by Bones, a vampire bounty hunter, and is forced into an unlikely partnership.
In exchange for help finding her father, Cat agrees to train with the sexy night stalker until her battle reflexes are as sharp as his fangs. She's amazed she doesn't end up as his dinner…are there actually good vampires? Pretty soon, Bones will have her convinced that being half-dead doesn't have to be all bad. But before she can enjoy her status as kick-ass demon hunter, Cat and Bones are pursued by a group of killers. Now Cat will have to choose a side...and Bones is turning out to be as tempting as any man with a heartbeat.
Buy Halfway to the Grave at Amazon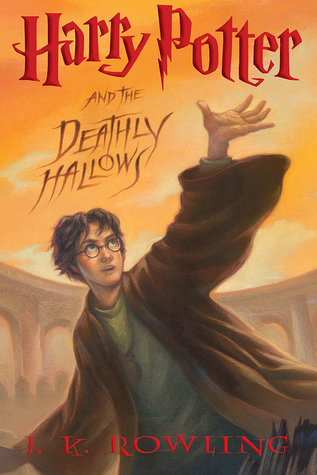 As you know I've been re-reading Harry Potter. I was hoping to get through the series before my hold came up on
Harry Potter and the Cursed Child
. I didn't make it by a few weeks. I tried to read the new "book", but I couldn't get through it. I haven't heard much about what people thought of it. Have you read it? She I give it another try? I did finish up
Harry Potter and the Deathly Hallows
. I know the Rowling said in an interview that Neville and Luna ended up together, but during my re-reading I think it more likely that Dean did. There was just a line when they were at Shell Cottage that made the lightbulb go off in my head.
It's no longer safe for Harry at Hogwarts, so he and his best friends, Ron and Hermione, are on the run. Professor Dumbledore has given them clues about what they need to do to defeat the dark wizard, Lord Voldemort, once and for all, but it's up to them to figure out what these hints and suggestions really mean.
Their cross-country odyssey has them searching desperately for the answers, while evading capture or death at every turn. At the same time, their friendship, fortitude, and sense of right and wrong are tested in ways they never could have imagined.
The ultimate battle between good and evil that closes out this final chapter of the epic series takes place where Harry's Wizarding life began: at Hogwarts. The satisfying conclusion offers shocking last-minute twists, incredible acts of courage, powerful new forms of magic, and the resolution of many mysteries.
Above all, this intense, cathartic book serves as a clear statement of the message at the heart of the Harry Potter series: that choice matters much more than destiny, and that love will always triumph over death.
Buy Harry Potter and the Deathly Hallows at Amazon
Currently Reading:
A generation has passed since the pandemic known only as the Infection ended the world as we know it. In a little town in the Appalachian Mountains, Taylor has known only a harsh and brutal struggle for survival in a land littered with the rusted-out remnants of a lost world. By day, she labors in a coal mine. In the evenings, she tends a secret collection of beehives, and uses the honey to pay for lessons in survival skills, such as hunting, fishing, and collecting herbs. Her home is a single room in a crumbling old motel, and her only companion is a pet box tortoise named Go she's had since she was a child.
When her town is destroyed by a vicious gang of raiders known as the Nine, Taylor escapes with Dylan, the son of the mayor. Their only plan is to head south and escape the Nine's vast territory, avoiding areas contaminated by meltdowns and industrial pollution where mysterious illnesses plague the residents.
Dylan has never known hunger or hardship and struggles to learn survival skills. He's never known a woman like Taylor, either. He tries to pay her back by teaching her to read, and telling her the stories passed down from the world of Before.
They certainly didn't plan on falling in love. Taylor fights it every step of the way, because in her world, any emotional attachment is dangerous. She's been taught since childhood that love slows you down, makes you weak. But the feelings growing between them cannot be denied.
Taylor finds herself slowly breaking every one of her hard-learned rules of survival. She discovers that perhaps some of those things she's always fought to avoid are the very things that make life worth living.
Get even more book news in your inbox by signing up for our newsletter: http://eepurl.com/mHTVL. Girl Who Reads is an Amazon advertising affiliate; a small commission is earned when purchases are made at Amazon using any Amazon links on this site. Thank you for supporting Girl Who Reads.