by Susan Roberts
Anna Quindlen is a novelist and journalist whose work has appeared on fiction, nonfiction, and self-help bestseller lists. She is the author of eight novels:
OBJECT LESSONS
,
ONE TRUE THING
,
BLACK AND BLUE
, BLESSINGS,
RISE AND SHINE
, EVERY LAST ONE, STILL LIFE WITH BREAD CRUMBS, and MILLER'S VALLEY. Her memoir LOTS OF CANDLES, PLENTY OF CAKE, published in 2012, was a number one New York Times bestseller. Her book A
SHORT GUIDE TO A HAPPY LIFE
has sold more than a million copies. While a columnist at The New York Times she won the Pulitzer Prize and published two collections,
LIVING OUT LOUD
and THINKING OUT LOUD. Her Newsweek columns were collected in LOUD AND CLEAR.
Have you ever read any Anna Quindlen books or seen one of the movies made from her books? My favorite of her books was
Still Life with Bread Crumbs
(see review below) and my favorite movie was ONE TRUE THING (1998) starring Meryl Streep and Renee Zellweger. If you have a favorite, please share in the comments below.
Amazon affiliate links are used in this post.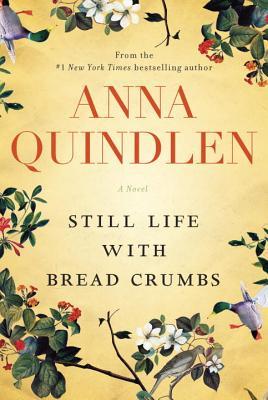 October 2014; Random House; 978-0812976892
ebook, audio, print (288 pages); women's fiction
Still Life with Bread Crumbs
Still Life with Bread Crumbs
begins with an imagined gunshot and ends with a new tin roof. Between the two is a wry and knowing portrait of Rebecca Winter, a photographer whose work made her an unlikely heroine for many women. Her career is now descendent, her bank balance shaky, and she has fled the city for the middle of nowhere. There she discovers, in a tree stand with a roofer named Jim Bates, that what she sees through a camera lens is not all there is to life.
MY REVIEW
: It isn't often that you get to read a novel with a main character in their 60s. Younger people always think that they will have life figured out by the time they reach their 60s. This novel shows that women at that age are still struggling to be what and who they want to be.
It was a refreshing and fun read. There are quirky characters but the main character, learning to live her life is the best. This was a great, easy, fun book to read. Its very different from her other novels but its another winner for Anna Quindlen!
Buy Still Life with Bread Crumbs at Amazon
April 2016; Random House; 978-0812996081
ebook, audio, print (272 pages); women's fiction
Miller's Valley
For generations the Millers have lived in Miller's Valley. Mimi Miller tells about her life with intimacy and honesty. As Mimi eavesdrops on her parents and quietly observes the people around her, she discovers more and more about the toxicity of family secrets, the dangers of gossip, the flaws of marriage, the inequalities of friendship and the risks of passion, loyalty, and love. Home, as Mimi begins to realize, can be "a place where it's just as easy to feel lost as it is to feel content."
Miller's Valley is a masterly study of family, memory, loss, and, ultimately, discovery, of finding true identity and a new vision of home. As Mimi says, "No one ever leaves the town where they grew up, even if they go." Miller's Valley reminds us that the place where you grew up can disappear, and the people in it too, but all will live on in your heart forever.
MY REVIEW
: I have read all of Anna Quindlen's books and every time I read one, I say that its the best one yet. I think that this time....this book is the best one yet FOR SURE. From the first page, I was caught up in the coming of age story of Mimi. She lives on a farm in Miller's Valley with her two older brothers and parents. From the very first, we learn that the government plans to flood the valley for a recreation area and that plays a huge part in the story but the story is so much more than that. Its all about family dynamics - a brother in Vietnam, Mimi's first love, her plans for college, her friends and so much more. I loved the story but more than that I loved the main characters - they felt like people that I know in my day to day life - especially Mimi and her mother. During the book, I laughed with them and cried with them and now that the book is over, I miss them. This is a fantastic book - one that I won't soon forget.
Buy Miller's Valley at Amazon
Movie Trailer for
One True Thing
:
Susan Roberts lives in North Carolina when she isn't traveling. She and her husband enjoy traveling, gardening and spending time with their grandson. Susan reads almost anything (and the piles of books in her house prove that) but her favorite genres are Southern fiction, women's fiction and thrillers. Susan is a top 1% Goodreads Reviewer. You can connect with Susan on Facebook.
Get even more book news in your inbox by signing up for our newsletter: http://eepurl.com/mHTVL. Girl Who Reads is an Amazon advertising affiliate; a small commission is earned when purchases are made at Amazon using any Amazon links on this site. Thank you for supporting Girl Who Reads.