by MK French
The days may be filled with bright sunshine, but the warm shadow-filled evenings are perfect for delving into a dark fantasy tale.
Amazon affiliate links are used in this post. Free books were provided for honest reviews.
Nightblade by Garrett Robinson
June 2016; Legacy Books; 978-1941076309
ebook, print (404 pages); horror, dark fantasy
Loren of family Nelda lives near the forest and hates the life she has. When she aids a man on the run in the forest, she uses it as an opportunity to escape her village. She flails about when abandoned, and is drawn to shady characters that at least get her to the main town. Unfortunately, she blunders into one disaster after another and has to fight her way out of bad situations in order to retrieve the mysterious knife she calls Nightblade. Others know what it means, even if she doesn't, and she is going to be caught in a much larger story.
The language used in the book is a bit difficult to get into. It's a mix of modern descriptions and archaic-sounding phrasing that is likely meant to make you feel like this is a Medieval-esque type of fantasy world.
There is magic in this world, which is generally understated, as well as black market dealings and shady guilds.
Once we get to the city, the book really seems to get its bearings. Maybe the language feels less stilted and awkward at that point, or I've gotten used to it.
The action sequences are well described, and I wanted to laugh in several spots when Loren just plays along with other characters as if she knows what they're talking about when clearly she has no idea what's going on.
It very much plays out like someone's RPG campaign so some of the tropes used will be very familiar. This is the start of a trilogy but has a neat enough ending that you can stop here if you're not overly fond of the characters. They aren't necessarily heroes doing heroic things, but they're not evil and there's a massive story that Loren has fallen into. The world building is excellent, even if some of the characters themselves fall a little flat.
Buy Nightblade at Amazon
Rites of Azathoth by Frank Cavallo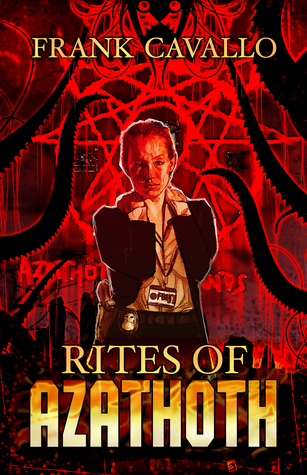 December 2016; Bedlam Press; 978-1944703196
ebook, print (420 pages); horror, dark fantasy
Diana Mancuso is a criminal profiler for the FBI, but doesn't go into the field anymore. When notorious serial killer Luther Vayne somehow escapes prison and restarts his killing spree, Diana is called back into the field to help track him down. In order to do so, she has to understand the arcane things he referenced, and also discovers that it involves a conspiracy involving the rich and powerful.
This book is definitely going to be a treat for fans of HP Lovecraft and the Cthulu mythos. It's woven into the story and explained in a way that non-Lovecraft fans can still understand it.
There is a lot of violence and gruesome deaths, as well as descriptions of insanity-inducing eldritch horrors. They're vividly described and the action scenes are very well done. It has a very cinematic quality to it, which really makes those scenes engaging.
Diana is the main character, and she comes across as very abrasive and rude in a number of scenes. It's not pleasant, but then again she's not dealing with very pleasant people, either. Some of the background characters are likable, at least, which does help lessen the sense of gloom and doom in spots.
This is a bloody book with demons and Elder Gods, and not for the feint of heart, but very enjoyable for fans of horror.
Buy Rites of Azathoth at Amazon
Born and raised in New York City, M.K. French started writing stories when very young, dreaming of different worlds and places to visit. She always had an interest in folklore, fairy tales, and the macabre, which has definitely influenced her work. She currently lives in the Midwest with her husband, three young children, and golden retriever.
Get even more book news in your inbox by signing up for our newsletter: http://eepurl.com/mHTVL. Girl Who Reads is an Amazon advertising affiliate; a small commission is earned when purchases are made at Amazon using any Amazon links on this site. Thank you for supporting Girl Who Reads.