by MK French
Horror is one of my favorite genres. Today I review an anthology if you need some quick reads and a novel that is part of a larger series.
Amazon affiliate links are used on this site. Free books were provided for an honest review.
Haunted by Heather Beck
December 2010; Treasure Cove Books
978-0986556906; ebook, print (126 pages)
YA, horror
This is an anthology of stories involves involving spirits and the uncanny. A haunted amusement park in a wooded area nearly draws in Casey in the first story. A school trip in one story transports two students into the medieval past because of a curse. A school trip in a different story involves a Native American spirit determined to kill anyone with a name resembling that of his nephew. In the final story, a ghost is determined to live again by exchanging bodies.
The stories are well written and are more on the creepy side than outright horror. The main characters in the stories are teens and young adults, so it's likely the target demographic. If you remember the old Goosebumps or Christopher Pike books (and I'm probably REALLY dating myself here), these stories are of a similar theme. It's a short book, so it's easy enough to breeze through in an afternoon if it doesn't scare you too badly.
Buy Haunted at Amazon
Lake Silence by Anne Bishop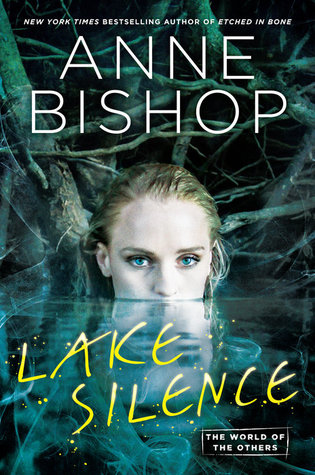 March 2018; Ace; 978-0399587245
audio, ebook, print (416 pages)
horror, romance
Vicki DeVine had received The Jumble as part of her divorce settlement, a rustic resort on the edge of Lake Silence in the town of Sproing. There are lots of Others in the area, supernatural creatures and beings, that don't always hold to human law, but there had never been a problem until her tenant Aggie Crow finds a dead body. Suddenly she's in a lot of trouble, and the Others are not happy with that status quo being disrupted.
While this is a book within a series of others about the Others (haha, pun absolutely intended), it was easy to drop into this world without having read them. It's a parallel world to ours, in that there's an Atlantik Ocean and other recognizable parts of geography that are twisted in small ways, but the biggest difference is that the supernatural exists alongside humans. They're described in rather clever ways and have their own quirks and personalities separate from the mythologies that we know.
The mystery surrounding the dead body that Aggie found unfolds with the help of a number of investigators. Some are human, and some clues are found by Others. We also see into the characters' backgrounds in a very fluid way, so that it doesn't feel like a massive infodump of backstory, and we get more of an idea about their motivations. I cared a lot about Vicki, Wayne, Aggie and the rest of the werekin, and found it fascinating to see their friendships and Vicki's interactions with the Others develop. It's a great story and makes me want to find the rest of the books in this world and read them as well.
Born and raised in New York City, M.K. French started writing stories when very young, dreaming of different worlds and places to visit. She always had an interest in folklore, fairy tales, and the macabre, which has definitely influenced her work. She currently lives in the Midwest with her husband, three young children, and golden retriever.
Get even more book news in your inbox, sign up today! Girl Who Reads is an Amazon advertising affiliate; a small commission is earned when purchases are made at Amazon using any Amazon links on this site. Thank you for supporting Girl Who Reads.