by MK French
School's out (or will be soon)! Studies have shown that when kids do not read during the summer, they can lose half a grade level or more in reading skills. This "summer slide" effects other academic areas as well. Beyond the educational benefits, instilling a life-long love of reading will benefit your kids throughout life. Here are 5 books to keep your kids reading all summer.
Amazon affiliate links are used on this site. Free books were provided for an honest review.
Ronaldo: The Phantom Carrot Snatcher by Maxine Sylvester
November 2016; ebook; children's, holiday
Ronaldo is a reindeer attending Flying Academy. He has a best friend Rudolph and avoids the bullies that try to make him miserable. He is in training so that he can earn the coveted Golden Snowflake medal, and he discovers just who is stealing the carrots out of his backpack - a wolf!
Spellings are British, as that's where Maxine Sylvester is from. There's also the use of sledge instead of sled or torch for a flashlight. Otherwise, Ronaldo's story is fairly universal. He daydreams of being a superhero, tries to do his best at school and get past the bullies. When he discovers that Ernie the wolf is actually a lost cub fending for herself, Ronaldo can't hang onto the fear and prejudices he had of wolves. Instead, he learns to be a good friend to her and tries his best to help her find a way home to her family again.
The illustrations are cute and add to the younger reader feel for the story. Maxine does them herself so you can see the characters exactly as she envisioned them. Even though this is geared for younger readers, there are important life lessons to be learned. It's not preachy at all, and it's a natural way for kids to learn how to value their instincts, trust in friendship, work hard to succeed at their goals, and look past the superficial for what really matters. Those are definitely lessons that adults can learn, too.
Buy Ronaldo: The Phantom Carrot Snatcher at Amazon
The Long-Lost Secret Diary of the World's Worst Dinosaur Hunter by Tim Collins
January 2018; Scribo; 978-1912233199
print (216 pages); middle grades, history
Ann is a teenager that is determined to prove that the bones she digs up are actual dinosaur fossils. Unfortunately, everywhere she goes, bad luck follows. Hopefully, digging up bones in the American West will change her luck.
This is part of the "Long-Lost Secret Diary" series, and Ann is based on the real-life work of Mary Anning. There are bits of humor in it appropriate for children and middle-grade readers, and a fair number of them will be angry on Ann's behalf for the way she's treated by the scientific minds of the day. The "Get Real" boxes provide context for the bones she finds and gives information about the dinosaurs and fossils. There is a glossary and a listing of the prominent paleontologists of the 1800's. Illustrations are cute and kid-friendly, in the same vein as the cover.
It's a very short and easy read, and a great way to get children interested in the stories behind the dinosaur finds.
Buy The Long-Lost Secret Diary of the World's Worst Dinosaur Hunter at Amazon
Marabel and the Book of Fate by Tracy Barrett
February 2018; Little, Brown Books for
Young Readers; 9780316433990
audio, ebook, print (304 pages)
middle grades, fairy tale
In the kingdom of Magikos, Marco is the Chosen One, as he was born on the thirteenth minute after the thirteenth hour on the thirteenth day. His twin sister Marabel was born a minute later and often overlooked. Even when Marco is kidnapped on their thirteenth birthday, she is sent to her room and the Book of Fate is consulted. She refuses to let fear of the unknown rule her and launches a rescue mission with her best friend and a unicorn looking for adventure.
This is a great book for middle-grade readers. Marabel is a spunky young girl that isn't always sure of her abilities and gets scared. She moves on in spite of that, persevering and doing the right thing whenever she can. As a result, she is able to get through situations that would have frightened the average citizen of Magikos, where magic and wishes are strictly limited. They meet with fairies, giants, goblins and a giant, and Marabel is able to be clever and sure of herself in doing the right thing. My nine-year-old daughter also read this book and was impressed by how well Marabel was able to navigate these problems. Marabel learns that the Book of Fate doesn't always have the answers and that all the things labeled Evil aren't always. It's a story of maturity and growing up, and that others' perceptions of things aren't always accurate.
Buy Marabel and the Book of Fate at Amazon
Wintersong By S. Jae Jones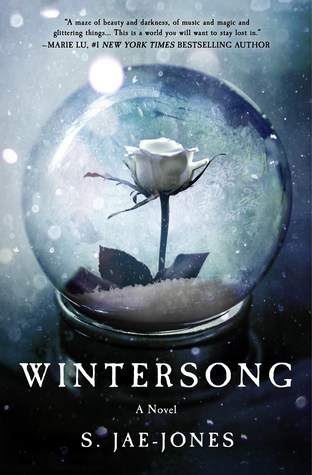 February 2017; A Thomas Dunne Book
978-1250079213
audio, ebook, print (448 pages)
YA, dark fantasy
Liesl is the oldest of three children in an innkeeper's family. Her parents had once been famous court musicians but now are in the German backcountry. She isn't especially close to her sister Käthe, who likes pretty trinkets and is more traditionally beautiful than her. Liesl is closest with her brother Josef, also called Sepperl, and they often create music together. But Josef may be going on to train with a master violinist, and Käthe is entranced by the Goblin King of legend. Liesl will have to choose who matters to her, and decide what it is she really wants.
There is the influence of Christina Rossetti's
Goblin Market
in the beginning of the story, as well as the quotes prefacing the different sections of the book. Liesl is a believable kind of heroine, lost in her music and hurt by comments about her appearance or skill compared to her brother's. She knows the old stories about the goblins and changelings but didn't quite believe them until caught up in it. The power of music is truly important within the scope of the novel so that you can almost hear it as the novel progresses. It's beautifully done, even the parts that shock and scare Liesl because there's the lyrical way the scenes progress that really evokes poetry and music.
There is a second novel,
Shadowsong
, which continues the story. I can't wait to get this book!
Buy Wintersong at Amazon
Chainsaw Honeymoon by Steven Ramirez
March 2018; Glass Highway; 978-0999079140
ebook, print (248 pages); YA, humor
Ruby Navarro, a precocious young girl with two best friends and a love of horror films, concocts a plan to get her estranged parents back together. It involves those two best friends, her dog, and her filmmaker uncle to piece it all together. The problem is, some people think they're making a horror film, some a romantic comedy, and some have no idea what's going on at all.
Steve certainly has the voice of a teenage girl down pat for this novel. Sections from her POV vary with the third person viewpoint for her parents, which takes a bit of getting used to in the beginning. There's a similar high energy in the third person scenes, too, which could be because it takes place in Los Angeles with a heavy Hollywood influence. There are definite comedic moments when you realize that the actors are being manipulated into joining the film school movie but they have no idea. There are so many stereotypes for actors and producers here, and even those who aren't involved in Hollywood behave in over the top ways. If anything, Ruby seems to be the sanest character in the entire book!
The tone of the book overall is very much like a movie itself, with fused genres involved. It's a really fun and imaginative blend, which flows much better than you might think. The pacing of the story is rapid so that it really sucks you in. Ruby is a fun character, and I enjoyed seeing things from her perspective the most. I wouldn't be surprised if this novel at some point becomes a movie itself. Then it would get very meta, being a movie about the process involved in filming a movie.
Buy Chainsaw Honeymoon at Amazon
Born and raised in New York City, M.K. French started writing stories when very young, dreaming of different worlds and places to visit. She always had an interest in folklore, fairy tales, and the macabre, which has definitely influenced her work. She currently lives in the Midwest with her husband, three young children, and golden retriever.
Get even more book news in your inbox, sign up today! Girl Who Reads is an Amazon advertising affiliate; a small commission is earned when purchases are made at Amazon using any Amazon links on this site. Thank you for supporting Girl Who Reads.