by Susan Roberts
There don't seem to be as many books published in the summer as there are the rest of the year and the books that are published appear to be lighter and more fun. Today I have reviews of four very different types of books that published this month - a mystery, historical fiction, psychological suspense and a romance.
Amazon affiliate links are used on this site. Free books were provided for an honest review.
The Banker's Wife by Cristina Alger
July 2018; G.P. Putnam's Sons
978-073521845
audio, ebook, print (352 pages); mystery
This is a great book about secrets and corruption and money - LOTS of money. It's a clever mystery that keeps you guessing over whether characters are honest or corrupt and your opinion is going to change several times until you get to the fantastic ending of the book.
There are two strong female characters that most of the book revolves around - Annabel - the widow of a banker killed in a plane crash who left clues behind over what was going on at the Swiss bank that employed him and Marina - a journalist who gets a tip about money laundering by Swiss banks and has to follow the story to the end. Both women end up being pursued by people who don't want them to share any of the information that they have and will stop at nothing to make sure that they remain silent. I really can't say much about the plot without giving away potential spoilers but I will say that it's fast-paced and a real page-turner! I loved it.
Buy The Banker's Wife at Amazon
The Subway Girls by Susie Orman Schnall
July 2018; St. Martin's Griffin
978-1250169761
audio, ebook, print (320 pages)
historical fiction
The Subway Girls
was another fantastic book by Susie Orman Schnall. It's a dual timeline novel about life in NYC in 1949 and present day. Despite the 70 years between the two main character's lives, their struggles are surprisingly similar.
In 1949, Charlotte dreams of a job in advertising which is only a man's job at the time. Her friends encourage her to enter the Miss Subway contest. This contest picked one young lady every month to have her picture shown in all the subway cars in NYC. The resulting fallout from the award changes Charlotte's life forever. In current time, Olivia is working at a start-up advertising agency. As she struggles to save her job, she comes up with a new advertising campaign for the city that focuses on the Miss Subway contests years earlier. Will this campaign succeed and save her job and her struggling agency?
The story of both of these women are interesting and I loved the way that the author brought their stories together. Despite the 70 years between their lives, both women fought the fights that women have always faced in the work world - discrimination and how to balance work and life and still be happy in both areas. I thought that this was an excellent book with a great message.
Buy The Subway Girls at Amazon
Crazy Little Town Called Love by Jill Hannah Anderson
July 2018; Pandamoon Publishing
978-1945502903; ebook, print (246 pages)
romance
This fun book is book 2 in the To Hell and Back Series. It can be read as a stand-alone with no confusion. The 'Hell Club' is for women who have faced problems and hardship in their lives and is their way of uplifting other women and helping new members who have problems.
At the beginning of the novel, Molly's nice life is coming to an end, her boyfriend of 7 years is packing up their house and leaving her with a large mortgage that she can't afford to pay. Even though she has lived her life in the big city, she grabs at a chance to re-open a small general store in the tiny town of Love that had been left to her mother by the owner. Once she makes it known what she plans to do, the townspeople are quite skeptical that she'll stick to it and be able to make a success of the store. As Molly slowly begins to make friends, she finds out that she's a much stronger woman than she thought. Add to the story a mystery and a bit of romance and you have a great book that you won't want to put down. I can't wait to read the next book in the series.
Buy Crazy Little Town Called Love at Amazon
Baby Teeth by Zoje Stage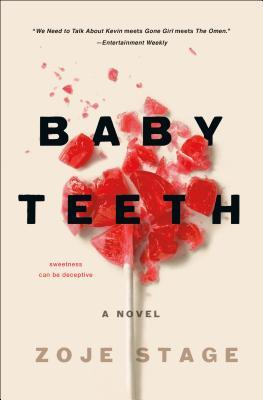 July 2018; St. Martin's Press
978-1250170750
audio, ebook, print (320 pages)
psychological suspense
I'll start off this review by saying that psychological suspense is not my favorite genre to read. That said, I thought that this was a well written interesting novel that was really really creepy!
Hanna is 7 years old. She is non-verbal but very intelligent. Her goal is to get her mom out of the way so she can have her dad all to herself - even to the point of wanting to kill her mom. Suzette, the mom, had a bad childhood and years of illness and always seems to be right on the edge. She tries with Hanna but realizes how much Hanna hates her. The Dad is pretty oblivious to the diminishing relationship between mother and daughter and tends to still think of Hanna as his little girl. As Hanna gets kicked out of more schools and continues to exhibit escalating plans to harm her mother, will the parents be able to stop her before it's too late?
I thought the premise of this book was very novel and the book kept me reading despite my discomfort with some of the plot. If you enjoy books in this genre, you don't want to miss this one.
Buy Baby Teeth at Amazon
Susan Roberts lives in North Carolina when she isn't traveling. She and her husband enjoy traveling, gardening and spending time with their family and friends. She reads almost anything (and the piles of books in her house prove that) but her favorite genres are Southern fiction, women's fiction, and thrillers. Susan is a top 1% Goodreads Reviewer. You can connect with Susan on Facebook, Goodreads, or Twitter.
Get even more book news in your inbox, sign up today! Girl Who Reads is an Amazon advertising affiliate; a small commission is earned when purchases are made at Amazon using any Amazon links on this site. Thank you for supporting Girl Who Reads.