by Susan Roberts
How it begins...
5:00 p.m.
The Center squatted on the corner of Juniper and Montfort behind a wrought-iron gate, like an old bulldog used to guarding its territory. At one point, there had been many like it in Mississippi - nondescript, unassuming buildings where services were provided and needs were met. Then came the restrictions that were designed to make these places go away: The halls had to be wide enough to accommodate two passing gurneys; any clinic where that wasn't the case had to shut down or spend thousands on reconstruction. The doctors had to have admitting privileges at local hospitals - even though most were from out of state and couldn't secure them - or the clinics where they practiced risked closing, too. One by one the clinics shuttered their windows and boarded up their doors. Now, the Center was a unicorn - a small rectangle of a structure painted a fluorescent, flagrant orange, like a flag to those who had traveled hundreds of miles to find it. It was the color of safety; the color of warning. It said: I'm here if you need me. It said. Do what you want to me; I'm not going.
Would you keep reading?
Amazon affiliate links are used on this site. A free book was provided for an honest review.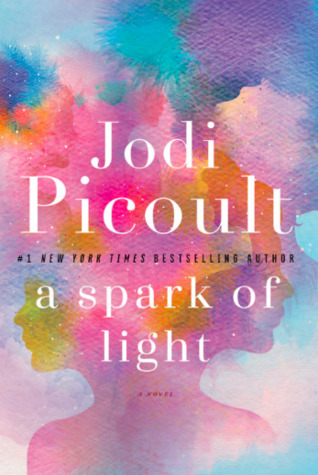 October 2018; Ballantine Books
978-0345544988
audio, ebook, print (384 pages); women's fiction
"It stood to reason that both life and death began with a spark of light."
From the Author's End Notes: "The first step is to talk to each other--and more important-- to listen. We may not see eye to eye, but we can respect each other's opinions and find the truth in them. Perhaps in those honest conversations, instead of demonizing each other, we might see each other as imperfect humans, doing our best."
Jodi Picoult has done it again. She's written a wonderful book about a really tough subject that has been in our headlines for years. Hopefully, instead of negativity and censorship, people will use this book to start conversations and hopefully create understanding of the differing views for both sides.
The characters in this book are people that we can all identify with on some level. They are so well written that the reader feels like they're friends. Wren, 15 years old, goes to the women's health care clinic with her aunt. While she is there, a man with a gun comes in and starts shooting and then holds the rest of the patients and the doctor hostage while he decides what to do next. The next few hours are terrible and Wren shares them with several memorable people - Olive an older lady, a nurse who is pregnant with problems of her own, a woman who has just had an abortion and the doctor who performed the abortion along with an under-cover anti-abortion person who was trying to get inside information on the clinic. The other main character in the story is Wren's Dad, Hugh, who is a police hostage negotiator who is shocked when he finds that his daughter is one of the hostages. All of these people have a story that brought them to this place at this time.
This is a fantastic book and needs to go on everyone's TBR list because I can promise you, it will be a major topic of discussion once it is published.
Buy A Spark of Light at Amazon
Susan Roberts lives in North Carolina when she isn't traveling. She and her husband enjoy traveling, gardening and spending time with their family and friends. She reads almost anything (and the piles of books in her house prove that) but her favorite genres are Southern fiction, women's fiction, and thrillers. Susan is a top 1% Goodreads Reviewer. You can connect with Susan on Facebook, Goodreads, or Twitter.
Get even more book news in your inbox, sign up today! Girl Who Reads is an Amazon advertising affiliate; a small commission is earned when purchases are made at Amazon using any Amazon links on this site. Thank you for supporting Girl Who Reads.