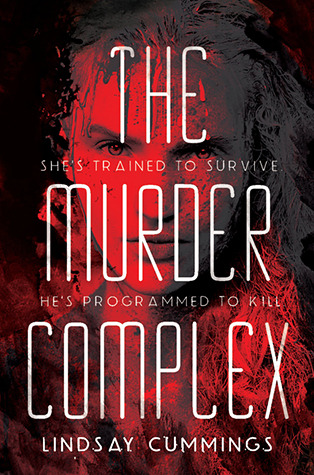 An action-packed, blood-soaked, futuristic debut thriller set in a world where the murder rate is higher than the birthrate. For fans of Moira Young's Dust Lands series, La Femme Nikita, and the movie Hanna.
Meadow Woodson, a fifteen-year-old girl who has been trained by her father to fight, to kill, and to survive in any situation, lives with her family on a houseboat in Florida. The state is controlled by The Murder Complex, an organization that tracks the population with precision.
The plot starts to thicken when Meadow meets Zephyr James, who is—although he doesn't know it—one of the MC's programmed assassins. Is their meeting a coincidence? Destiny? Or part of a terrifying strategy? And will Zephyr keep Meadow from discovering the haunting truth about her family?
Action-packed, blood-soaked, and chilling, this is a dark and compelling debut novel by Lindsay Cummings.
Buy The Murder Complex at Amazon
John Green's The Fault in Our Stars meets Rainbow Rowell's Eleanor & Park in this beautifully written, incredibly honest, and emotionally poignant novel. Cammie McGovern's insightful young adult debut is a heartfelt and heartbreaking story about how we can all feel lost until we find someone who loves us because of our faults, not in spite of them.
Born with cerebral palsy, Amy can't walk without a walker, talk without a voice box, or even fully control her facial expressions. Plagued by obsessive-compulsive disorder, Matthew is consumed with repeated thoughts, neurotic rituals, and crippling fear. Both in desperate need of someone to help them reach out to the world, Amy and Matthew are more alike than either ever realized.
When Amy decides to hire student aides to help her in her senior year at Coral Hills High School, these two teens are thrust into each other's lives. As they begin to spend time with each other, what started as a blossoming friendship eventually grows into something neither expected.
Buy Say What You Will at Amazon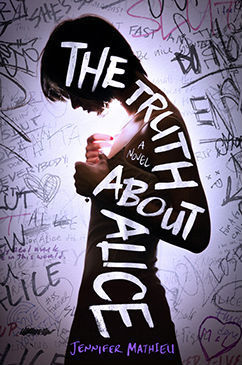 Everyone has a lot to say about Alice Franklin, and it's stopped mattering whether it's true. The rumors started at a party when Alice supposedly had sex with two guys in one night. When school starts everyone almost forgets about Alice until one of those guys, super-popular Brandon, dies in a car wreck that was allegedly all Alice's fault. Now the only friend she has is a boy who may be the only other person who knows the truth, but is too afraid to admit it. Told from the perspectives of popular girl Elaine, football star Josh, former outcast Kelsie, and shy genius Kurt, we see how everyone has a motive to bring – and keep – Alice down.
Buy The Truth About Alice at Amazon
Amara is never alone. Not when she's protecting the cursed princess she unwillingly serves. Not when they're fleeing across dunes and islands and seas to stay alive. Not when she's punished, ordered around, or neglected.
She can't be alone, because a boy from another world experiences all that alongside her, looking through her eyes.
Nolan longs for a life uninterrupted. Every time he blinks, he's yanked from his Arizona town into Amara's mind, a world away, which makes even simple things like hobbies and homework impossible. He's spent years as a powerless observer of Amara's life. Amara has no idea . . . until he learns to control her, and they communicate for the first time. Amara is terrified. Then, she's furious.
All Amara and Nolan want is to be free of each other. But Nolan's breakthrough has dangerous consequences. Now, they'll have to work together to survive--and discover the truth about their connection.
Three freshmen must join forces to survive at a troubled, working-class Catholic high school with a student body full of bullies and zealots, and a faculty that's even worse in Anthony Breznican's Brutal Youth
With a plunging reputation and enrollment rate, Saint Michael's has become a crumbling dumping ground for expelled delinquents and a haven for the stridently religious when incoming freshman Peter Davidek signs up. On his first day, tensions are clearly on the rise as a picked-upon upperclassmen finally snaps, unleashing a violent attack on both the students who tormented him for so long, and the corrupt, petty faculty that let it happen. But within this desperate place, Peter befriends fellow freshmen Noah Stein, a volatile classmate whose face bears the scars of a hard-fighting past, and the beautiful but lonely Lorelei Paskal —so eager to become popular, she makes only enemies.
To even stand a chance at surviving their freshmen year, the trio must join forces as they navigate a bullying culture dominated by administrators like the once popular Ms. Bromine, their embittered guidance counselor, and Father Mercedes, the parish priest who plans to scapegoat the students as he makes off with church finances. A coming-of-age tale reversed, Brutal Youth follows these students as they discover that instead of growing older and wiser, going bad may be the only way to survive.
Girl Who Reads is an Amazon advertising affiliate; a small fee is earned when purchases are made at Amazon through the links above. Covers and summaries are from Goodreads.com.