Are you ready to get back to reading? There are some great books kicking off 2015. What will be your first read for the year?
Connect with readers directly and convert them to lifelong fans by scheduling, organizing, and planning successful author events. This book will teach you how!
Are you confident behind the keyboard, but nervous about getting out and interacting with other book lovers in person? Perhaps you're still trying to figure out which events will play best to your natural strengths and offer a lasting impact on sales. Or maybe you've already done lots of in-person events, but have no idea why they didn't work as well as you'd hoped or expected.
Your Road Map to Successful Author Events is here to help!
In just a few hours, you will learn how to create opportunities for meeting your audience, maximize the effectiveness of paperback sales in venues book purchasers already frequent, and create situations which will entice readers to pick up your book! You will learn how to find, schedule, and prepare for a variety of live author events, as well as how to harness those events to excite new and potential readers. With this guide, you will receive specific, actionable advice on:
*Scheduling Events in Book Stores
*Collaborating with Event Organizers
*Choosing the Best Book Festivals to Attend
*Making the Most of Book Signings
*Preparing the Perfect Excerpt
*Creating an Eye-Catching Display
*Keeping Your Cool During Q&A Sessions
*Handling Disappointment
*Networking with Other Authors
*Creating Opportunities at Non-Book Events
We also offer 5 exclusive freebies for readers of this book!
Available January 1
Buy Your Road Map to Successful Author Events at Amazon
This steamy nightcap novella, the fifth book in the No Weddings Series, takes us on a post-happily-ever-after adventure as Cade attempts to rewrite Valentine's Day with his new wife, Hannah.
Wedded bliss. After everything Hannah and I have been through, we finally have it. Yet dark dreams from my troubled past continue to escalate as we approach Valentine's Day.
Determined to fill our present with great memories that overtake all others, I plan a trip to New York—down to every scheduled detail. Yeah, there will even be a musical.
But Mother Nature has a few tricks up her sleeve. And the universe keeps throwing us curveballs…
Available January 5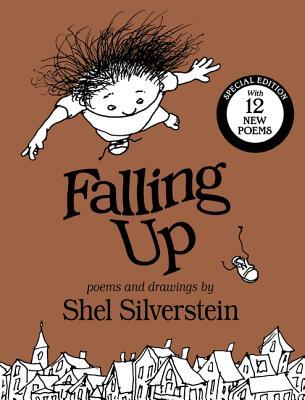 Let the magic of
Falling Up
open your eyes and tickle your mind! With twelve additional never-before-published poems, here is a special edition of this beloved poetry collection.
Within the pages of Falling Up, you'll meet Allison Beals and her twenty-five eels; Danny O'Dare, the dancin' bear; the Human Balloon; Headphone Harold; and more unforgettable characters. This wondrous collection lets you wander through the Nose Garden, ride the Little Hoarse, and eat in the Strange Restaurant, with poems and drawings that are both outrageously funny and profound. The Bulletin of the Center for Children's Books said of Falling Up, "An enticing blend of wickedness, creativity, and rhythm makes the verse entertaining, readable, and often chantable."
Available January 6
Hot bachelor seeks bride…
Resort tycoon Trent Hawthorne is looking for a wife. His all-business, no-nonsense grandmother (and the matriarch of the small town of Maple Creek) has selected three potential brides―all beautiful and approved. Each "fantasy date" will take place in a lush Caribbean setting, filmed like a reality show to promote the Hawthorne family's chain of resorts. All of Trent's hopes for love combined with a clever marketing gimmick…what could possibly go wrong?
As it turns out, all it takes is a kiss. A sizzling, sweet-as-sin kiss. But Cynthia Sawyer isn't one of the bachelorettes, and she's definitely not supposed to be making out with her boss's sexy grandson. Not to mention it's strictly against company policy. But Cynthia has her own reasons for hooking Trent up with a bride who isn't her as soon as possible. And losing her heart is a price that she's willing to pay…
Available January 19
Buy The Marriage Match at Amazon
The unveiling of a set of priceless illustrations of Dante's Divine Comedy at the Uffizi Gallery exposes the unsuspecting Professor Gabriel Emerson and his beloved wife, Julianne, to a mysterious and dangerous enemy.
Unbeknownst to the Professor, the illustrations he secretly acquired years ago were stolen a century earlier from the ruler of Florence's underworld. Now one of the most dangerous beings in Italy is determined to reclaim his prized artwork and exact revenge on the Emersons, but not before he uncovers something disturbing about Julianne …
Set in the city of Florence, "The Prince" is a prequel novella to "The Raven," which is the first book in the new Florentine Series Trilogy by Sylvain Reynard.
"The Prince" can be read as a standalone but readers of The Gabriel Series may be curious about the connection between The Professor's world and the dark, secret underworld of "The Prince."
Available January 20
From the New York Times bestselling author of Garden Spells comes a story of the Waverley family, in a novel as sparkling as the first dusting of frost on new-fallen leaves...
It's October in Bascom, North Carolina, and autumn will not go quietly. As temperatures drop and leaves begin to turn, the Waverley women are made restless by the whims of their mischievous apple tree... and all the magic that swirls around it. But this year, first frost has much more in store.
Claire Waverley has started a successful new venture, Waverley's Candies. Though her handcrafted confections—rose to recall lost love, lavender to promote happiness and lemon verbena to soothe throats and minds—are singularly effective, the business of selling them is costing her the everyday joys of her family, and her belief in her own precious gifts.
Sydney Waverley, too, is losing her balance. With each passing day she longs more for a baby— a namesake for her wonderful Henry. Yet the longer she tries, the more her desire becomes an unquenchable thirst, stealing the pleasure out of the life she already has.
Sydney's daughter, Bay, has lost her heart to the boy she knows it belongs to…if only he could see it, too. But how can he, when he is so far outside her grasp that he appears to her as little more than a puff of smoke?
When a mysterious stranger shows up and challenges the very heart of their family, each of them must make choices they have never confronted before. And through it all, the Waverley sisters must search for a way to hold their family together through their troublesome season of change, waiting for that extraordinary event that is First Frost.
Lose yourself in Sarah Addison Allen's enchanting world and fall for her charmed characters in this captivating story that proves that a happily-ever-after is never the real ending to a story. It's where the real story begins.
January 20
Do you have or know of a book coming out this month? Tell us in the comments (you can leave a link to it as well).
Girl Who Reads is an Amazon advertising affiliate; a small fee is earned when purchases are made at Amazon through the links above.