by Alison DeLuca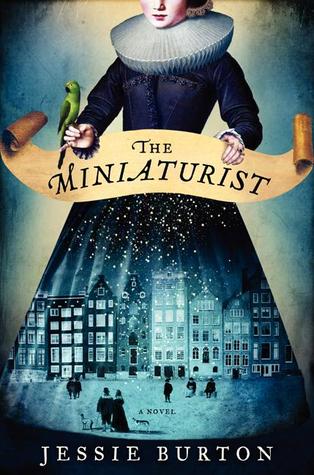 It's January, the month of cold temps here in New Jersey, the time we take down the holiday decorations and start our diets. As a book lover, my resolutions aren't complete without making a list of novels to read. We're also approaching
Oscar season
, so some of those books tie in with films that will probably get nominated.
I already bought a few novels and scheduled them on my
Kindle
.
The Miniaturist: A Novel
(by Jessie Burton) looked like a gorgeous historical read with a fun concept. When Nella Oortman marries Johannes, he presents her with a miniature replica of their house. She hires a miniaturist, whose tiny creations begin to mirror her life and marriage in eerie and unexpected ways.
The Awakening
, a steampunkish horror film I loved, had one scene centered on a miniature house. Although the movie fell apart at the end, that section made me gasp with its clever and frightening glimpse into miniatures. I hope
The Miniaturist
is just as clever and creepy.
I also queued up
Red Rising
by Pierce Brown. The second book just won a rave review from Entertainment Weekly (although the article included a major spoiler with no warnings! Shame on you, EW, for breaking such a basic rule of modern review.) I love the thought of Martian colonization and mining, so I'm all in for this book and its sequel,
Golden Son
.
Dorianna
, a female take on Dorian Grey by Catherine Stine, just won Best Horror book on The Kindle Hub. I already loved the author's books
Fireseed One
and
Ruby's Fire
, so I snapped up her new novel as well. Ditto Karen Pokras's seasonal book
Merry Wishes
– I ran out of time to read it over Christmas, so it's going into the January list. It's going to help extend my holiday when the air gets cold and there's nothing to look forward to other than President's Day.
And as Oscar season approaches, I'm deciding between several of the memoirs that inspired some of the most noteworthy films:
Wild
by
Cheryl Strayed
,
American Sniper
by
Chris Kyle
, and
Unbroken
by Laura Hillebrand. The third one is a definite buy, since I loved her
Seabiscuit: An American Legend
.
I also have to play catch up.
The Maze Runner
snuck by me before I could read or watch the movie; so did
If I Stay
.
Boyhood
is a must-see, and so, strangely, is
Horns
– the Daniel Radcliffe oddball Fantasy movie about a man who grows devil's horns.
Reading back over this article, I see I've got far more than a month's worth of reading here. In fact, my lists of movies and books should take us past the worst of snow and ice.
What's in your Netflix and kindle queues?


Girl Who Reads is an Amazon advertising affiliate; a small fee is earned when purchases are made at Amazon through the above links.