Plenty of new books coming out this month. If you have a book lover in your life perhaps one of these titles will be perfect for Valentine's Day. Or perhaps just pick up a gift for yourself!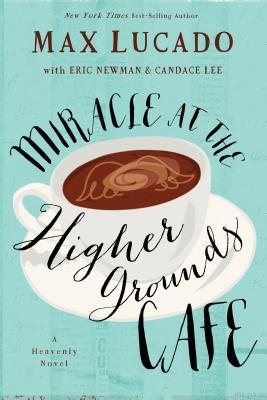 What if you could ask God anything? What would you ask? And how would he answer?
Chelsea Chambers is on her own. After a public split from her NFL superstar husband, Chelsea takes a bold step out of the limelight and behind the counter of the Higher Grounds Cafe, an old-fashioned coffee shop in dire need of reinvention. But when her courage, expert planning, and out-of-this-world cupcakes fail to pay the bills, this newly single mom finds herself desperate for help. Better yet, a miracle.
Thena curious stranger lands at Chelsea's door, and with him, an evenmore curiousstring of events. Soon, customers are flocking to the Higher Grounds Cafe, and not just for the cupcakes and cappuccino. They've come for the internet connection to the divine. Now thecafe has become the go-to place for people in search of answers to life's biggest questions.
When a catastrophe strikes and her ex comes calling, Chelsea begins to wonder if the whole universe is conspiring against her quest to make it on her own. After a shocking discovery opens her eyes to the unseen world around her, Chelsea finds the courage to ask, and heaven answers in a most unexpected way.
Available February 1
Buy Miracle at the Higher Grounds Cafe at Amazon
From the New York Times bestselling author of the Gabriel Series comes a dark, sensual tale of romance in a city shrouded in mystery…
Raven Wood spends her days at Florence's Uffizi Gallery restoring fine works of Renaissance art. But an innocent walk home after an evening with friends changes her life forever. When she intervenes in the senseless beating of a homeless man, his attackers turn on her, dragging her into an alley. Raven is only semi-conscious when their assault is interrupted by a cacophony of growls followed by her attacker's screams. Mercifully, she blacks out, but not before catching a glimpse of a shadowy figure who whispers to her…
Cassita vulneratus.
When Raven awakes, she is inexplicably changed. She returns to the Uffizi, but no one recognizes her and more disturbingly, she discovers that she's been absent an entire week. With no recollection of the events leading up to her disappearance, Raven also learns that her absence coincides with one of the largest robberies in Uffizi history – the theft of a set of priceless Botticelli illustrations. When the baffled police force identifies her as its prime suspect, Raven is desperate to clear her name. She seeks out one of Florence's wealthiest and elusive men in an attempt to uncover the truth about her disappearance. Their encounter leads Raven to a dark underworld whose inhabitants kill to keep their secrets…
Available February 3
A hilarious and refreshingly honest foray into modern dating, Age, Sex, Location is Bridget Jones's Diary for HBO's Girls generation.
An American living in London, Lauren is intelligent, beautiful and loves to party. So why can't she convince a man she isn't after something more serious than scrambled eggs and goodbye in the morning?
Determined to snare some regular male affection, she embarks on a project: each month she will follow the rules of a different dating guide - from refusing to pay the bill to chatting up every man in her path - and will switch seamlessly to the next book at the end of each month.
Lauren's love life is about to get scientific . . .
Available February 3
Buy Love By the Book at Amazon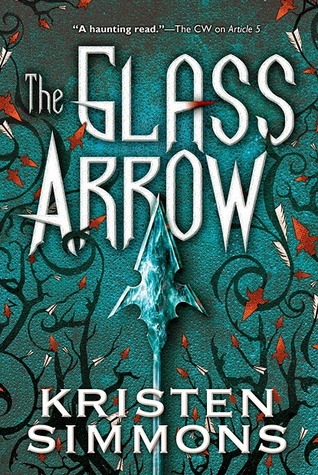 The Handmaid's Tale meets Blood Red Road in Glass Arrow, the story of Aya, who lives with a small group of women on the run from the men who hunt them, men who want to auction off breeding rights to the highest bidder.
In a world where females are scarce and are hunted, then bought and sold at market for their breeding rights, 15-year old Aya has learned how to hide. With a ragtag bunch of other women and girls, she has successfully avoided capture and eked out a nomadic but free existence in the mountains. But when Aya's luck runs out and she's caught by a group of businessmen on a hunting expedition, fighting to survive takes on a whole new meaning.
Available February 10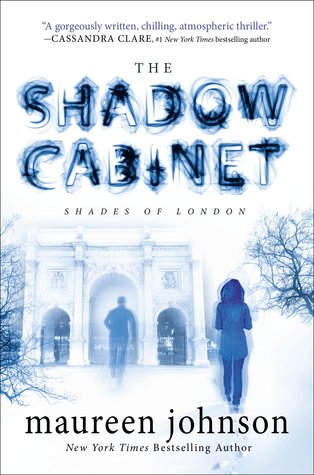 The thrilling third installment to the Edgar-nominated, bestselling series.
Rory and her friends are reeling from a series of sudden and tragic events. While racked with grief, Rory tries to determine if she acted in time to save a member of the squad. If she did, how do you find a ghost? Also, Rory's classmate Charlotte has been kidnapped by Jane and her nefarious organization. Evidence is uncovered of a forty-year-old cult, ten missing teenagers, and a likely mass murder. Everything indicates that Charlotte's in danger, and it seems that something much bigger and much more terrible is coming.
Time is running out as Rory fights to find her friends and the ghost squad struggles to stop Jane from unleashing her spectral nightmare on the entire city. In the process, they'll discover the existence of an organization that underpins London itself—and Rory will learn that someone she trusts has been keeping a tremendous secret.
Available February 10
Buy The Shadow Cabinet at Amazon
Julia's life is comfortable, if unremarkable, until her sister's brutal murder opens old wounds. She finds solace in her sister's best friend, Sophie, but when Sophie reveals the extent of her sister's online life, Julia becomes convinced that the truth about her death lies deep in the dark, sordid world of online chatrooms and internet sex.
What begins as Julia's search for the truth about her sister quickly turns into an exploration of herself and her own desires. After all, the internet is her playground, and why be just one thing when you can be as many as you like? What could possibly go wrong? After all, it's only cybersex, isn't it? No one's going to get hurt.
But then she meets the dark and mysterious Lukas in an online chat room, and things begin to get very dangerous indeed.
Available February 12
Beth Davenport has no interest in getting involved with another man for the foreseeable future. To say her last relationship ended in disaster would be a colossal understatement. The only reason she agrees to put in an appearance at Serpent's Kiss, a private kink club in downtown St. Louis, is because her best friend, Nicole, won't quit nagging her. When she walks in the door that night, the last thing she expects to do is meet a man who will have her reconsidering her ban on men.
As a captain with the St. Louis Fire Department, Drew Parker is used to being in charge. His crew relies on him to make sure they know what they're doing and return home to their families after every shift. It isn't, however, what he wants in a relationship. Drew decides to join Serpent's Kiss to see if what appeals to him in fantasy is something he wants to explore in the real world. He's also hoping that he'll be lucky enough to meet a woman with whom he can explore his desires. The night Beth walks into the club, he is intrigued. Drew has to get to know her better.
After what happened to her, Beth is reluctant to get involved with Drew. It doesn't matter that he is sweet and charming. She's been burned before and Beth doesn't think she can survive having her heart crushed again. Drew, however, won't take no for an answer. He wants a relationship and is determined to chip away at her defenses until she relents. Will she give him a chance, or did her ex leave her with scars too deep to heal?
Available February 12
Buy Burning for Her Kiss at Amazon
Her CIA bosses think she's the bomb. Kitalia Ore is positive of that fact.
Okay, fine. Kitten MacLean. And they're her parents, but it's so much more fun to imagine them the other way around. And J.J., her MI6 contact? He's in love with her. Doesn't matter that her closest confidant, Jimmy Jones, hasn't spoken a word to her since first grade.
Everyone at school adores her, too. Sure, they might not know it yet, but every single student at Rimtree High is her best friend. Naturally.
She's just that incredible.
When a new girl—Kit's choice for sidekick in her daily adventures—is being bullied, however, it's time for Kit to take charge and leave her fantasy world of fearless bravado and easy victories behind. Can the "real" Kit use her make-believe practice to her advantage? The world outside her CIA missions is far different than she's used to, and her usual happy-go lucky heart is about to take the beating of a lifetime. But Kit has never backed down from anything in her life and she's not about to start now.
Time to find out what she's really made of. Before the bad guys ruin everything.
Available February 16
Buy Girl Incredible at Amazon
Girl Who Reads is an Amazon advertising affiliate; a small commission is earned when purchases are made at Amazon through the above links.