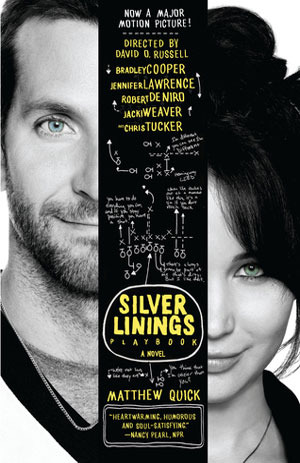 The beginning of the month brings chores, bills – and a rotating selection of
Netflix
movies. There are a few I queued up, including
The Interview
,
Silver Linings Playbook
, and
Snowpiercer
.
Let's start with the last one. I actually rented Snowpiercer because, hey, Chris Evans, and it blew up on Tumblr over the summer. If I had gone in with the mindset that it was a political allegory with heavy social commentary I probably would have enjoyed it more. Instead I expected a well-written sci-fi/fantasy, and Snow was far too heavy for that. Tilda Swinton is one of my favorite actresses, and she was incredible in her demeaning part, the Maggie Thatcher representative who gets her ill-fitting false teeth taken away and is forced to wear a shoe on her head.
Does Tilda's character deserve it? Well, yes. Still, Snowpiercer didn't capture my imagination the way I thought it would, although now I've read some articles about the film I see some redeeming qualities. If you don't mind studying a bit to understand the theme of the movie, give Snowpiercer a try.
Next up was The Interview. Famous for causing a North Korean meltdown with resulting embarrassment for Sony and the company's CEO, this movie had perhaps the greatest accidental publicity campaign ever. And, like most accidents, its star status was finished in days. Still, I thought I'd have a look at it to see what 'all the fuss was about.'
The result is, as I expected, Not Really Worth It At All. If Kim Jung Un had ignored the film and gone on about his business, the movie would have died a natural death. Those of you who like James Franco (which I do) you will enjoy his over-the-top interviewer portrayal. You may get annoyed, as I did, by the continued Hollywood portrayal of Asian women as slinky beauties just dying to sleep with Americans. I'm talking to you, Sony - Diana Bang deserves a much more subtle role than the pretty Korean who falls for the dude from the US.
However, I really enjoyed
Randall Park
as Kim Jung Un. It takes a damn clever actor to make the dictator at all sympathetic, which the script calls for in the beginning. Randall delivers nicely, and I'm going to check him out in the upcoming
Off the Boat
series to get more of his acting.
Both of these pale in comparison to the luminous Silver Linings Playbook and, yes, its still free on Netflix if you have a streaming account. I found myself sucked into the story with its unreliable MC – Pat - and the unreliable woman he meets, Tiffany. Jennifer Lawrence plays her to perfection, all determination with an undercurrent of fragility. I haven't always been a JLaw fan, but she won me over with this performance.
As for Robert DeNiro as the seemingly put-upon dad who's just as (or even more) out of it than his son, I was blown away. Let's not forget Jacki Weaver offering Crabby Snacks and Homemades, I loved her worried, hopeful face. And Chris Tucker offers incredible, sexy madness.
Now for my Netflix marathoners - don't forget the next season of House of Cards coming up at the end of the month. Queue your iced coffee, Junior mints, and popcorn (or baked kale snacks for those of you trying to be healthy.) I have a few shows in my list to be marathoned – like Bomb Girls – so maybe we can have a Netflix weekend together and fangirl over The 100 and Scandal.
Until then, watch The Interview with a few beverages and some silly friends, save Snowpiercer for when you're in a really good mood, and stream Playbook anytime. That movie is, according to one of my friends, the kind to suck you in no matter how many times you watch it.