In the Unlikely Event
considers a startling backdrop: a series of passenger airline flights that crashed over a three-month period in 1951 and 1952 in Elizabeth, New Jersey, where Blume grew up. "These events have lingered in my mind ever since," says Blume. "It was a crazy time. We were witnessing things that were incomprehensible to us as teenagers. Was it sabotage? An alien invasion? No one knew, and people were understandably terrified." The crashes resulted in the closing of Newark airport for nine months.
With her rich imagination, Blume uses this background to weave together a story with an unforgettable ensemble of families and friends across three generations. The hallmark traits of Blume – a deep concern for her characters and the authentic capture of an era – are evident on every page as we see her protagonists grow up, fall in love, marry, cope with loss, deal with estranged parents and difficult friendships and familial obligations, remember the good times, and finally, wonder at the joy that keeps them going.
Available June 2
Buy In the Unlikely Event at Amazon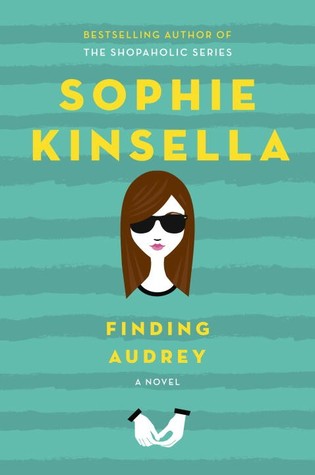 From the #1 New York Times bestselling author of the Shopaholic series comes a terrific blend of comedy, romance, and psychological recovery in a contemporary YA novel sure to inspire and entertain.
An anxiety disorder disrupts fourteen-year-old Audrey's daily life. She has been making slow but steady progress with Dr. Sarah, but when Audrey meets Linus, her brother's gaming teammate, she is energized. She connects with him. Audrey can talk through her fears with Linus in a way she's never been able to do with anyone before. As their friendship deepens and her recovery gains momentum, a sweet romantic connection develops, one that helps not just Audrey but also her entire family.
Available June 9
Past, present, and future collide to throw respected forensic anthropologist Bill Brockton's successful, secure life into devastating turmoil in this poignant novel in the New York Times bestselling Body Farm mystery series
It's been ten years since Dr. Bill Brockton created the Body Farm—the world's first postmortem research facility dedicated to advancing the frontiers of forensic science—and the researcher is at the pinnacle of his career. Under his leadership, the University of Tennessee's forensic anthropology program has become the most prominent in the world, and Brockton's skills and knowledge are in high demand among top law enforcement. Calling him in for a number of high profile cases, the FBI now wants him to identify the charred remains of a maverick millionaire, killed in a fiery plane crash.
But a storm is about to hit Brockton with cataclysmic force. First, his identification of the crash victim is called into question. Then he receives a threatening message from the serial killer who attempted to murder the scientist and his family a decade ago. And from Brockton's beloved wife Kathleen—his lodestone and his source of security—he gets the most shocking news of all. Will Brockton be able to weather this deluge . . . or has he finally reached the breaking point?
Available June 9
Buy The Breaking Point at Amazon
A friendship is tested in this irresistible page-turner from New York Times bestselling author Elin Hilderbrand.
Nantucket writer Madeline King couldn't have picked a worse time to have writer's block. Her deadline is looming, her bills are piling up, and inspiration is in short supply. Madeline's best friend Grace, is hard at work transforming her garden into the envy of the island with the help of a ruggedly handsome landscape architect. Before she realizes it, Grace is on the verge of a decision that will irrevocably change her life. Could Grace's crisis be Madeline's salvation? As the gossip escalates, and the summer's explosive events come to a head, Grace and Madeline try desperately to set the record straight--but the truth might be even worse than rumor has it.
Available June 16
Portia Kane is having a meltdown. After escaping her ritzy Florida life and her cheating pornographer husband, she finds herself back in South Jersey, a place that remains largely unchanged from the years of her unhappy youth. Lost and alone, looking for the goodness she believes still exists in the world, Portia sets off on a quest to save the one man who always believed in her—and in all of his students: her beloved high school English teacher, Mr. Vernon, who has retired broken and alone after a traumatic classroom incident.
Will a sassy nun, an ex-heroin addict, a metalhead little boy, and her hoarder mother help or hurt Portia's chances on this quest to resurrect a good man and find renewed hope in the human race? Love May Fail is a story of the great highs and lows of existence: the heartache and daring choices it takes to become the person you know (deep down) you are meant to be.
Available June 16
Lizzy and Diesel return once again in an all-new adventure in the #1 New York Times bestselling series from Janet Evanovich and her co-author, Phoef Sutton!
Murdered and mummified more than ninety years ago, bootlegger Collier "Peg Leg" Dazzle once found and re-hid a famous pirate's treasure somewhere along the coast of New England. A vast collection of gold and silver coins and precious gems, the bounty also contains the Stone of Avarice — the very item reluctant treasure seeker, Lizzy Tucker, and her partner, Diesel, have been enlisted to find. While Lizzy would just like to live a quiet, semi-normal life, Diesel is all about the hunt. And this hunt is going to require a genuine treasure map and a ship worthy of sailing the seven seas . . . or at least getting them from Salem Harbor to Maine.
Greed is eternal and insatiable, and Lizzy and Diesel aren't the only ones searching for the lost pirate's chest. There are people who have dedicated their entire lives to finding it, and are willing to commit murder or make a deal with the devil, just to hold the fortune in their hands. One of those people may even be Wulf, Diesel's deceptively charming and enigmatic cousin. Wulf desires the Stone of Avarice. He also desires Lizzy. It's hard to say how far he's willing to go to gain either one.
It's a swashbuckling adventure full of raiders, monkeys, minions, and mayhem. Lizzy and Diesel are going to have to do everything they can to keep their heads above water and hope they are living a charmed life.
Available June 23
Girl Who Reads is an Amazon advertising affiliate; a small commission is earned when purchases are made at Amazon through the above link. Thank you for supporting this blog.