by Donna Huber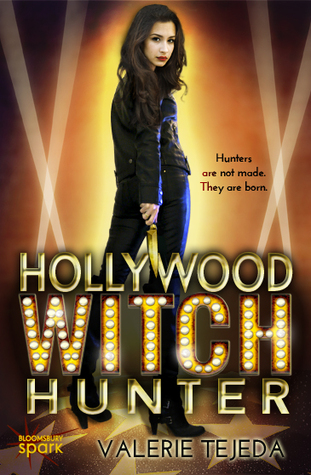 First Chapter, First Paragraph
There are two types of people in Hollywood: the hunted and the hunters.
Iris Maria Bently was born to be a Hunter.
She always knew her family was different. Not just because they lived in a lavish mansion in the Hollywood Hills, or because they were always rubbing elbows with the rich and famous. But because of the many secrets surrounding her family's business.
What kind of secrets exactly? Nothing she could pinpoint. Just lots of whispers behind locked doors, echoes of screams, and the occasional lifeless body marked with a silver star that would have left most children with nightmares. But not Iris.
The Review
I was looking for a fluffy read and I thought
Hollywood Witch Hunter
would be something my niece would read so I decided to try it for myself. Unfortunately, it a little too cheesy for me and it wound up just being a long, painful read.
It looked a little like
Buffy the Vampire Slayer
and I loved the television show.
I was a bit concerned about the messages this book would send to impressionable girls. First, Iris is a high school drop out. Second,females in general are portrayed in less than spectacular light in this book. The witches, who are supposedly the bad "guys" are all female who are shallow, only concerned about their looks and wealth. Then there are the Hunters, who are supposedly the good guys. There has never been a female hunter until Iris. Only men have the gene to be a hunter. And finally there are the Hunter wives who are just to do the biding of their husbands.
Iris was never allowed to discuss hunter business with her mother. For the most part, her mom's knowledge of the witch-hunting world was limited. Like all Hunters' wives, she knew witches were a threat that needed to be eliminated, but not much else. If she ever learned more than was deemed necessary, she would be subjects to an Idas spell, wiping her memory clean and planting a new one.
Iris hated how often her mother's mind was altered, but Hunters' wives knew exactly what they'd gotten themselves into. Apparently, they considered it an honor just to be married to a Hunter... (Chapter 4)
There were some plot inconsistencies which really caused me to be pulled out of the story. But this was an ARC so I can hope they were cleared up in the final product. The reading level was little lower than what I usually read in young adult, but I know there is a need for that.
My biggest problems though were with the characters. Their interactions felt stilted and awkward. I wish Iris had been a bit smarter. For all the "superior"genes hunters are suppose to have, intelligence isn't one of those traits. Or maybe she just has too much blind loyalty. I would have liked for her to have a defining moment of what she believed. She came close at the end, but I still think if her mom, dad, or another hunter gave her an explanation she would just go along with it. She did with Silos, Helmer, even Levana.
The plot threads felt like a jumble mess to me most of the time. I could not lose myself in the story. I'm sure there will be kids that eat this up because they will not be over thinking the story and just go with it at face value (much like the character Iris did with everything through the story).
Buy Hollywood Witch Hunter at Amazon
Book info:
available formats: ebook (232 pages)
published: July 2015 by Bloomsbury Spark
genres: fantasy
audience: young adult
source: Netgalley
A free egalley was provided for this review. Girl Who Reads is an Amazon advertising affiliate; a small commission is earned when purchases are made at Amazon using any Amazon links on this site. Thank you for supporting Girl Who Reads.