by Donna Huber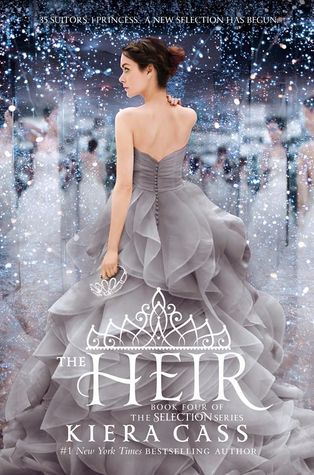 I could not hold my breath for seven minutes. I couldn't even make it to one. I once tried to run a mile in seven minutes after hearing some athletes could do it in four but failed spectacularly when a side stitch crippled me about halfway in.
However, there was one thing I managed to do in seven minutes that most would say is quite impressive: I became queen.
The Review
I found myself really enjoying The Selection series by Kiera Cass last year when I finally broke down and checked out the audio books from my digital library. I was always drawn to the covers, but did't know if a teen romance was something I wanted to read. I fell in love with America Singer and Prince Maxon. And really what girl doesn't dream of being chosen by a prince?
So when I saw
The Heir
at the digital library this summer I put my name on the holds list. Mostly I did it because I have trouble quitting a series, but I kind of wanted to know how life turned out for them.
I was kind of disappointed that there wasn't more America and Maxon. And in the beginning I felt like this might be a little too cookie cutter for me, but as the story progressed I found myself wanting to know what happened with the characters.
I have a few favorites among the male selection candidates and while we new reading the first three books that America would eventually be the one, there is no clear winner for the heir. I've been waffling between Kyle - the boy she grew up with and is now seeing him in a new light, and Eric - the translator (yeah, I know he isn't really in the selection, but I can see Eadlyn choosing him anyways).
The book does have a different vibe with the main character, whose point of view the story is told from, being the one to make the decision. I thought that Cass missed some opportunities to develop more of the world the story in habits. After all a lot of changes have occurred since Prince Maxon became king. Then again I also thought this would be a stand alone ending with Eadlyn choosing her prince. Imaging my surprise when there were still so many candidates left and only 30 minutes of audio remained.
Eadlyn isn't well liked by all the people in the kingdom and I thought Cass did a great job with her character. I didn't particularly like her. With America I think all readers fell in love with her immediately, but even with being in Eadlyn's head there was still a barrier if you will that kept the reader from feeling close to her. I don't think we are suppose to be immediately taken with Eadlyn and I commend Cass for creating a character that isn't wholly likeable, but redeemable.
I look forward to the next book because I really want to know who she chooses and I want to see if Eadlyn can truly grow as a person.
Book info
available formats: audio, ebook, and print (368 pages)
published: May 2015 by Harper Teen
ISBN13: 978-0062349859
genres: romance, fantasy
target audience: young adult
source: Georgia Digital Download
listened to: October 2015
Girl Who Reads is an Amazon advertising affiliate; a small commission is earned when purchases are made at Amazon using any Amazon links on this site. Thank you for supporting Girl Who Reads.