Your enemy is the blank page. When it comes to writing, there's no wrong way to get words on paper. But it's not always easy to make the ink flow. Paper Hearts: Some Writing Advice won't make writing any simpler, but it may help spark your imagination and get your hands back on the keyboard.
Practical Advice Meets Real Experience
With information that takes you from common mistakes in grammar to detailed charts on story structure, Paper Hearts describes:
•
How to Develop Character, Plot, and World
•
What Common Advice You Should Ignore
•
What Advice Actually Helps
•
How to Develop a Novel
•
The Basics of Grammar, Style, and Tone
•
Four Practical Methods of Charting Story Structure
•
How to Get Critiques and Revise Your Novel
•
How to Deal with Failure
•
And much more!
BONUS! More than 25 "What to do if" scenarios to help writers navigate problems in writing from a New York Times Bestselling author who's written more than 2 million words of fiction.
Available November 1
A Kiss. Nowhere does there exist a stronger expression of romance. If love is the universal language, then a kiss is the alphabet by which we communicate that most basic of all emotions. As unique as the individuals who engage in this delightful expression, a kiss can be tender or passionate, affectionate or amorous, but when shared by a couple there's no better way to say, "I love you."
A Kiss is Still a Kiss offers a buffet of stories to tempt the appetites of romance readers. Twenty authors, from beloved, familiar names to fresh new voices, present tales of love in a variety of genres. Experience the rush of first love, the excitement of unanticipated romance, and the joy of fading love restored. Within these pages you'll relish a surprising and satisfying collection of styles: sweet contemporary, romantic historical, delightful regency, laugh-out-loud humor, gripping suspense, and even a few whimsical tales of fantasy and science fiction. Why? Because regardless of genre…A Kiss is Still a Kiss.
Available November 1
Buy A Kiss is Still a Kiss at Amazon
Meredith Martin Delinn just lost everything: her friends, her homes, her social standing - because her husband Freddy cheated rich investors out of billions of dollars.
Desperate and facing homelessness, Meredith receives a call from her old best friend, Constance Flute. Connie's had recent worries of her own, and the two depart for a summer on Nantucket in an attempt to heal. But the island can't offer complete escape, and they're plagued by new and old troubles alike. When Connie's brother Toby - Meredith's high school boyfriend - arrives, Meredith must reconcile the differences between the life she is leading and the life she could have had.
Set against the backdrop of a Nantucket summer, Elin Hilderbrand delivers a suspenseful story of the power of friendship, the pull of love, and the beauty of forgiveness.
Available November 3
Author and comedienne Sara Benincasa takes a bold, fearless and irreverent look at the classic high school trip to Washington DC.
Alicia Deats is a new teacher chaperoning her very first high school trip to Washington DC, and nothing could be more terrifying than a class full of horny, backstabbing, boundary-pushing teenagers under her watch. To make matters worse, she embarrassed herself with her co-chaperone Bryan Kenner with one too many margaritas and an ill-placed vomiting incident at last year's teacher mixer and is hoping this trip can be a fresh start for them. Alicia believes in positive reinforcement and trust to keep her students out of trouble, but best friend high school sophomores Gertie, Sivan, and Rachel have a different idea: they plan to take full advantage of the un-parented freedom that a trip to DC offers. DC TRIP by novelist-comedian Sara Benincasa is an honest and irreverent journey of sexual confusion, bar shots, drag queens, and pot cookies in the Rose Garden.
Available November 3
Suffering from writer's block, novelist Rachel Ames escapes to a lake cabin to calm her mind and regain a sense of herself. The location is perfect. Isolated. Beautiful. Inspiring. It even comes with a good-looking landlord who shows an interest in her. But she can't shake the sense that something terrible has followed her to the lake, something just beyond her consciousness, something out on the edge where the sounds of a raging fire and sirens linger whenever she slows down to listen. Determined to make the cabin work, she tries to settle in and give her new life a chance. But when strange things begin to happen around her, she wonders if she's made a terrible mistake. As the darkness that's followed her manifests itself in inexplicable ways, her concept of reality is stretched thin and she realizes nothing at the lake is what it seems. As she fights to survive with her sanity intact, she understands too late that the location she's chosen for herself is far from perfect.
Available November 10
Buy The Torment of Rachel Ames at Amazon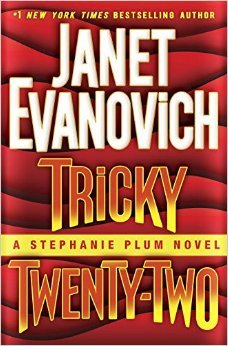 Something big is brewing in Trenton, N.J., and it could blow at any minute.
Stephanie Plum might not be the world's greatest bounty hunter, but she knows when she's being played. Ken Globovic (aka Gobbles), hailed as the Supreme Exalted Zookeeper of the animal house known as Zeta fraternity, has been arrested for beating up the dean of students at Kiltman College. Gobbles has missed his court date and gone into hiding. People have seen him on campus, but no one will talk. Things just aren't adding up, and Stephanie can't shake the feeling that something funny is going on at the college - and it's not just Zeta fraternity pranks.
As much as people love Gobbles, they hate Doug Linken. When Linken is gunned down in his backyard it's good riddance, and the list of possible murder suspects is long. The only people who care about finding Linken's killer are Trenton cop Joe Morelli, who has been assigned the case, security expert Ranger, who was hired to protect Linken, and Stephanie, who has her eye on a cash prize and hopefully has some tricks up her sleeve.
Available November 17
Buy Tricky Twenty-Two at Amazon
"Happily ever after is hers for the taking."
Once upon a time I found myself locked away in Spindle Ridge Asylum, punished for a murder I didn't commit. It was all part of Maleficent's evil plan. I didn't remember who I was then … now I do. My name is Aurora, and I am the rightful queen of this realm. Armed with my memories, I'm ready to take charge of my kingdom once more. Happily ever after evades me, yet I long to claim it with my true love, Sawyer, beside me. That fairy tale ending seems impossible with him locked in the thralls of a sleeping curse. As much as I'd love to sit by his bedside and eagerly await a cure, I must first travel into the terrifying Dark Woods to stop Raven from stripping me of all that is rightfully mine. I am not only a queen, but a warrior who will fight for her kingdom. Some may die. Blood will be shed. But when this ending comes, I will settle for nothing less than a blissful ever after.
Available November 17
Buy Awaken at Amazon
Welcome to Thistle Bend! Perfect for fans of Susan Mallery, this charming series debut introduces a small town where old secrets are revealed—and wounded hearts are opened to new love.
A year after being laid off from the Smithsonian, Lindsey Simms says yes to a job offer as curator of a heritage museum in Thistle Bend, Colorado (population 1,519). It could be worse—and it is. Because the new museum has escalated a dispute between the Karlssons, Lindsey's relatives, and the Crenshaws, a blood feud which goes way back to a land deal that changed the fortunes of both families. Trying to stay objective, Lindsey can't tell anyone about her conflict of interest—especially not the ruggedly handsome handyman fixing up her cabin, who seems to be keeping secrets of his own.
Although he's the executive director of the family trust and one of Colorado's most eligible bachelors, Carden Crenshaw prefers getting his hands dirty in town and on his sprawling ranch. Staying busy has given him an excuse not to risk heartbreak, but getting to know the beautiful "museum lady" makes him reconsider. Little does he know, the heat between them will only add fuel to the fire—unless this unlikely couple can prove they're lovers, not fighters.
Available November 24
Buy Should've Said No at Amazon
Girl Who Reads is an Amazon advertising affiliate; a small commission is earned when purchases are made at Amazon using any Amazon links on this site. Thank you for supporting Girl Who Reads.