by Donna Huber
Are you wrapping up 2015 with travel? If you so here are 8 audio books sure to entertain!
Bones on Ice
by Kathy Reichs
Now that I realize that the Temperance Brennan in the books is not the same as the Temperance Brennan on the television show Bones, I found I enjoyed this novella better than the one I listened to in August. I prefer the television show, but it was a nice way to fill the silence at work.
It is called the "death zone": the point on Everest, nearly five miles high, above which a climber cannot be rescued. More than 250 souls have lost their lives there. Most of the bodies remain, abandoned, frozen in place. When an earthquake leads to a miraculous recovery, Dr. Temperance Brennan is hired to identify the frozen mummified human corpse. The victim is the daughter of a wealthy Charlotte couple who never got the chance to say goodbye. But far from offering solace and closure, Tempe's findings only provoke more questions. What happened on Mount Everest? Was the young woman's death an accident? Why aren't the other climbers talking? And how far will those hiding the truth go to make sure the past stays buried?
Love May Fail
by Matthew Quick
Having enjoyed Silver Linings Playbook, I was happy to see my digital library have a copy of Love May Fail. Unfortunately this one fell a little flat for me. I felt that it was the same characters in a slightly different situation. I even looked to see if the narrator was the same person as the high school English teacher sounded like Pat. But it all different narrators.
Portia Kane is having a meltdown. After escaping her ritzy Florida life and her cheating pornographer husband, she finds herself transported back to South Jersey, where things remain largely unchanged from her unhappy childhood. In need of saving herself, she sets out to find and resurrect a beloved high school English teacher who has retired after a horrific scandal. Will a sassy nun, an ex-heroin addict, a metal-head little boy, and her hoarder mother help or hurt Portia's chances in this bid for renewed hope in the human race? This is a story of the great highs and lows of existence: the heartache and daring choices it takes to become the person you know (deep down) you are meant to be.
The Christmas Train
by David Baldacci
This was fun to listen to. The cast of characters that Tom meets along his train trip are not to be missed. They totally made the story. If you enjoy Mark Twain stories, then you should definitely pick up this book. There is even a nod to Twain in the story line. I also think this one of the best audio book productions I have listened to. The musical interludes added something special to the story.
Tom Langdon, a weary, cash-strapped journalist, must get to Los Angeles to spend Christmas with his girlfriend. Flying is not an option, so he opts for a transcontinental train ride -- thus beginning one of the most hilarious and heartwarming journeys ever. Along the way he encounters mechanical failures, derailments, and the odd eccentric, including Agnes Joe, who rides trains all of the time, though no one knows why. There's also a mysterious passenger whom Tom suspects may be a fugitive, an avalanche that threatens everyone's Christmas plans, and an unexpected romance. As the mighty Southwest Chief chugs from Washington, D.C., to the City of Angels via Chicago, Tom Langdon's unforgettable train adventure will rekindle the holiday spirits of one and all -- and reacquaint listeners with the magic that makes Christmas truly special.
Buy The Christmas Train at Amazon
Longbourn
by Jo Baker
I saw this on another blog during a Tuesday meme I did. Though I haven't read Pride and Prejudice, I was intrigued by the servants downstairs. If you are fan of Jane Austen or Downtown Abbey I believe you will enjoy this story. My only complaint was the narrator was a bit too soft spoken and I at times had trouble hearing the story over regular office equipment noise.
The servants at Longbourn estate--only glancingly mentioned in Jane Austen's classic--take centre stage in Jo Baker's lively, cunning new novel. Here are the Bennets as we have never known them: seen through the eyes of those scrubbing the floors, cooking the meals, emptying the chamber pots. Our heroine is Sarah, an orphaned housemaid beginning to chafe against the boundaries of her class. When the militia marches into town, a new footman arrives under mysterious circumstances, and Sarah finds herself the object of the attentions of an ambitious young former slave working at neighboring Netherfield Hall, the carefully choreographed world downstairs at Longbourn threatens to be completely, perhaps irrevocably, up-ended. From the stern but soft-hearted housekeeper to the starry-eyed kitchen maid, these new characters come vividly to life in this already beloved world. Jo Baker shows us what Jane Austen wouldn't in a captivating, wonderfully evocative, moving work of fiction.
Friction
by Sandra Brown
I featured this book as a new release and when I saw it at the digital library I was so excited. I immediately put a hold on it. This was the end of September and my turn finally came at the beginning of December. It was well worth the wait. It was so good! Most of the time with audio books I half listen to them while working. Not with this book. I finally had to give up listening to it at work because the story consumed my attention. Which was a good thing because there were some descriptive sex scenes that I would have been super embarrassed had someone walked into my office while it was being read. If you liked the television show Justified, you will love this book.
Crawford Hunt wants his daughter back. Following the death of his wife four years ago, Crawford, a Texas Ranger, fell into a downward spiral that left him relegated to deskwork and with his five-year-old daughter Georgia in the custody of her grandparents. But Crawford has cleaned up his act, met all the court imposed requirements, and now the fate of his family lies with Judge Holly Spencer.
Holly, ambitious and confident, temporarily occupies the bench of her recently deceased mentor. With an election upcoming, she must prove herself worthy of making her judgeship permanent. Every decision is high-stakes. Despite Crawford's obvious love for his child and his commitment to being an ideal parent, Holly is wary of his checkered past. Her opinion of him is radically changed when a masked gunman barges into the courtroom during the custody hearing. Crawford reacts instinctually, saving Holly from a bullet.
But his heroism soon takes on the taint of recklessness. The cloud over him grows even darker after he uncovers a horrifying truth about the courtroom gunman and realizes that the unknown person behind the shooting remains at large . . .and a threat.
Catching the real culprit becomes a personal fight for Crawford. But pursuing the killer in his customary diehard fashion will jeopardize his chances of gaining custody of his daughter, and further compromise Judge Holly Spencer, who needs protection not only from an assassin, but from Crawford himself and the forbidden attraction between them.
FRICTION will keep you on the edge of your seat with breathtaking plot twists and the unforgettable characters that make Sandra Brown one of the world's best-loved authors. It is an extraordinary novel about the powerful ties that bind us to the ones we love and the secrets we keep to protect them.
Dashing Through the Snow
by Debbie Macomber
After listening to the note from the author at the beginning, I knew this was going to be the perfect book for me. Like me, Debbie thinks Christmas time is the perfect time for a romantic comedy. And she delivered a great one. It is a short one at only about 4.5 hours. This would be a fun story to wrap up the year with.
Ashley Davison, a graduate student in California, desperately wants to spend the holidays with her family in Seattle. Dashiell Sutherland, a former army intelligence officer, has a job interview in Seattle and must arrive by December 23. Though frantic to book a last-minute flight out of San Francisco, both are out of luck: Every flight is full, and there's only one rental car available. Ashley and Dash reluctantly decide to share the car, but neither anticipates the wild ride ahead.
At first they drive in silence, but forced into close quarters Ashley and Dash can't help but open up. Not only do they find they have a lot in common, but there's even a spark of romance in the air. Their feelings catch them off guard—never before has either been so excited about a first meeting. But the two are in for more twists and turns along the way as they rescue a lost puppy, run into petty thieves, and even get caught up in a case of mistaken identity. Though Ashley and Dash may never reach Seattle in time for Christmas, the season is still full of surprises—and their greatest wishes may yet come true.
Buy Dashing Through the Snow at Amazon
Containment
by Christian Cantrell
This is another audio book that I had been waiting on since August. Not as good as Friction, but an entertaining story none-the-less. Particularly if you like conspiracy. It kind of reminded me of Across the Universe by Beth Revis. I also thought it was very heavy on science, even for a science fiction novel.
As Earth's ability to support human life begins to diminish, the Global Space Agency establishes a colony on Venus. When Arik Ockley, part of the first generation to be born and raised off-Earth, undertakes research on artificial photosynthesis to save the life of his unborn child, everything he has ever known is called into question.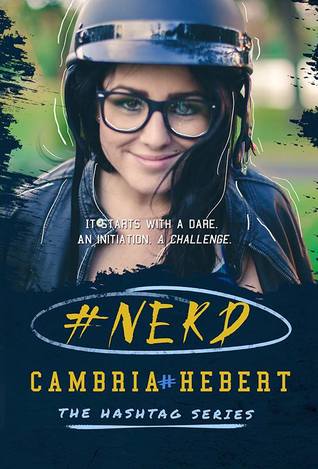 #Nerd
by Cambria Hebert
After reading Claire's review, I saw this at the digital library and decided to try it out. It was fun. I had a bit of trouble with the plot. It seemed a bit juvenile for college kids, but the descriptive sex scenes would have been inappropriate for young adult. (Because of those scenes I wouldn't recommend listening to it at work unless you use headphones). I thought the characters were similar in personality to Fangirl by Rainbow Rowell. So if you liked that book, then you will probably enjoy #Nerd.
Two people from completely different worlds are about to be thrown together . . . in more ways than one.She wants to keep her scholarship. He wants to stay on the team. An awkward alliance doesn't even begin to cover Rimmel and Romeo's relationship. But that's about to change.It starts with a dare. An initiation. A challenge. Quickly, it turns into more. But when you're a victim of your status, there is no room for anything real. The rules are clear and simple: Stick to your circle. And never fall in love with anyone on the outside.
Girl Who Reads is an Amazon advertising affiliate; a small commission is earned when purchases are made at Amazon using any Amazon links on this site. Thank you for supporting Girl Who Reads.