Are you needing some new reading material? Check out some of the great books coming out this month.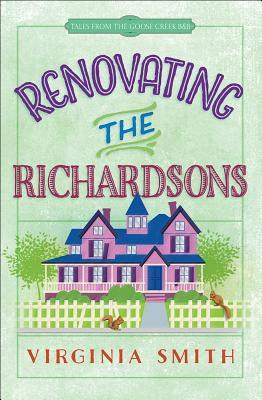 Things are finally starting to fall into a steady rhythm in the small town of Goose Creek, Kentucky. Millie Richardson is hard at work renovating a drafty Victorian house into a B&B. Her husband, Al, is busy writing checks for the renovations. And the new vet, Susan, has finally found acceptance from the town--not to mention a hunky new boyfriend, Justin.
But things never stay quiet for long in Goose Creek. The inner-county softball game is coming up, and Millie volunteers Al as team manager. But the softball team is a disaster. If they're not going to embarrass themselves in front of the whole of Franklin County, Al needs Justin to play. But Justin lives just outside the city limits, and the rules say that players must live in town.
As if that weren't enough to keep the town gossips busy, a massage therapist has come to town and opened up shop. Imagine--a massage parlor!--in Goose Creek! No decent Creeker will stand for it.
It's up to Al and Millie--again--to save the day.
Buy Renovating the Richardsons at Amazon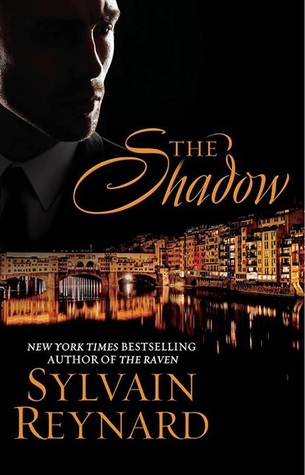 From the New York Times bestselling author of the Gabriel trilogy comes the hotly anticipated follow-up to The Raven, a sensual novel set in Florence featuring the dangerously intoxicating coupling of Raven and William…
Raven Wood's vampyre prince has returned, pledging his love and promising justice for every wrong done to her. In the wake of their reunion, Raven is faced with a terrible decision—allow the Prince to wreak vengeance against the demons of her past, or persuade him to stay his hand. But there is far more at stake than Raven's heart...
A shadow has fallen over the city of Florence. Ispettor Batelli will not rest until he uncovers Raven's connection to the theft of the priceless art from the Uffizi Gallery. And while the Prince hunts a traitor who sabotages him at every turn, he finds himself the target of the vampyres' mortal enemy.
As he wages a war on two fronts, he will need to keep his love for Raven secret, or risk exposing his greatest weakness...
A collection of four short stories based on the
Virals
series from New York Times bestselling authors, Kathy Reichs and Brendan Reichs!
Fans of the Virals series will be thrilled with this companion volume that includes three short stories originally published as eSpecials as well as an all-new, never-before-seen Virals adventure! Shift, Swipe, Shock and the new story Spike give further glimpses of the Virals' world as they work with Tory's famous great aunt, Temperance Brennan, to solve more mysteries, take look at where it all started before they became Virals, and get to the bottom of an attempted sabatoge at Kit and Whitney's wedding.
If you love Susan Mallery, Kristan Higgins, or Rachel Gibson, don't miss the start of this captivating small-town romance series! Laurel Falls, Montana, features spectacular mountain scenery—but it takes a rugged cowboy to convince one woman to slow down and enjoy the view.
Rafferty Hamilton doesn't plan on putting down roots anytime soon. With her divorce final, the hotel heiress has left Manhattan behind to scout new locations for her family's chain of resorts. Which is why it's so frustrating to be stranded in Laurel Falls while a good-looking, slow-talking, Stetson-wearing mechanic takes his sweet time with her overheated coupe.
A decorated vet who paid his dues in Afghanistan, Trace Black can fix anything with an engine and get it revving—even Rafferty's ridiculous sports car. He couldn't say the same for the knockout driver, who looks like she's never gripped a gear shaft in her life. Women like Rafferty don't usually stick around in Laurel Falls, but Trace finds himself showing her everything his hometown has to offer before she cruises on down the road.
As the days pass, Rafferty finds herself charmed by the pace of life and the openhearted warmth of the residents. She's even tempted to trust again—and it's all thanks to Trace. He's not the kind of guy she's used to falling for, but he just might be the man she needs.
Buy Leaving Yesterday at Amazon
CAN LOVE REALLY HEAL ALL WOUNDS?
Alisha had everything she ever wished for: a loving family, a career and friends who doted on her. But a late night at work, a cup of coffee, and a burning candle changed her life forever. Then Anis--a tall, dark, and handsome engineer, heir to his father's vast empire--walks back into her life. After a brief meeting a few years ago, she isn't sure he'll remember her. When he does, he wants to help her overcome her life-changing injuries. Has her accident scarred not only her skin, but also her soul?
Incandescence is a story of love and friendship in the face of disaster, and one young woman's quest to make the most of her new life.
From the #1 New York Times bestselling co-author of Tom Clancy's Jack Ryan novels, comes an all-new explosive thriller featuring the lethal assassin known as the Gray Man…
Court Gentry was the CIA's best agent. Until the day the Agency turned against him and put out a kill on sight order. That's when the enigmatic international assassin called the Gray Man was born—and Court has been working for himself ever since
Now, Court is back in Washington looking for answers. He's determined to find out what happened all those years ago that made the Agency turn against him. On his list to interrogate are his former partners and the men who sent him on his last mission. What he doesn't realize is that the questions that arose from that mission are still reverberating in the U.S. intelligence community, and he's stumbled onto a secret that powerful people want kept under wraps. And now, they have Court in their crosshairs.
Court Gentry is used to having people on his trail, but this time, it's on U.S. soil—the last place he wants to be. Now, he'll have to find the answers to his fate while evading capture…and avoiding death.
In the newest high-stakes historical thriller from master storyteller Davis Bunn, skepticism vies with faith amid the grit and grandeur of post-World-War-I Europe.
It's 1923, and a resilient Paris is starting to recover from the ravages of World War I and the Spanish Flu Epidemic. Enter young Muriel Ross, an amateur American photographer tasked with documenting the antiques that her employer, U.S. Senator Tom Bryan, has traveled to France in order to acquire. Although she's exhilarated to have escaped her parents and the confines of their stifling Virginia home, Muriel has lingering questions about why the senator has chosen her for this grand adventure. Nevertheless, she blossoms in her new surroundings, soaking up Parisian culture and capturing the sights and sounds of Paris on her camera.
But events take a dangerous turn when she discovers that the senator is on a mission far more momentous—and potentially deadly—than a mere shopping trip. At the Cathedral of Notre Dame, Senator Bryan asks Muriel to photograph an astonishing artifact: a piece of the True Cross, discovered by Empress Helena—a historical figure familiar to readers of The Pilgrim. When rumors surface that another fragment has been unearthed, Muriel becomes enmeshed in a covert international alliance dedicated to authenticating the fragment—and protecting it from those who will stop at nothing to steal and discredit it.
In this powerful and uplifting novel from #1 New York Times bestselling author Debbie Macomber, a mother and her daughter-in-law bravely leave their troubled marriages and face the challenge of starting over. Leaning on each other, Nichole and Leanne discover that their inner strength and capacity for love are greater than they ever imagined.
When Nichole discovers that her husband, Jake, has been unfaithful, the illusion of her perfect life is indelibly shattered. While juggling her young son, a new job, and volunteer work, Nichole meets Rocco, who is the opposite of Jake in nearly every way. Though blunt-spoken and rough around the edges, Rocco proves to be a dedicated father and thoughtful friend. But just as their relationship begins to blossom, Jake wagers everything on winning Nichole back—including their son Owen's happiness. Somehow, Nichole must find the courage to defy her fears and follow her heart, with far-reaching consequences for them all.
Leanne has quietly ignored her husband's cheating for decades, but is jolted into action by the echo of Nichole's all-too-familiar crisis. While volunteering as a teacher of English as a second language, Leanne meets Nikolai, a charming, talented baker from Ukraine. Resolved to avoid the heartache and complications of romantic entanglements, Leanne nonetheless finds it difficult to resist Nikolai's effusive overtures—until an unexpected tragedy tests the very fabric of her commitments.
An inspiring novel of friendship, reinvention, and hope,
A Girl's Guide to Moving On
affirms the ability of every woman to forge a new path, believe in love, and fearlessly find happiness.
Buy A Girl's Guide to Moving On at Amazon
Exiled from his homeland, never to return, Brandyé Dui-Erâth finds himself lost in the wilderness on the coast of a black sea, with the influence of Darkness closing in around him. Here, he learns the true meaning of solitude, and begins to discover that he indeed has an influence on the world that is beyond the natural.
Soon, he finds he is not alone in the greater lands of Thaeìn, and is captured and taken in by the Cosari, a seafaring nation whose delight is in battle, glory and death. Thus begins a new chapter in Brandyé's life, one that will lead him from the rocky islands of Cosar through the dangerous forests of the Trestaé Mountains, and ultimately to the greatest kingdom of men in all of Erâth.
Along the way he discovers old friends and new enemies, and learns ever more about the world of Erâth, its history and its future, and the role he has to play in its fate.
Buy The Redemption of Erâth: Exhile at Amazon
Country Bride
by Debbie Macomber
Luke Rivers is a man of his word.
He agrees to marry Kate Logan when she foolishly proposes to him—after one glass of champagne too many—at her former fiancé's wedding reception. And Luke, stubborn rancher that he is, refuses to renege on his promise.
Kate was devastated when the man she'd always loved married another woman, a newcomer to their Oregon town. But now, not only does Luke refuse to break their engagement, he insists that Kate doesn't love Clay—she actually loves him!
Woodrose Mountain
by RaeAnne Thayne
Brodie Thorne is a man who knows what he wants.
And that's Evie Blanchard, a physical therapist from LA who recently moved to Hope's Crossing, Colorado. He wants her to work with his injured daughter, Taryn. A wealthy, self-made man, Brodie will do anything to get Taryn the rehab she needs—and that includes convincing the reluctant Evie to move in with them.
Despite her vow to keep an emotional distance between them, Evie starts to fall for Brodie's adorable little girl…and for Brodie himself.
Available February 23
Buy Country Bride: Woodrose Mountain at Amazon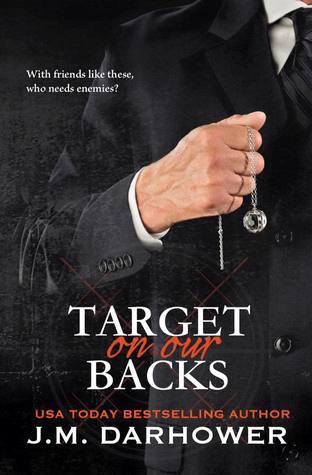 The best way to keep your word is never to give it.
Not long ago, in a chapel in Vegas, I swore to love Karissa for the rest of my days. But nobody's promised an infinite number of tomorrows. Nobody's promised forever. Sometimes, all we have left is today.
Carpe Diem
Seize the day.
It should've been over, we should've been happy, but people are making it hard for me to live in peace. I've got so much blood on my hands they'll never be clean, and somebody out there seems to want me to pay for it. Happily Ever After always comes at a cost, one any real man would be willing to pay. But that doesn't mean I'm just going to roll over and accept these consequences.
Because when it comes to the woman I love? The life I've fought for?
Nobody is safe.
Buy Target on Our Backs at Amazon
Girl Who Reads is an Amazon advertising affiliate; a small commission is earned when purchases are made at Amazon using any Amazon links on this site. Thank you for supporting Girl Who Reads.