by Elisa Hordon
Writing a blog post about one of my favourite ghostly paranormal series sounded like a great idea in my head...lol But then I start writing, and omg, how to summarise the 16 books Terri Reid has written so far in the Mary O'Reilly series without giving away spoilers, because I'm not a fan of spoilers at all and I really want everyone to read the series so here goes.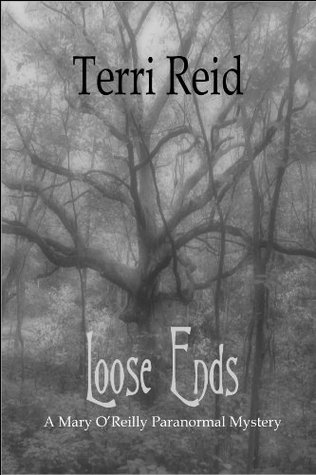 book one
Terri Reid has written 16 Mary O'Reilly mysteries so far with a couple of spin off books as well involving two of Mary's brothers Sean and Art. I really love how Terri writes about the whole family with the main series focused on Mary, but Mary's family is where her strength comes from. So it is important that they all have a role in the series as it really brings it together and having her family pop into stories just adds to the great character base in this series. I also love that the author saw that the other strong characters from the Mary series deserved their own stories. That just makes this series even more awesome because now we have spin offs for two of Mary's brothers Sean and Art so far and those books are just as awesome as the Mary series.
So what is special about Mary O'Reilly?
Mary is a private investigator with a twist, she can see and communicate with ghosts.
Mary also comes from a strong Irish family with strong ties within the law enforcement community in Chicago, Illinois.
When I met Mary for the first time, I clicked with her character immediately. Sixteen books later and I seriously love her more and more with each book.
Mary overcame death. Yes, she actually died when she took a bullet for her brother Sean (something he has not forgiven her for, as Sean felt it was his job to look after Mary). Mary came back, even though she came back with strings attached. Not only can Mary see ghosts but she needs to help the ones drawn to her and that can lead to trouble for Mary, a lot of trouble.
Mary and her family are from Chicago, they are a law enforcement family and very Irish. Mary's mother Maggie runs the family with a loving heart, no one messes with Maggie's family especially her only daughter Mary.
After the shooting, Mary packs up and moves from Chicago to small town Freeport, Illinois were she opens her Private Detective business. Mary had to leave the city because there are just too many spirits for her to cope with on a daily basis. She figured moving to a small town would be less of a ghostly problem for her, boy was she wrong.
Mary meets local police chief Bradly Alden who is fairly new to Freeport himself but he knows from their first meeting that there is something different about Mary and he plans to find out just what that is and why he has this overwhelming desire to protect this women he just met.
From Mary's first case involving the haunting of a senator, to kidnapped babies, serial killers who have their sights set firmly on Mary, for a small town Freeport, Illinois, has enough paranormal activity and cold cases to keep Mary on her toes but with the help of Bradly and her good friends Rosie and Stanley, plus we eventually add in the gorgeous Scottish Professor of the paranormal Ian MacDougal and a friendly fireman Ghost Mike and I think Mary has everything covered, most of the time...lol
book two
The characters are strong and well written, I love it when Mary's family plays a part in the story especially Mary's Mum Maggie she is a special woman who loves her family unconditionally even though their chosen careers give her constant cause to worry.
Rosie and Stanley are awesome characters, they are funny and even during the toughest and saddest times of these stories Rosie and Stanley add an appropriate amount of light hearted humour.
Police Chief Bradly Alden is strong, tough and loves his job, he also has a vulnerable side and a past he hides from instead of dealing with, until he meets Mary and finally wonders if there is happiness in his future, if only he's open to grabbing it.
Ian MacDougal the hunky Scotsman and Professor of the Paranormal (and yes every time I was reading about Ian there was a very strong Scottish accent in my head...lol), like Mary, Ian can see ghosts and he studies paranormal activity for a living so helping Mary is a dream job for Ian, keeping Mary safe is a whole other ball game. Ian is the perfect partner for Mary and I love the friendship they develop over the books from when Ian comes into the series.
Mike, the fireman ghost plays a big part in Mary's life throughout the books from when he comes into the series. Mike may not have lived the best of lives and he may be filled with regrets but in his ghostly life he decides it's time to step up his game after he meets Mary, yes she has that effect on a lot of people. Mike surprises me more and more during the series he is great at helping Mary on her cases and doing what he can to help keep her safe, I also love how Mike is just as protective of Mary as her brother's ...lol and really I love how Mike tells it like it is he doesn't hold back at all and usually that is just what Mary needs whether she wants to admit that or not.
Mary's neighbours become great side characters adding love and humour to the books especially little Andy and his sister Maggie they both add a great loving element to help lighten the books even in a small way, it's still an important, the happiness and sometimes hilarity the kids bring into the series is much needed at times to keep the main characters grounded when they come across real horror in their chosen professions.
The paranormal mysteries are the backbone of this series and even though you often know who the murderer is before the end it's not always about finding the murder it's about catching them without getting killed, working out why they have done the horrible things they have done and also giving closure to the victims so they can pass on in peace and loved ones they have left behind.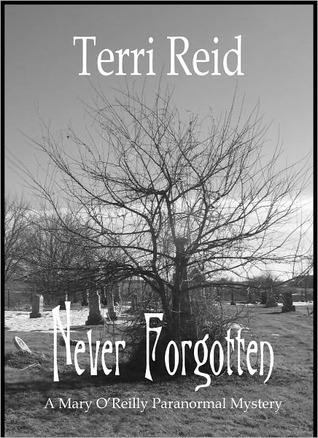 book three
There is a romance that develops between Mary and Bradly, it is also important and as it grows it shows how well they work together also the trust they find in each other is an important aspect to the series even at points when it seems the trust is lost they find it again and in return they find each other again, but that's enough about that, as I don't want to give away spoilers I really want everyone to read the series.
I really love Mary's wicked sense of humour, it is especially poignant that she keeps it throughout the 16 books, even with everything she endures in these brilliant stories. Sometimes I wonder how she has not only survived but thrived and then I realize it's the loved one's she surrounds herself with that give her strength, love and a laugh all while driving her crazy at the same time...lol it all works and the result is a great series of books you will always remember with a cast of characters who will always have a place in your heart.
Buy Terri Reid's books at Amazon
Mary O'Reilly Book List in order
Loose Ends
Good Tidings
Never Forgotten
Final Call
Darkness Exposed
Natural Reaction
Secret Hollows
Broken Promises
Twisted Paths
Veiled Passages
Bumpy Roads
Treasured Legacies
Buried Innocence
Stolen Dreams
Haunted Tales
Deadly Circumstances
Sean's Spin Off
The Order of Brigid's Cross
(Wild Hunt #1)
Art's Spin Off
The Blackwood Files
- File One Family Secrets
Short Stories that add to the Mary O'Reilly series
Irish Mist
(Sean's Story) best read before The Order of Brigid's Cross
Three Wise
Guides - explains more about Mary's gift from after she was shot.
Tales Around The Jack O'Lantern
- The O'Reilly clan are gathered for Halloween and the traditional ghost story.
Tales Around The Jack O'Lantern II
- more Halloween ghost stories
Elisa Hordon, reviewer

. Elisa lives on the Southern Highlands of NSW, Australia were she spends her days reading, journaling, painting, cooking and home schooling her daughter. She has always been an avid reader, Elisa loves reading many genres of books except horror; her favourite genres would be mystery, romance and paranormal. Elisa also loves pursuing many creative outlets if she is not relaxing with a book she can be found writing, sketching, painting or cooking. Elisa loves to share her obsession with books especially with her family and friends. Reading and reviewing books is a favourite pastime of Elisa's.
Get even more book news in your inbox by signing up for our newsletter: http://eepurl.com/mHTVL. Girl Who Reads is an Amazon advertising affiliate; a small commission is earned when purchases are made at Amazon using any Amazon links on this site. Thank you for supporting Girl Who Reads.