by Susan Roberts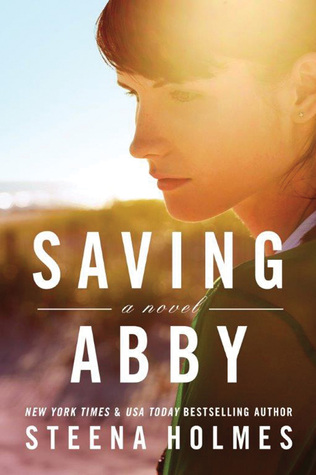 Saving Abby
by Steena Holmes
There was no dinner cooked at my house yesterday - once I started this wonderful book by Steena Holmes, nothing got done until I was finished with it. I have read all of Steena's books and she just keeps getting better. She is one of the best writer's of family relationship issues of any authors that I read and I thought that this was her best book yet.
Claire and Josh Turner have been happily married for six years. He is the author of a successful series of children's book and she is the illustrator. After years of trying, they have finally accepted that they are unable to have children and go on a tour of Europe to help ease the pain of that decision. When they get back from their trip, they find out that Claire has gotten pregnant but the doctor also finds out that she has a life threatening problem that needs treatment but treatment will harm the baby. Claire and Josh are faced with the decision of whether to save her or the baby or try to save both.
The novel is emotional and the author has created such wonderful main characters that the reader identifies with them and feels their joy and their heartache. Along with the two main characters, there are also secondary characters that help the story line tremendously.
Two things about this novel that I really liked: I am a list maker and I loved all the lists that Claire made for her life. It helped make her more of a real character to me. Second, I am a traveler and I know that Steena is too from reading her Facebook posts. I loved all of her wonderful descriptions of Europe. You could tell that she was writing about places that she had been and loved.
To sum it all up, this is a wonderful book about family and love and heartache. It's one of my top 10 books of the year and I think that everyone should read it!
(a free Netgalley was provided for this review.)
Remember My Beauties
by Lynne Hugo
To say that Jewel has a tough job trying to keep her family functioning is putting it mildly. She takes care of two aging parents and their horses on their horse farm. Her father is blind and her mother is very demanding. Her daughter is hooked on drugs and living with a loser. Her marriage is falling apart and her husband's daughter is living with them and he also wants his son to move in to their house. If all that isn't bad enough, her brother Cal has decided to come back home. Jewel hates Cal (and for good reason) and knows that he will be more of a burden than a help. The only sanity that Jewel has in her life are the horses. Spending time and working with the four horses are the only time that Jewel is really happy. Cal returning back to the farm, throws everything into a turmoil - or more of a turmoil than it had been and Jewel has to make decisions that make her question everything in her life and her family.
This is a wonderful novel of family and love and forgiveness. I plan to go back and read some of the author's older books because I was so impressed with this one.
Buy Remember My Beauties at Amazon
(a free Netgalley was provided for this review)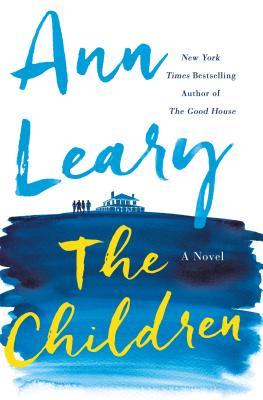 The Children
by Ann Leary
This is my first book by Ann Leary and after reading it, I plan to read her older books. I loved her characters - my favorites were Joan and Charlotte but all of the characters added to the story line. Joan and her two daughters were definitely quirky and that made the novel even more interesting and in parts very funny.
When Whit Whitman died, he left his estate to his two sons but made provisions for his wife Joan to live in the family home until her death. Charlotte, one of her daughters, lives with her and rarely leaves the house. Her other daughter also lives there much of the time. What at first appears to be a loving blended family with the two sons of Whit and the two daughters of Joan, begins to show cracks when Spin brings home his fiancée. Add in a caretaker who is having an affair with Charlotte and a thief in the neighborhood who breaks into houses to clean them and you have all the elements needed for a great read that you don't want to put down until the last page is read. Great story!
(a free ebook was provided by Book Browse for this review)
The Gravity-Assist Technique by Dalene Flannigan
Ella and Aaron, Kevin and Beth were best friends. Aaron and Keven were cousins and they had been friends with Ella for years and Kevin was just a little jealous when Aaron and Ella became a couple. Kevin marries Beth and she tries to fit into the group. After twenty some years of marriage, Aaron dies in a car accident and the novel begins three years after the accident. The story is told in alternating chapters by Ella and Kevin and we learn about the strong friendship and how much they rely on each other. We learn about their past and as their feeling begin to become more than friendship, what they would like their future to be. Their friendship gets even more confusing when Ella sees Beth with another man and can't decide if she should tell Kevin.
This is a novel about friendship and love and secrets and family. It's a wonderful story and I couldn't put it down once I started because I wanted to see how everyone's lives ended up. I was very tempted to turn to the end while I was reading but I resisted it and let the story play out and I was glad that I did.
This is a novel definitely worth reading. The author has created wonderful characters who aren't perfect people but question their decisions and have flaws just like we all do. I really enjoyed the three main characters in this novel. I look forward to the next book from Ms Flannigan.
Buy The Gravity-Assist Technique at Amazon
(A free ebook was provided by the author for this review)
Susan Roberts, reviewer. Susan grew up in the Detroit area but after deciding that city life wasn't for her she moved to North Carolina after college. She and her husband have several acres of land and they enjoy gardening and canning vegetables in the summer. They travel extensively. Susan reads almost anything (and the piles of books in her house prove that) but her favorite genres are Southern fiction, women's fiction and thrillers. Susan is a top 1% Goodreads Reviewer. You can connect with Susan on Facebook or Twitter.
Get even more book news in your inbox by signing up for our newsletter: http://eepurl.com/mHTVL. Girl Who Reads is an Amazon advertising affiliate; a small commission is earned when purchases are made at Amazon using any Amazon links on this site. Thank you for supporting Girl Who Reads.