by Susan Roberts
Chick-lit is a genre of books that concentrates on women's issues. Personally, I think it's a misnomer because those issues are shared by everyone. I prefer to think of these books as contemporary relationship novels. What about you -- do you like the term chick-lit or would you prefer to rename the category?
Triple Love Score
by Brandi Megan Granett
Miranda is a poetry professor who lives a solitary life. She had long been in love with Scott but he disappeared years before without a trace. Scott had been a family friend and was always there to help her when she needed before he disappeared. As the novel starts, Scott shows up at Miranda's parents with a young daughter that no one knew about. Seeing him again and his refusal to answer her questions about his past is the catalyst that causes Miranda to make some poor decisions in her life. At the same time, she starts making small poems on a Scrabble board and posting them on social media as the Blocked Poet. So while her personal life is a mess, her life as the Blocked Poet goes viral. Can she rekindle her relationship with Scott and does she really need to in order to be a happy person?
I loved this book and the character of Miranda is so well done that you feel her pain and confusion. I also loved the Scrabble board poetry and that the author shows the main poems as part of the story. This is a fun book to read and a great debut novel for
Brandi Megan Granett
.
Buy Triple Love Score at Amazon
(a free book was provided for this review)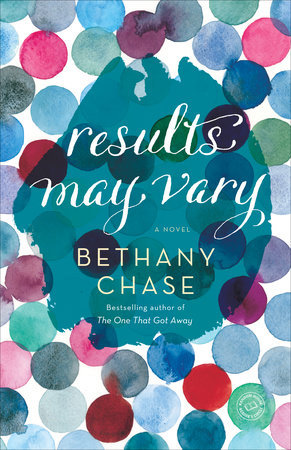 Results May Vary: A Novel
by Bethany Chase
Carolyn and Adam have been married over 10 years and have a perfect life together. They are still madly in love and their friends envy their relationship. Carolyn is serene and happy with her life just the way it is and basks in Adam's love. Until....she finds out that Adam is having an ongoing affair with another man. Carolyn's whole world is turned upside down and she begins to question their entire marriage and their love for each other. She tries to make Adam tell her WHY but when he is unable and unwilling to explain, she realizes that she will never be able to trust him again.
I enjoyed this book and thought that the plot was very well done and credible. However, there were times in the novel that I didn't like Carolyn. Her life after the separation just seemed too easy and she didn't seem to suffer enough before she started living her own life. There are two great secondary characters in this book - Carolyn's best friend Jonathan and her sister Ruby.
This was a very good book about love and loss and learning how to find yourself again after a devastating experience.
Buy Results May Vary at Amazon
(a free galley was provided by NetGalley for this review)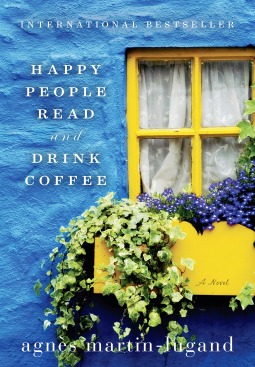 Happy People Read and Drink Coffee
by Agnès Martin-Lugand
Diane has a happy life. She lives in Paris with her husband and 5-year-old daughter and owns a bookstore called Happy People Read and Drink Coffee. As the novel begins, she quickly goes from a happy person to one who is consumed with grief after her husband and daughter are killed in a car accident. For over a year, she becomes a recluse - she doesn't leave her house and only sees her best friend Felix. She finally realizes that to heal, she needs to move out of the house that she shared with her family so she moved to a cottage in a small town in Ireland. Here she can either heal or become more withdrawn from the rest of the world.
Parts of this book were very sad as Diane goes through the grieving process. At times, though, I just wanted to shake her and tell her to snap out of it. There are several supporting characters who make the story more interesting. In the author notes at the end of the book, we are told that there will be a sequel to this book. It will be good to Find out if Diane is able to overcome her sadness.
Buy Happy People Read and Drink Coffee at Amazon
(a free galley was provided by NetGalley for this review)
Sweet Breath of Memory
by Ariella Cohen
Cate arrives in the small town of Amberly as a depressed and broken woman. She has no family and her beloved husband has been killed in Iraq. She has lost her home and she is searching for peace and for somewhere to live where she won't constantly be reminded of John. At first, the women In Town appear to be nosy busybodies but as Cate starts to share her life story, she finds that they are loving and caring friends. They all have a story of their own but the women band together to help Cate heal.
This is a fantastic book full of wonderful characters. I laughed - especially with Lulu, the town car mechanic and I cried along with Cate. This is a wonderful story about love and friendship and about the resiliency that Cate needs to make changes in her life. I highly recommend it.
Buy Sweet Breath of Memory at Amazon
(a free galley was provided by NetGalley for this review)
Everything We Keep
by Kerry Lonsdale
I have one word for this book WOW! I loved it - it had everything - mystery, suspense, romance, great characters and an ending that I didn't see coming! How much better can you get? I am anxiously waiting for her next book.
On Aimee's wedding day, she is at the church but instead of a wedding, she is at her fiance's funeral. Her boyfriend had to make a trip to Mexico before the wedding and he disappeared from the fishing boat he was on. Aimee, of course, was devastated - she and James had been friends since childhood and he was part of her memories of growing up, even before they fell in love. He was going to quit the family business and paint and she was going to open a restaurant. Now, none of it was going to happen, so Aimee lost not only her husband to be but also all of her plans for the future. Luckily she had two very good friends who helped her handle her life. Just as she is starting to feel stronger, a stranger shows up and tells her that James is still alive. She can't move forward with her life if this is possible and the story becomes her quest to find out the truth.
I loved the characters in this novel, Aimee's grief was so real that I cried with her and applauded her struggles to move on. I also loved Ian but I'm not going to write anything about him because I don't want to give anything away.
This is a fantastic book - add it to your TBR list for August. You won't be disappointed!
Buy Everything We Keep at Amazon
(a free book was provided by the author for this review)
Overlook
by Elizabeth Hein
This book is set in a small town in the South in the 70s where everyone knows everyone else's business and is quick to share what they know. Kitty is married to Seth and they have two children. She is one of the leaders in Overlook, a small group of upscale homes in a lake and wants to be in the know about everyone while she is hiding secrets of her own -- Seth has been unfaithful and has given her an STD. Her best friend Stacia is the real leader and her goal is to make sure that she protects her community from harm. The two women together tackle the problems of motherhood and family issues. This book has everything - a little sex, a bit of intrigue, family issues, some laughs and a whole lot of gossip. Most important of all, it shows the importance of friendship between women and how friendship keeps them all from going crazy! Fun read!
(a free book was provided by the author for this review)
Escape Plan
by Elizabeth Hein
This is the second book in the Overlook series and you need to read Book 1 (
Overlook
) before this book.
Once again, Elizabeth Hein takes us to the fictional NC housing development of Overlook in the mid-70s. This book starts right where Overlook ended, but I can't tell you about that without spoiling Overlook. Kitty and her friend Stacia, work together to cover up a crime that Kitty committed in Overlook. They come up with a plan that will make it appear that the crime was committed by Seth's pregnant mistress (Seth is Kitty's husband). However, their guilt and money problems make covering up this crime more and more difficult.
I'd like to say more about this book but it's difficult to say too much without spoiling
Overlook
. What I will say is that this is a fun read, I enjoyed learning more about Kitty and Stacia and seeing their friendship grow. It's a fun book about strong women -- what more do you need to make a good novel?
(Thanks to the author for a copy of this book for a fair and unbiased review.)
(a free book was provided by the author for this review)
Whether you refer to it as Chick Lit or Women's Fiction, there are a lot of great books that fit into this category. I prefer to refer to this genre as Family Relationships. Here are reviews of three books about families that I read recently.
Rainy Day Sisters
(Hartley-by-the-Sea) by Kate Hewitt
Juliet and Lucy are half-sisters who have never really gotten to know each other. They are 11years apart and Lucy and their Mom moved to Boston when Lucy was only 6 and Juliet stayed in England. To say that they aren't close at the beginning of the novel is an understatement. Even though they don't really know each other, Juliet invites Lucy to her b&b in Hartley-by-the-Sea when her life in Boston falls apart. Juliet is very unfriendly and resentful of the life that Lucy lived with their mother and is very unfriendly to Lucy.
So now we have two sisters who dislike and resent each other but they still need each other. They both need family and need to learn to be each other's family despite their earlier feelings. Their struggle to learn whether they can depend on each other is the major theme of the novel.
The novel is very good. There were times that I didn't like either one of the sisters but once I understood their backgrounds, they became more likable. I enjoyed this book for the story and for the wonderful scenery in small town England.
Buy Rainy Day Sisters from Amazon
Now and Then Friends
(Hartley-by-the-Sea) by Kate Hewitt
This is Kate Hewitt's second book with a setting of Hartley-by-the-Sea, a small town in England. There are a few references to the characters in the first book but this can be read as a stand alone with no confusion.
Claire Westland and Rachel Campbell were best friends in school until Claire started to hang out with the popular crowd in junior high. Claire left town as soon as possible to live in Spain and Rachel stayed to take care of her mother and sisters and to take over the family's housecleaning business. When Claire returns to town, Rachel is filled with resentment. She is sure that Claire has led an exotic life while she was stuck in the same place and she sees no reason to rekindle their friendship. But Claire's life has a lot of issues and they both really need a friend but can they get past their resentment of each other and become friends again?
Kate Hewitt does a fantastic job of creating her two main characters - they are very real and both have a lot of problems and faults. Both were unlikable at times but once their whole story is revealed, they are both fantastic characters.
This is a fun summer read and I highly recommend it.
Buy Now and Then Friends from Amazon
(a free book was provided by the author for a review)
Sweet Carolina Morning
by Susan Schild
This is book 2 in the Willow Hill series. It's best to read this series in order to best understand all of the characters.
Linny is twice widowed and has started a new relationship with Jack, the town veterinarian. Their new engagement meets many obstacles and Linny isn't sure that she'll finally get her 'happily ever after'. There is Neal - Jack's teenage son who continues to talk about how wonderful his mom is, jack's parents who appear to be less than thrilled to get a new daughter in law, jack's ex and her husband (who was once Jack's best friend) continue to talk trash about Linny. For her part, Linny is trying too hard to get Neal to accept her, working to start a new business and hoping for happiness.
This book discusses serious issues but at times is laugh out loud funny especially when Linny is with her sister or her mom. She is a great character and I was rooting for her throughout the book.
I am anxiously waiting for a continuation of Linny's story in book 3 in the series due to publish in January 2017.
Buy Sweet Carolina Morning from Amazon
(A free galley was provided by NetGalley for a review)
Susan Roberts, reviewer.

Susan lives in NC when she isn't traveling. She and her husband enjoy travelling and gardening and helping to take care of their grandson. Susan reads almost anything (and the piles of books in her house prove that) but her favorite genres are Southern fiction, women's fiction and thrillers. Susan is a top 1% Goodreads Reviewer. You can connect with Susan on Facebook.
Get even more book news in your inbox by signing up for our newsletter: http://eepurl.com/mHTVL. Girl Who Reads is an Amazon advertising affiliate; a small commission is earned when purchases are made at Amazon using any Amazon links on this site. Thank you for supporting Girl Who Reads.