by Susan Roberts
A good suspense or thriller novel has the reader rapidly turning pages to get to the outcome and trying hard not to read the last page to find out what happens. I enjoy the thrillers that I think I have figured out before the end, only to find out that I was totally wrong.
Clean Break
by Abby Vegas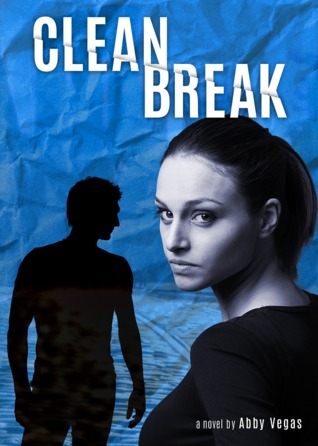 "I was normal once or close enough to pass for it. then I was not normal and then I sort of vanished. For several years I was putting one foot in front of the other - existing, basically. But I was doing it in grand style." (Lane on page 1)
Clean Break
is great -- it kept me up way past my normal bedtime last night because I was so involved in the main character, I wanted to keep reading to see if there was a happy ending for her. (If you want to know the answer to that question, you need to read this book!).
At the beginning of the book, Lane comes across as a spoiled young person who doesn't know how to live life and stay out of debt. She's hit rock bottom - no money for an apartment and only a part time job. However, as we learn more about her background and see her rise above the bad things that have happened in her life, she became a very likable character. She goes to work as a personal assistant for a totally disorganized rich person and her family. I thought that some of her interactions with them were hilarious. And of course, there is a man - the Russian maintenance man at her basement apartment who is also an enforcer for the Russian mob. That sums up all of the main characters but the plot that the author has written is not what you'd expect - it's much much better!
Clean Break
is a debut novel for Abby Vegas - can't wait to see what she writes next.
(a free book was provided by the author for this review)
Guiding Fate
by Tamra Lassiter
Guiding Fate
is book 4 in romantic suspense series Role of Fate. I wasn't aware that it was part of a series and it can be read as a stand alone with no problems. I want to go back and read the rest of the series now that I have read this book.
Melanie is an ER nurse and single mother in a small town where everyone is aware of what's going on in the each other's lives. Her husband left her when she got pregnant but now he's back in town and wants to reconcile. She doesn't trust him or his motives. At the same time he comes back to town, she meets a new neighbor who is staying at his aunt's house next door while she is in a nursing home. Will is a Marine with PTSD who is very attracted to Melanie but knows that he is not mentally in a good place to start a relationship. The novel revolves around the two main wounded characters - Melanie who has been wounded in love and Will who has been wounded in war. Can they find love and heal their wounds? It's a fun read to find out the answer to this question
Behind Closed Doors
by BA Paris
"The perfect marriage or the perfect lie?"
Jack and Grace appear to be the perfect couple. They live in a beautiful home, they travel often and they have a room in their house for Grace's sister Millie to move into as soon as she turns 18. Millie has Down's syndrome and she and Grace are very close. Jack is a successful lawyer who defends women who have been abused by their husbands and he has never lost a case. Their friends are envious of their life together and the love they have for each other. It all sounds wonderful but behind the closed doors of their home is a totally different life than what the world sees.
Behind Closed Doors
is a stunning psychological novel that is told from Grace's POV and alternates between the past and the present. The plot is full of tension and plenty of twists and turns. My advice - set aside a lot of time before you start this book because you won't want to put it down until the end.
Buy Behind Closed Doors at Amazon
(a free galley was provided by NetGalley for this review)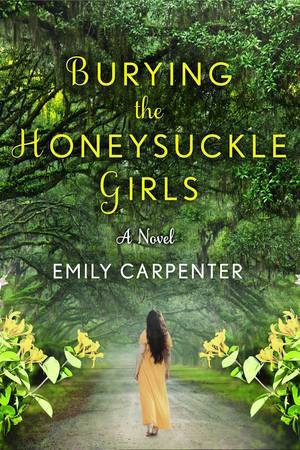 Burying the Honeysuckle Girls
by Emily Carpenter
Althea is about to turn 30 and according to her father, all of the women in her family history have a mental breakdown and die when they turn 30. Even though she has just returned home from a year in rehab and a halfway house to deal with her pill addiction, she knows that she needs to solve the mystery before her 30th birthday in less than a month. Her family is no help and her decision-making skills are poor due to her addiction but she jumps right into trying to find answers.
Burying the Honeysuckle Girls
is told in several time periods by two main characters - Althea and her great grandmother Jinn. Althea was a difficult character to like at the beginning of the novel but the more I read and the better I understood her internal battles, the more likable she became. My only complaint about this novel is the number of characters that needed to be kept up with. After I made a list of characters and their relationships it was much easier to read.
I definitely enjoyed the mystery and the pace of the novel. It's a great debut by an author that I look forward to reading in the future.
Buy Burying the Honeysuckle Girls at Amazon
(a free galley was provided by NetGalley for this review)
Susan Roberts, reviewer. Susan grew up in the Detroit area but after deciding that city life wasn't for her she moved to North Carolina after college. She and her husband have several acres of land and they enjoy gardening and canning vegetables in the summer. They travel extensively. Susan reads almost anything (and the piles of books in her house prove that) but her favorite genres are Southern fiction, women's fiction and thrillers. Susan is a top 1% Goodreads Reviewer. You can connect with Susan on Facebook or Twitter.
Top image by Andrew E. Weber. Get even more book news in your inbox by signing up for our newsletter: http://eepurl.com/mHTVL. Girl Who Reads is an Amazon advertising affiliate; a small commission is earned when purchases are made at Amazon using any Amazon links on this site. Thank you for supporting Girl Who Reads.