School may be starting, but there are still plenty of of long hot days ahead. It's the perfect time to dive into a great book. Here are some of the books coming out this month.
The much-anticipated conclusion to Debbie Macomber's beloved Rose Harbor series, set in the picturesque town of Cedar Cove, Sweet Tomorrows is a vibrant and poignant novel of letting go of fear, following your heart, and embracing the future—come what may.
Nine months ago, Mark Taylor abruptly left Cedar Cove on a perilous mission to right a wrong from his past. Though Mark finally confessed his love for her, innkeeper Jo Marie Rose is unsure if he's ever coming back. The Rose Harbor Inn barely seems the same without Mark, but Jo Marie can't bear to lose herself in grief once more. Determined to move forward, she begins dating again, and finds companionship when she takes on a boarder who is starting a new chapter herself.
Recovering from a twice-broken heart, Emily Gaffney, a young teacher, is staying at the inn while she looks for a home of her own. Having given up on marriage, Emily dreams of adopting children someday. She has her eye on one house in particular—with room for kids. Although Emily's inquiries about the house are rudely rebuffed, her rocky start with the owner eventually blossoms into something resembling friendship. But when the relationship verges on something more, Emily will have to rethink what she truly wants and the chances she's willing to take.
The inn seems to be working its magic again—Emily opening herself up to love, Jo Marie moving on—until Jo Marie receives shocking news.
With Debbie Macomber's trademark charm and wisdom, Sweet Tomorrows brings to a close the journeys of cherished characters who feel like old friends. Macomber has created an enchanting place in the Rose Harbor Inn that readers will never forget.
Available August 2
In a world of infinite risk, the stakes have never been so high.
Beyond the pull of life and death lies the Immortal game. Edie Kramer has leaped back to put things right and save the boy she loves. Alone in the wrong timestream, she must reinvent herself and square off against dangerous Immortals determined to win this mortal match once and for all.
But righting past wrongs carries fresh dangers. As she navigates a new school and tries to put Kian on a different path, she also battles those will stop at nothing to keep her from derailing their deadly schemes. With few allies and her first love treating her like a stranger, Edie faces the most dangerous enemy of all―time itself. Yet she's come a long way from that dark night on the bridge, and when her back's to the wall, she'll go down fighting...
The conclusion of New York Times-bestselling author Ann Aguirre's Immortal Game trilogy is thrilling and unforgettable.
Available August 2
Who will hold the winning hand? Sherlock meets Ocean's Eleven in this wickedly funny, action-packed crime caper.
Darkus Knightley is used to expecting the unexpected. An extraordinary solver of crimes, with immense powers of deduction, and regularly found bedecked in tweed, Darkus is anything but the average 13-year-old. But he is the person to call when strange goings-on are afoot!
Despite trying to leave his detective ways behind to lead a normal teenage life, when his father's loyal housekeeper, Bogna, goes missing, Darkus must return to the family fold and follow the clues to America and the bright lights of Las Vegas. Alongside his father, Alan, and stepsister, Tilly, Darkus must once again face the deadly criminal organisation the Combination – and this time, all bets are off. With danger at every turn, Knightley and Son will need an ace or two up their sleeves in order to win this game. Will the odds be in our detective duo's favour? Or will this be the Knightleys' final roll of the dice?
Perfect for fans of Sherlock, this thrilling crime adventure will keep you on the edge of your seats.
Available August 2
The seventh intoxicating love story by Anita Hughes, set in beautiful Santorini, Greece. When a Hollywood superstar and a NYC society girl fall in love, sparks fly and secrets are revealed.
Brigit Palmer is thrilled to be on the Greek Island of Santorini. She's here for her wedding to Hollywood heart-throb Blake Crawford, one of America's most eligible bachelors. Brigit's parents have rented a villa, and soon guests will arrive from all over the world for the intimate ceremony.
Brigit is a New York socialite, and she's just given up her position at a Manhattan law firm to run her father's philanthropic foundation. Things are finally falling into place. Love, career, family. Everything is going so well...until she steps into the garden and sees her ex-husband Nathaniel hiding in the rose bushes.
Nathaniel, a failed novelist, announces that Blake sold the rights to the wedding to HELLO! Magazine for two million dollars (donated to charity), and he is the reporter assigned to write the story. Everyone expects Brigit to have her happily ever after, including her mother who taught her how to lead the perfect lifestyle, her younger sister Daisy who impatiently wishes for her own love story, and of course, her fiancé. Things are supposed to work out for them. But when Brigit discovers an unsettling secret about Blake, she questions everything she's ever believed about love, and wonders if she's better off alone.
Told in Anita Hughes' spectacularly descriptive prose, SANTORINI SUNSETS is a story about family bonds, first loves, and the question of when to let go and when to hang on as tight as you can.
Available August 2
Buy Santorini Sunsets at Amazon
Antoinette Conway, the tough, abrasive detective from The Secret Place, is still on the Murder squad, but only just. She's partnered up with Stephen Moran now, and that's going well - but the rest of her working life isn't. Antoinette doesn't play well with others, and there's a vicious running campaign in the squad to get rid of her. She and Stephen pull a case that at first looks like a slam-dunk lovers' tiff, but gradually they realise there's more going on: someone on their own squad is trying to push them towards the obvious solution, away from nagging questions. They have to work out whether this is just an escalation in the drive to get rid of her - or whether there's something deeper and darker going on.
Available August 11
When Jordie Bennet and Shaw Kinnard lock eyes across a disreputable backwater bar, something definitely sparks. Shaw gives off a dangerous vibe that makes men wary and inspires women to sit up and take notice. None feel that undercurrent more strongly than savvy businesswoman Jordie, who doesn't belong in a seedy dive on the banks of a bayou. But here she is . . . and Shaw Kinnard is here to kill her.
As Shaw and his partner take aim, Jordie is certain her time has come. But Shaw has other plans and abducts Jordie, hoping to get his hands on the $30 million her brother has stolen and, presumably, hidden. However, Shaw is not the only one looking for the fortune. Her brother's ruthless boss and the FBI are after it as well. Now on the run from the feds and a notorious criminal, Jordie and Shaw must rely on their wits-and each other-to stay alive.
Miles away from civilization and surrounded by swampland, the two play each other against their common enemies. Jordie's only chance of survival is to outwit Shaw, but it soon becomes clear to Shaw that Jordie isn't entirely trustworthy, either. Was she in on her brother's scam, or is she an innocent pawn in a deadly vendetta? And just how valuable is her life to Shaw, her remorseless and manipulative captor? Burning for answers-and for each other-this unlikely pair ultimately make a desperate move that could be their last.
Available August 16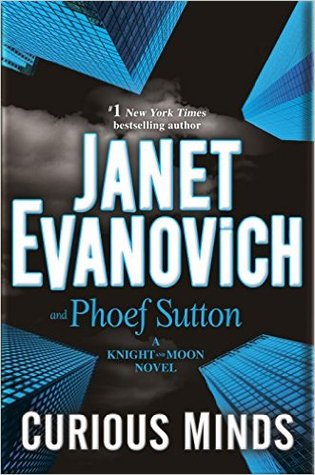 CURIOUS MINDS by No. 1 bestselling author Janet Evanovich and screenwriter Phoef Sutton is a must-read thriller for fans of the Stephanie Plum mysteries including ONE FOR THE MONEY and TRICKY TWENTY-TWO.
They couldn't be less compatible, but they make a great team...
Emerson Knight is introverted, eccentric, and has little-to-no sense of social etiquette. Good thing he's also brilliant, rich and (some people might say) handsome.
Riley Moon has just graduated from Harvard. Her assertive (some people might say aggressive) spitfire attitude has helped land a dream job at Blane-Grunwald bank. At least, Riley Moon thinks it's her dream job until she is given her first assignment: babysitting Emerson Knight.
An inquiry about missing Knight money leads to a missing man, missing gold and a life-and-death race across the country. Through the streets of Washington D.C., and down into the underground vault of the Federal Reserve in New York City, an evil plan is exposed. A plan so sinister that only a megalomaniac could think it up, and only the unlikely duo of the irrepressibly charming Emerson Knight and the tenacious Riley Moon could hope to stop it...
Available August 16
Pyper Rayne is back in book two of this popular spin off of the Jade Calhoun series. Join her and the rest of the gang as they battle ghosts on a cruise liner to the Caribbean.
Available August 16
Buy Spirits, Rock Stars, and a Midnight Chocolate Bar at Amazon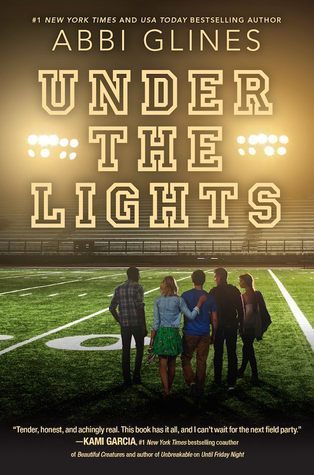 In the follow-up to Abbi Glines's #1 New York Times bestseller Until Friday Night—which bestselling author Kami Garcia called "tender, honest, and achingly real"—three teens from a small southern town are stuck in a dramatic love triangle.
Willa can't erase the bad decisions of her past that led her down the path she's on now. But she can fight for forgiveness from her family. And she can protect herself by refusing to let anyone else get close to her.
High school quarterback and town golden boy Brady used to be the best of friends with Willa—she even had a crush on him when they were kids. But that's all changed now: her life choices have made her a different person from the girl he used to know.
Gunner used to be friends with Willa and Brady, too. He too is larger than life and a high school football star—not to mention that his family basically owns the town of Lawton. He loves his life, and doesn't care about anyone except himself. But Willa is the exception—and he understands the girl she's become in a way no one else can.
As secrets come to light and hearts are broken, these former childhood friends must face the truth about growing up and falling in love…even if it means losing each other forever.
Available August 23
Buy Under the Lights at Amazon
A star quarterback and a feisty detective play for keeps in this sporty, sexy, sassy novel—a long-awaited new entry in the beloved, award-winning, New York Times bestselling author's fan-favorite Chicago Stars football series.
Piper Dove is a woman with a dream—to become the best detective in the city of Chicago. First job? Trail former Chicago Stars quarterback, Cooper Graham. Problem? Graham's spotted her, and he's not happy.
Which is why a good detective needs to think on her feet. "The fact is...I'm your stalker. Not full-out barmy. Just...mildly unhinged."
Piper soon finds herself working for Graham himself, although not as the bodyguard he refuses to admit he so desperately needs. Instead, he's hired her to keep an eye on the employees at his exclusive new nightclub. But Coop's life might be in danger, and Piper's determined to protect him, whether he wants it or not. (Hint: Not!) If only she weren't also dealing with a bevy of Middle Eastern princesses, a Pakistani servant girl yearning for freedom, a teenager who just wants to fit in, and an elderly neighbor demanding Piper find her very dead husband.
And then there's Cooper Graham himself, a legendary sports hero who always gets what he wants—even if what he wants is a feisty detective hell bent on proving she's as tough as he is.
From the bustling streets of Chicago to a windswept lighthouse on Lake Superior to the glistening waters of Biscayne Bay, two people who can't stand to lose will test themselves and each other to discover what matters most.
Available August 23
Buy First Star I See Tonight at Amazon
Following the horrors Pria discovered in the basement of Sanctuary and her miraculous rescue, there is no longer any doubt in her mind that the Unified World Order and its goals for humanity are wicked. Convincing the rest of the world will be another story. When it's revealed the files she stole from Sanctuary are worthless to the rebel cause, Pria and the other Free Patriots must scramble to come up with another plan to convince the rest of the criminals to rise up in open revolution—before the UWO's monsters hunt down and destroy them all. But Pria's tenuous grasp of liberty, self-determination, and human nature complicates her role in the rebellion as she finds herself torn between Pax, her ever-present protector, and Henri, her good-natured friend. As she works through her feelings, she becomes increasingly anxious for Pax, who displays symptoms of a disturbing ailment.
Free Patriots from a neighboring Nest bring with them a new plan to infiltrate the seemingly impregnable UWO machine, and Pria is once again at the center. This time, she must be willing to erase her identity, just as she's beginning to figure out who she is. It's a sacrifice she's ready to make to take down the UWO and save the world, but she has no idea just how difficult it will be.
Criminal follows Pria from the relative safety of Asylum, to the wilds of the mountains, to the ordered madness of Denver Commune, through the inner workings of her heart and mind, and straight to a shocking, inevitable revelation that shatters her confidence in that which is most precious to her.
Available August 25
Buy Criminal at Amazon
Get even more book news in your inbox by signing up for our newsletter: http://eepurl.com/mHTVL. Girl Who Reads is an Amazon advertising affiliate; a small commission is earned when purchases are made at Amazon using any Amazon links on this site. Thank you for supporting Girl Who Reads.