What Happens When You Fall In Love With Your Best Friend?
THE HAPPILY-EVER-AFTER, FEEL-GOOD FINAL STORY IN WIDELY BELOVED SUMMER HARBOR ROMANCE SERIES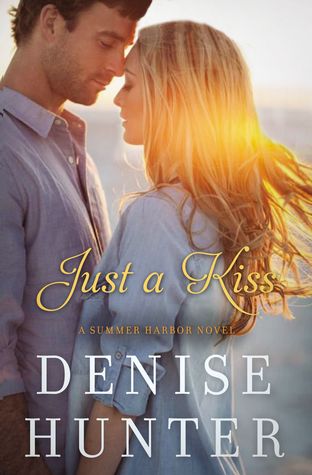 Denise Hunter is the internationally published bestselling author of over 25 books, including
Dancing with Fireflies
and
Falling Like Snowflakes
. Her novel
The Convenient Groom
premiered as a
Hallmark Channel
feature film in June 2016, and in December 2016, the Hallmark Channel will premiere another feature film based on Hunter's work,
A December Bride
.
Denise Hunter's Summer Harbor series has had contemporary romance readers across the globe swooning since the September 2015 release of the trilogy's first installment,
Falling Like Snowflakes
. On September 6, 2016, with the release of the third and final Summer Harbor story,
Just a Kiss
[Thomas Nelson/HarperCollins], fans will at last find out whether Riley Callahan and Paige Warren – best friends and the most star-crossed of Summer Harbor's sweethearts – get a happily-ever-after after all. Anyone who has ever secretly fallen in love with their best friend is all too familiar with the special kind of heartache it can bring.
"Hunter balances the dark side of love and war with a winning combination: realistically exploring the role that faith plays in healing, deftly creating a potent romance, and giving significant space for the lively and lovable supporting cast of Summer Harbor friends. Fans will be sad to see the Callahans say goodbye, but this tale of recovery and bravery is a fine parting gift."
--
Publisher's Weekly
Riley Callahan's plans to reveal his secret feelings for his best friend are derailed when his life is drastically altered in Afghanistan.
Watching the love of his life fall for his brother was enough to send Riley straight to boot camp. But over a year later, he's officially a marine, and Beau and Paige are no longer an item. When Riley's tour in Afghanistan is up, he intends to confess his feelings to Paige and win his best friend's heart once and for all.
But all that changes when an IED takes the life of a comrade and leaves Riley an amputee. Now he's heading home, injured and troubled. His plans to win Paige are a distant dream. She deserves so much more than the man that's left. All he can do now is put some healthy distance between them. But upon his return, he discovers his family has arranged for him to stay with Paige.
Paige is a nurturer at heart and happy to take care of her best buddy. By all appearances, Riley is adjusting miraculously well to his disability. But as the days pass, Paige begins to see that the smiles and laughter are just a mask for the pain he's hiding. To make matters worse, her job is in serious jeopardy. The animal shelter that she's poured her heart into has lost its funding, and she has three months to come up with the money needed to save it.
As the weeks wear on, Paige's feelings for Riley begin to shift into uncharted territory. Why is she suddenly noticing his arm muscles and the way his lips curl at the corners? Will she be able to deny her feelings for another Callahan brother? And will Riley let his heart heal so he can let Paige in?
~Goodreads.com
Start Reading:
Get even more book news in your inbox by signing up for our newsletter: http://eepurl.com/mHTVL. Girl Who Reads is an Amazon advertising affiliate; a small commission is earned when purchases are made at Amazon using any Amazon links on this site. Thank you for supporting Girl Who Reads.