This weekend would be a great time to start a new romance. These 5 novels are some of the hottest titles this month.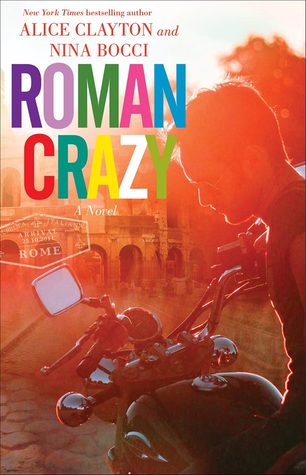 Avery Bardot steps off the plane in Rome, looking for a fresh start. She's left behind a soon-to-be ex-husband in Boston and plans to spend the summer with her best friend Daisy, licking her wounds—and perhaps a gelato or two. But when her American-expat friend throws her a welcome party on her first night, Avery's thrown for a loop when she sees a man she never thought she'd see again: Italian architect Marcello Bianchi.
Marcello was the man—the one who got away. And now her past is colliding with her present, a present where she should be mourning the loss of her marriage and—hey, that fettuccine is delicious! And so is Marcello…
Slipping easily into the good life of summertime in Rome, Avery spends her days exploring a city that makes art historians swoon, and her nights swooning over her unexpected what was old is new again romance. It's heady, it's fevered, it's wanton, and it's crazy. But could this really be her new life? Or is it just a temporary reprieve before returning to the land of twin-set cardigans and crustless sandwiches?
A celebration of great friendship, passionate romance, and wonderful food,
Roman Crazy
is a lighthearted story of second chances and living life to the fullest.
On the night of the Parkhurst ball, someone had a scandalous tryst in the library.
•Was it Lord Canby, with the maid, on the divan?
•Or Miss Fairchild, with a rake, against the wall?
•Perhaps the butler did it.
All Charlotte Highwood knows is this: it wasn't her. But rumors to the contrary are buzzing. Unless she can discover the lovers' true identity, she'll be forced to marry Piers Brandon, Lord Granville—the coldest, most arrogantly handsome gentleman she's ever had the misfortune to embrace. When it comes to emotion, the man hasn't got a clue.
But as they set about finding the mystery lovers, Piers reveals a few secrets of his own. The oh-so-proper marquess can pick locks, land punches, tease with sly wit … and melt a woman's knees with a single kiss. The only thing he guards more fiercely than Charlotte's safety is the truth about his dark past.
Their passion is intense. The danger is real. Soon Charlotte's feeling torn. Will she risk all to prove her innocence? Or surrender it to a man who's sworn to never love?
Buy Do You Want to Start a Scandal at Amazon
Single dad Andy Shaw loves his job as a sports agent, with one exception: it doesn't leave him much time for his kids. No parent likes being sidelined, so Andy decides to hire someone to share the workload. But when one of the hottest agents in the industry applies, Andy knows that this deal is definitely trouble.
Danicka Douglas works her butt off, but being an attractive woman in a testosterone-heavy industry isn't exactly a cakewalk. She guards her professional reputation fiercely, which means no crushing on her gorgeous boss. But the more they ignore that sexy little spark, the more it sizzles…
Just when it looks like romance might be in the game plan, Dani is threatened by a stalker with dark intentions. To keep her safe, Andy must cross the line between professional and very personal…because this time, he's playing for keeps.
The sweetest medicine
Nicholas Stallion's championship dreams are almost within reach. The star quarterback has lucrative endorsement deals, A-list friends and beautiful women on call…until a play-off injury changes his life. He's angry at the world—and butting heads with family friend Dr. Tarah Boudreaux. Yet the ambitious neurosurgeon's unwavering encouragement sparks an intimacy that blindsides them both.
The Nicholas that Tarah met before the accident had wealth, fame and charm. All of that pales in comparison to the driven, determined man she's falling for now. And when a captivating first kiss leads to an intensely tender moment, she knows she's in way over her head. But with a jealous rival in the mix, Nicholas must be willing to make the ultimate play, or lose a love he had never dreamed of finding…
Buy A Stallion's Touch at Amazon
One story. Two couples.
I proposed on our first date.
She laughed and told me I was insane. Less than a day later, she said yes.
It was a whirlwind, but we were happy…
Until we got greedy and wanted a family.
It was a life I couldn't give her, not for lack of trying. Fertility just wasn't on our side. We sought out doctors and treatments. Spent money we didn't have. Lied to our families. Smiled for our friends. Put on a brave face for a world that didn't understand.
Finally, we were successful…
Until we were forced to bury our son.
We were left broken, battered, and destroyed.
They say love is in the details, but it was the details that ruined us.
This is the story of how I took back what had always been mine.
The retrieval of my wife and our family.
Get even more book news in your inbox by signing up for our newsletter: http://eepurl.com/mHTVL. Girl Who Reads is an Amazon advertising affiliate; a small commission is earned when purchases are made at Amazon using any Amazon links on this site. Thank you for supporting Girl Who Reads.