It's the last month of 2016. Are you still working toward your reading goal? Or perhaps you are working on bonus reads. Either way, you'll want to grab these last new releases of 2016.
Raven and her sister, Cara, are at the mercy of a small detachment of Florentine vampyres, who are delivering them as a peace offering to the feared Curia in Rome.
Though she s unsure William survived the coup that toppled his principality, Raven is determined to protect her sister at all costs, even if it means challenging Borek, the commander of the detachment.
In an effort to keep Raven from falling into the hands of his enemies, William puts himself at the mercy of the Roman, the dangerous and mysterious vampyre king of Italy. But the Roman is not what he expects
Alliances and enmities will shift and merge as William struggles to save the woman he loves and his principality, without plunging the vampyre population into a world war.
This stunning conclusion to the Florentine series will take readers across Italy and beyond as the lovers fight to remain together. Forever."
Available December 6
The #1 New York Times–bestselling series is back with the most shocking revelation of all. After years of facing international threats, President Jack Ryan learns that the greatest dangers always come from within. . . .
It begins with a family dinner in Princeton, New Jersey. After months at sea, U.S. Navy Commander Scott Hagan, captain of the USS James Greer, is on leave when he is attacked by an armed man in a crowded restaurant. Hagan is shot, but he manages to fight off the attacker. Though severely wounded, the gunman reveals he is a Russian whose brother was killed when his submarine was destroyed by Commander Hagan's ship.
Hagan demands to know how the would-be assassin knew his exact location, but the man dies before he says more.
In the international arrivals section of Tehran's Imam Khomeini airport, a Canadian businessman puts his fingerprint on a reader while chatting pleasantly with the customs official. Seconds later he is shuffled off to interrogation. He is actually an American CIA operative who has made this trip into Iran more than a dozen times, but now the Iranians have his fingerprints and know who he is. He is now a prisoner of the Iranians.
As more deadly events involving American military and intelligence personnel follow, all over the globe, it becomes clear that there has been some kind of massive information breach and that a wide array of America's most dangerous enemies have made a weapon of the stolen data. With U.S. intelligence agencies potentially compromised, it's up to John Clark and the rest of The Campus to track the leak to its source.
Their investigation uncovers an unholy threat that has wormed its way into the heart of our nation. A danger that has set a clock ticking and can be stopped by only one man . . . President Jack Ryan.
Available December 6
Buy True Faith and Allegiance at Amazon
Bestselling author and Grammy-winning musical superstar Naomi Judd shares her devastating personal story with depression to spread awareness and encourage others with the disease.
The world knows Naomi Judd as one of the most successful and best-loved country music stars ever. What the world doesn't know--until now--is that after her 2010 and 2011 North American tour with Wynonna, Naomi fell into a debilitating and terrifying depression that seemingly came out of nowhere. Just months after the successful tour ended, Naomi truly believed she had every reason to end her life. Facing severe depression, terrorizing panic attacks, PTSD, toxic drug poisoning, and addiction, she spent the next two and a half years in psychiatric hospitals undergoing treatments and searching for answers. In River Of Time, Naomi describes the agonizing toll this took on her and shares her message of hope after surviving the most painful period in her life.
Available December 6
Zoe Dawson returns to Laurel Falls, Montana, where big sky meets true love in Maybe Tomorrow, as a jaded New Yorker and a small-town mayor teach each other that the good things in life are meant to be savored.
After growing up dirt poor, Greg Chambers relishes his job as the CEO of a high-powered marketing agency. He couldn't imagine leaving New York for Laurel Falls, a town so rundown he can practically see the tumbleweeds. But while there to spearhead a new tourism campaign, Greg admits that there's one bright spot: the widowed mayor whose fighting spirit and exquisite good looks have him struggling to keep things professional.
Trinity Gill is doing everything in her power to revitalize her dazzling but declining town—even while mourning her husband and trying to keep her family together. The last thing she needs is a distraction like Greg, a fast-talking city slicker who works hard and plays harder. So why does her body long for his touch? And why can't she get his open smile and gleaming eyes off her mind?
Greg has been running on empty for years, but when he finally takes the time to smell the roses, he makes a startling realization: He can be the one to heal Trinity's wounded heart. And if Trinity would face her deepest fears, maybe tomorrow could be the start of a whole new beginning—together.
Available December 12
Buy Maybe Tomorrow at Amazon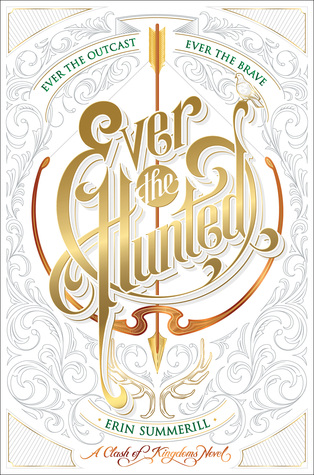 Seventeen year-old Britta Flannery is at ease only in the woods with her dagger and bow. She spends her days tracking criminals alongside her father, the legendary bounty hunter for the King of Malam—that is, until her father is murdered. Now outcast and alone and having no rights to her father's land or inheritance, she seeks refuge where she feels most safe: the Ever Woods. When Britta is caught poaching by the royal guard, instead of facing the noose she is offered a deal: her freedom in exchange for her father's killer.
However, it's not so simple.
The alleged killer is none other than Cohen McKay, her father's former apprentice. The only friend she's ever known. The boy she once loved who broke her heart. She must go on a dangerous quest in a world of warring kingdoms, mad kings, and dark magic to find the real killer. But Britta wields more power than she knows. And soon she will learn what has always made her different will make her a daunting and dangerous force.
Available December 27
Get even more book news in your inbox by signing up for our newsletter: http://eepurl.com/mHTVL. Girl Who Reads is an Amazon advertising affiliate; a small commission is earned when purchases are made at Amazon using any Amazon links on this site. Thank you for supporting Girl Who Reads.