by Donna Huber
I spent a lot of my Christmas holidays reading Christmas books that were all about fun reading. But I'm sort of back to reading books for reviews. Thankfully I had a couple of books I read in December for review that I could post the first couple of weeks this year. Here are the books I've read, currently reading, and hope to read this month.
Read: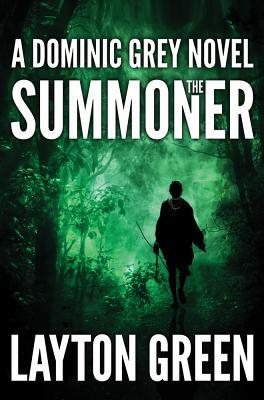 The Summoner by Layton Green
. The author sent me this book as a thank you gift. It is the only book in the Dominic Grey series that I hadn't read, though it is the first book in the series. I thought the story was a bit slower than I'm accustomed to in this series, but that may have been because I already knew the characters, and they were being introduced for the first time. I liked that I got a bit more background on Professor Radek.
A United States diplomat disappears in front of hundreds of onlookers while attending a religious ceremony in the bushveld of Zimbabwe. Dominic Grey, Diplomatic Security special agent, product of a violent childhood and a worn passport, is assigned to investigate. Aiding the investigation is Professor Viktor Radek, religious phenomenologist and expert on cults, and Nya Mashumba, the local government liaison.
What Grey uncovers is a terrifying cult older than Western civilization, the harsh underbelly of a country in despair, a priest seemingly able to perform impossibilities, and the identity of the newest target.
Himself . . .
~cover and summary from Goodreads.com
Station Eleven by Emily St. John Mandel
. When I returned to work I had trouble with how quiet the office was so I quickly found an audiobook to fill the silence. While I enjoyed the audiobook, I kind of wish I had read it myself. The story is so rich with many layers that I felt like I was only getting the surface sometimes. I don't read a lot of books that get nominated for big book awards, but I'm glad I picked this one.
2014 National Book Award Finalist, A New York Times Bestseller
An audacious, darkly glittering novel set in the eerie days of civilization's collapse, Station Eleven tells the spellbinding story of a Hollywood star, his would-be savior, and a nomadic group of actors roaming the scattered outposts of the Great Lakes region, risking everything for art and humanity.
One snowy night Arthur Leander, a famous actor, has a heart attack onstage during a production of King Lear. Jeevan Chaudhary, a paparazzo-turned-EMT, is in the audience and leaps to his aid. A child actress named Kirsten Raymonde watches in horror as Jeevan performs CPR, pumping Arthur's chest as the curtain drops, but Arthur is dead. That same night, as Jeevan walks home from the theater, a terrible flu begins to spread. Hospitals are flooded and Jeevan and his brother barricade themselves inside an apartment, watching out the window as cars clog the highways, gunshots ring out, and life disintegrates around them.
Fifteen years later, Kirsten is an actress with the Traveling Symphony. Together, this small troupe moves between the settlements of an altered world, performing Shakespeare and music for scattered communities of survivors. Written on their caravan, and tattooed on Kirsten's arm is a line from Star Trek: "Because survival is insufficient." But when they arrive in St. Deborah by the Water, they encounter a violent prophet who digs graves for anyone who dares to leave.
Spanning decades, moving back and forth in time, and vividly depicting life before and after the pandemic, this suspenseful, elegiac novel is rife with beauty. As Arthur falls in and out of love, as Jeevan watches the newscasters say their final good-byes, and as Kirsten finds herself caught in the crosshairs of the prophet, we see the strange twists of fate that connect them all. A novel of art, memory, and ambition, Station Eleven tells a story about the relationships that sustain us, the ephemeral nature of fame, and the beauty of the world as we know it.
~cover and description from Goodreads.com
Currently Reading:
How to Manifest Money Effortlessly by Bruno R. Cignacco
. I found this book on my ereader and since January is about new year resolutions I thought it might be a good book to review this month.
This book is primarily focused on the most relevant techniques to manifest money effortlessly. The text pinpoints the main metaphysical principles related to the creation of wealth. It also sets out wrong assumptions about money and replaces them with positive connotations about it. The book goes on to highlight the main requirements to attract more abundance. It describes an overarching series of strategies to attract more prosperity, such as visualization, meditation, affirmations, Feng Shui, emotional release, objective setting, playfulness, generosity perspective, gratitude, intuitive insights, de-cluttering, positive thinking, chakra cleansing and energy management, among others. All these techniques are explained in detail, accompanied with easy practical exercises.
~cover and description from Goodreads.com
Deadline by Sandra Brown
. I've listened to a few of Sandra Brown's novels and always enjoy them. I have only a couple of hours left of this story, so I'll probably finish it when I return to work on Tuesday. I like the characters and how the story is playing out.
Dawson Scott is a well-respected journalist recently returned from Afghanistan. Haunted by everything he experienced, he's privately suffering from battle fatigue which is a threat to every aspect of his life. But then he gets a call from a source within the FBI. A new development has come to light in a story that began 40 years ago. It could be the BIG story of Dawson's career--one in which he has a vested interest.
Soon, Dawson is covering the disappearance and presumed murder of former Marine Jeremy Wesson, the biological son of the pair of terrorists who remain on the FBI's Most Wanted list. As Dawson delves into the story, he finds himself developing feelings for Wesson's ex-wife, Amelia, and her two young sons. But when Amelia's nanny turns up dead, the case takes a stunning new turn, with Dawson himself becoming a suspect. Haunted by his own demons, Dawson takes up the chase for the notorious outlaws. . .and the secret, startling truth about himself.
~cover and description from Goodreads.com
To Read:
The Beauty of the Fall by Rich Marcello
. I won this book in a Goodreads giveaway. I'm looking forward to trying a new author.
A TECHNOLOGY EXECUTIVE CHARTS A HIGH-RISK, UNCONVENTIONAL PATH WHILE GRIEVING THE LOSS OF HIS SON.
Dan Underlight, a divorced, workaholic technology executive, suffers lingering grief over the death of his ten-year-old son, Zack. When Dan's longtime friend and boss, Olivia Whitmore, fires Dan from RadioRadio, the company that he helped create, he crashes and isolates himself.
Willow, a poet and domestic violence survivor, helps Dan regain his footing. With her support, Dan ventures on a pilgrimage of sorts, visiting Fortune 500 companies to flesh out a software start-up idea. When Dan returns home with a fully formed vision, he recruits the help of three former RadioRadio colleagues and starts Conversationworks, a company he believes will be at the vanguard of social change.
Guided by Dan's generative leadership, Conversationworks enjoys some early successes, but its existence is soon threatened on multiple fronts. Will Dan survive the ensuing corporate battles and realize the potential of his company? Or will he be defeated by his enemies and consumed by his grief?
~cover and description from Goodreads.com
What books have you been enjoying this first month of 2017?
Get even more book news in your inbox by signing up for our newsletter: http://eepurl.com/mHTVL. Girl Who Reads is an Amazon advertising affiliate; a small commission is earned when purchases are made at Amazon using any Amazon links on this site. Thank you for supporting Girl Who Reads.