by Alison DeLuca
Marathoning television shows is a relatively new concept. Remember waiting to find out what happens? Viewing parties for
Picket Fences
? Entire summers wondering who killed JR or what the hell Lost was about?
Many series are now designed to be watched in a few days, if not 24 hours.
Amazon has become a Marathon Master.
Mozart in the Jungle
(Amazon) is an award-winner, and the site's
Man in the High Castle
was one of the first marathon feasts.
Netflix
was one of the first in the marathon stirrups, showcasing works like
Orange is the New Black
and
Jessica Jones
. The second, a tie-in from Marvel, followed the amazing Daredevil series.
I work from home, and often I'll run a marathon of a show as background while I write, clean the house, set up for dinner, or edit a project. When I have free time and can actually watch with undivided attention, I like to lose myself in a series with spectacular fantasy writing and amazing acting.
Luckily, they are easy to find.
Here's a list of great marathon fare, for those who are late to the genre. It includes channel originals like
Luke Cage
from Netflix as well as television offerings I would have missed if it weren't for Apple TV.
Eleven in Stranger Things
1.
Stranger Things
: I
wrote about this series before
. To date, I think it stays as the finest example of a marathon series. The characters (Eleven, Mike, and even poor Barb) were vivid, and the action was electric. If somehow you've missed this one, clear about ten hours and watch the entire series. You won't want to stop once you start.
Summary: When a young boy disappears, his friends investigate with the help of Eleven, a telekinetic girl.
Their adventures lead to government experiments and alternate dimensions. (NETFLIX)
2.
The Kettering Incident
: If you like dense Scandinavian crime drama,
The X-Files
, and
Fringe
, you might enjoy this dark series from Australia.
I owe
Rachel Tsoumbakos
eternal gratitude for turning me onto this gem.
You do need to pay attention - in fact, I watched this twice through to pick up on the hidden clues, and I'm still mystified. Looking forward to the next season!
Summary: Anna Macy returns to Kettering years after her friend disappeared. When another girl goes missing, Anna has to try and discover what happened all those years ago. (AMAZON)
3. T
he Magicians
: Originally from SyFy, this adaptation of
Lev Grossman's novel
showcases fascinating concepts, addictive magic, and an incredibly rich universe. This is a good one to stream if you have work to do - you can miss a few scenes and still keep up.
Just remember to keep this one for adults-only, since the series is like Harry Potter for college students.
Summary: Quentin's fascination with the fantasy land of Fillory gets him into the magical college called Brakebills. There he discovers Fillory is real and very dangerous. (NETFLIX, SYFY)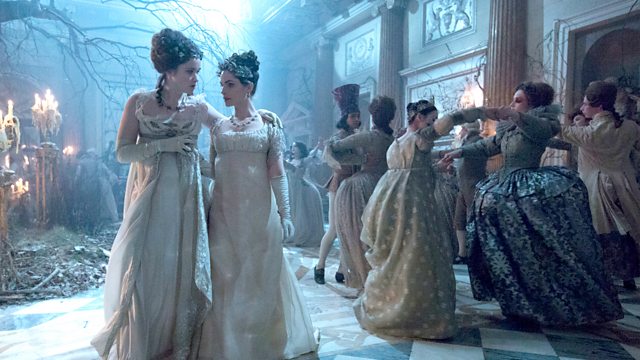 4.
Jonathan Strange and Mr. Norrell
: This BBC miniseries does a wonderful job of
condensing the huge novel
about magicians in 18th-century England. Watch it for incredible acting and beautiful scenery/ costumes / CGI. This little sleeper is worth your time.
Summary: Strange and Norrell struggle to right things after Mr. Norrell raises a woman from the dead. There's so much more - including a lovely romance between husband and wife, as well as the POV of an African character who might be one of my favorite people ever. (NETFLIX)
Alison DeLuca is the author of several steampunk and urban fantasy books.

She was born in Arizona and has also lived in Pennsylvania, Illinois, Mexico, Ireland, and Spain.


Currently she wrestles words and laundry in New Jersey.
Get even more book news in your inbox by signing up for our newsletter: http://eepurl.com/mHTVL. Girl Who Reads is an Amazon advertising affiliate; a small commission is earned when purchases are made at Amazon using any Amazon links on this site. Thank you for supporting Girl Who Reads.