by Donna Huber
I haven't had much time for reading. I volunteer with a children's basketball organization, and this year I'm in charge. Then I came down with the flu last weekend. It doesn't look like I'm going to get any winter weather that will keep me shut inside either. I did finish up a couple of books I started in January.
Finished: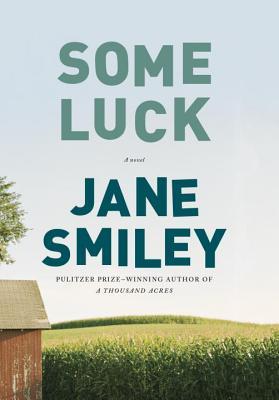 Some Luck
by Jane Smiley (audio book)
I enjoyed this epic historical novel much more than I thought I would. It reminded me a little of a John Steinbeck novel. I've already checked my digital library to see if they have the next book in the series as an audio book. I'm waiting for a copy of it to come available.
On their farm in Denby, Iowa, Rosanna and Walter Langdon abide by time-honored values that they pass on to their five wildly different yet equally remarkable children: Frank, the brilliant, stubborn first-born; Joe, whose love of animals makes him the natural heir to his family's land; Lillian, an angelic child who enters a fairy-tale marriage with a man only she will fully know; Henry, the bookworm who's not afraid to be different; and Claire, who earns the highest place in her father's heart. Moving from post-World War I America through the early 1950s, Some Luck gives us an intimate look at this family's triumphs and tragedies, zooming in on the realities of farm life, while casting-as the children grow up and scatter to New York, California, and everywhere in between-a panoramic eye on the monumental changes that marked the first half of the twentieth century. Rich with humor and wisdom, twists and surprises, Some Luck takes us through deeply emotional cycles of births and deaths, passions, and betrayals, displaying Smiley's dazzling virtuosity, compassion, and understanding of human nature and the nature of history, never discounting the role of fate and chance. This potent conjuring of many lives across generations is a stunning tour de force.
Buy Some Luck at Amazon
How to Manifest Money Effortlessly
by Bruno R. Cignacco (ebook)
I
reviewed this book
last Friday.
This book is primarily focused on the most relevant techniques to manifest money effortlessly. The text pinpoints the main metaphysical principles related to the creation of wealth. It also sets out wrong assumptions about money and replaces them with positive connotations about it. The book goes on to highlight the main requirements to attract more abundance. It describes an overarching series of strategies to attract more prosperity, such as visualization, meditation, affirmations, Feng Shui, emotional release, objective setting, playfulness, generosity perspective, gratitude, intuitive insights, de-cluttering, positive thinking, chakra cleansing and energy management, among others. All these techniques are explained in detail, accompanied with easy practical exercises.
Buy How to Manifest Money Effortlessly at Amazon
Currently Reading:
I'm not very far along in either of these books.
The Beauty of the Fall
by Rich Marcello (paperback)
Dan Underlight, a divorced, workaholic technology executive, suffers lingering grief over the death of his ten-year-old son, Zack. When Dan's longtime friend and boss, Olivia Whitmore, fires Dan from RadioRadio, the company that he helped create, he crashes and isolates himself.
Willow, a poet and domestic violence survivor, helps Dan regain his footing. With her support, Dan ventures on a pilgrimage of sorts, visiting Fortune 500 companies to flesh out a software start-up idea. When Dan returns home with a fully formed vision, he recruits the help of three former RadioRadio colleagues and starts Conversationworks, a company he believes will be at the vanguard of social change.
Guided by Dan's generative leadership, Conversationworks enjoys some early successes, but its existence is soon threatened on multiple fronts. Will Dan survive the ensuing corporate battles and realize the potential of his company? Or will he be defeated by his enemies and consumed by his grief?
Buy The Beauty of the Fall at Amazon
Like a Closed Fist
by E.H. Nolan (ebook)
It was harmless enough: her best friend's wedding. But for California girl Phoebe, forty-eight hours in North Carolina changed her life.
No one is more surprised than Phoebe when she falls hopelessly in love with her dad's much older, very married friend. Although she wants nothing more than to jump headfirst into an affair with Mitch, he refrains, telling her she's just a kid.
Determined to prove him wrong, young Phoebe learns the irony of best laid plans. She travels to North Carolina for a wedding and accidentally falls head-over-heels for two very different men: Mason, the hotel concierge, and Frankie, a captain in the Merchant Marines. Throw in two old flames and a hunky masseur and you've got a most complicated love hexagon in this cautionary tale of love, sex, grief, and growing up.
Buy Like a Closed Fist at Amazon
Donna Huber is an avid reader and natural encourager. She is the founder of Girl Who Reads and the author of how-to marketing book Secrets to a Successful Blog Tour.
Get even more book news in your inbox by signing up for our newsletter: http://eepurl.com/mHTVL. Girl Who Reads is an Amazon advertising affiliate; a small commission is earned when purchases are made at Amazon using any Amazon links on this site. Thank you for supporting Girl Who Reads.