by Donna Huber
Summer is coming! And the plethora of new releases this month rivals the blooms of May flowers. The summer months see some of largest rollout of new releases, presumably because people have more time to read as they take vacations and kids are out of school. You will see a number of reviews of new releases this month, but here are some of the new books coming out from authors I've read.
Amazon affiliate links are used in this post.
A four man unit brushes up against Mason and his 'Keepers' unit. Sparks fly from the beginning as not one of the men are looking for romance. But there's no choice - cupid has a soft spot for SEALS and he's lined his sights up on Devlin next. :)
The right place at the right time… or the very wrong place…
As part of a group helping to training Iraq soldiers, Devin is doing additional training on how to use the latest drones. But when a murder is committed on the base and suspicion is thrown on the drone's designer, he can't stop himself from helping her. When they return stateside, another employee in the same company is murdered. Once again suspicion falls on the designer. And as tension climbs, Devin wonders who will be next…
Bristol didn't want to take her latest drone models to Iraq, but she was behind schedule and her bosses were pushing.
Then disaster strikes, and she's the one everyone blames. She loses her research and her best friend, and now she's determined to find out who did this… no matter how dangerous it is.
The killer isn't done. He got what he wanted but there's more that he needs… and he'll kill to get it. After all, it wouldn't be the first time…
Available May 1
Buy SEALS of Honor: Devlin at Amazon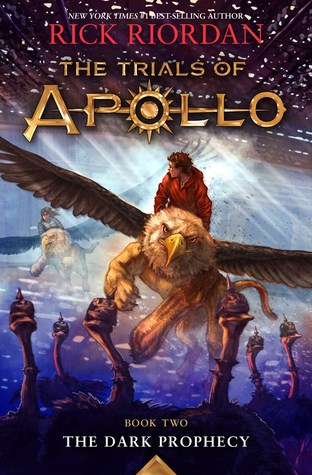 Zeus has punished his son Apollo—god of the sun, music, archery, poetry, and more—by casting him down to earth in the form of a gawky, acne-covered sixteen-year-old mortal named Lester. The only way Apollo can reclaim his rightful place on Mount Olympus is by restoring several Oracles that have gone dark. What is affecting the Oracles, and how can Apollo do anything about them without his powers?
After experiencing a series of dangerous—and frankly, humiliating—trials at Camp Half-Blood, Apollo must now leave the relative safety of the demigod training ground and embark on a hair-raising journey across North America. Fortunately, what he lacks in godly graces he's gaining in new friendships—with heroes who will be very familiar to fans of the Percy Jackson and the Olympians and Heroes of Olympus series. Come along for what promises to be a harrowing, hilarious, and haiku-filled ride...
Available May 2
Buy The Dark Prophecy at Amazon
In response to an awful camp orientation video created by the god Apollo, Percy Jackson and other residents of Camp Half-Blood answer such questions as "What is this place?" and "Do I get to keep the T-shirt?" Newbies can check out the section on the Divine Cabins, read up on Magical Landmarks, and consult the chapter of Training Arenas. But Camp Half-Blood Confidential explores much more than just the buildings and grounds. It includes info that can only be learned from those who live there. For instance, campers do not always co-exist in peace and harmony. The camp is not run with superior efficiency. Prophecies do not flow forth with great regularity. Sprinkled throughout are stories from heroes who have called Camp Half-Blood home or just passed through on their way to places unknown. Chiron himself introduces the book with a brief history of training based on his millennia of experience. And, of course, there are divine words of wisdom from the god Apollo himself, because . . . well, because the demigod authors would prefer not to be struck down, thank you very much.
Available May 2
Buy From Percy Jackson at Amazon
When Jyn Erso was five years old, her mother was murdered and her father taken from her to serve the Empire. But despite the loss of her parents she is not completely alone—Saw Gerrera, a man willing to go to any extremes necessary in order to resist Imperial tyranny, takes her in as his own, and gives her not only a home but all the abilities and resources she needs to become a rebel herself.
Jyn dedicates herself to the cause—and the man. But fighting alongside Saw and his people brings with it danger and the question of just how far Jyn is willing to go as one of Saw's soldiers. When she faces an unthinkable betrayal that shatters her world, Jyn will have to pull the pieces of herself back together and figure out what she truly believes in…and who she can really trust.
Available May 2
Evie Blackwell's reputation as a top investigator for the Illinois State Police has landed her an appointment to the governor's new Missing Persons Task Force. This elite investigative team is launched with plenty of public fanfare. The governor has made this initiative a high priority, so they will have to produce results--and quickly.
Evie and her new partner, David Marshal, are assigned to a pair of unrelated cases in suburban Chicago, and while both involve persons now missing for several years, the cases couldn't be more different. While Evie opens old wounds in a close-knit neighborhood to find a missing college student, David searches for a private investigator working for a high-powered client.
With a deep conviction that "justice for all" truly matters, Evie and David are unrelenting in their search for the truth. But Evie must also find answers to the questions that lie just beneath the surface in her personal life.
Available May 2
Buy Threads of Suspicion at Amazon
Celebrate American independence with this delightful picture book as you travel to Revolutionary America and meet the amazing Amelia Simmons: mother's helper, baker of delectable cakes, and soon-to-be authoress of the first American cookbook!
Master of the historical fiction picture book Deborah Hopkinson takes us back to late eighteenth-century America and the discombobulated home of Mrs. Bean, mother of six strapping sons, who simply can't manage until Amelia Simmons arrives and puts things in order. And how well she cooks everything from flapjacks to bread pudding to pickled cucumbers! She even invents new recipes using American ingredients like winter squash. Best of all, she can bake, and to honor the brand-new president, George Washington, she presents him with thirteen Independence Cakes one for each colony. "Delicious!" he proclaims. Author's Note and original recipe included!
Available May 9
Buy Independence Cake at Amazon
Memorial Day weekend means that seasonal visitors have descended on the glamorous island of Nantucket. For year-round resident Darcy Cotterill, it means late-night stargazing in the backyard of the beautiful house she grew up in and inherited from her beloved grandmother. It s also Darcy s chance to hit the beach and meet her new summertime neighbors. But the last person the thirty-year-old librarian expects to see staying next door is her ex-husband, Boyz, along with his wife, Autumn, and stepdaughter, Willow.
Darcy must also navigate the highs and lows of a new romantic relationship with local carpenter Nash Forester even as she becomes smitten with handsome vacationer Clive Rush, a musicologist in town to write a book and visit family. And she finds herself pulled into the concerns of Boyz, Autumn, a charming elderly neighbor, and an at-risk teen.
As the season nears its end, Darcy must decide her next move: retreating to the comforts of her steady and secure island life, or risking it all for a chance at true happiness.
Available May 16
Buy Secrets in Summer at Amazon
Welcome to Flynn's Firecracker, book 5 in Heroes for Hire, reconnecting readers with the unforgettable men from SEALs of Honor in a new series of action packed, page turning romantic suspense that fans have come to expect from USA TODAY Bestselling author Dale Mayer.
Some jobs are more pleasant than others…
Flynn agrees to do a security job for Levi as a trial run for more work. Looking after Anna and her animal shelter is a breeze. Trouble free. Until he leaves…
Having Flynn around was both good and bad. To have the help at the shelter was huge, but they drew sparks just being around each other. She tells herself she's relieved when he's gone but when a dead man shows up, she'd do anything to have him back.
Someone is after Flynn… and he doesn't care who he kills in the process…
Available May 16
Buy Flynn's Firecracker at Amazon
Ruby Scott is months behind on rent and can't seem to land a steady job. She has one chance to turn things around with a big audition. But instead of getting her big break, she gets sick as a dog and completely bombs it in the most humiliating fashion. All thanks to a mysterious, gorgeous guy who kissed--and then coughed on--her at a party the night before.
Luckily, her best friend might have found the perfect opportunity; a job staying at the lavish penthouse apartment of hotel magnate Bancroft Mills while he's out of town, taking care of his exotic pets. But when the newly-evicted Ruby arrives to meet her new employer, it turns out Bane is the same guy who got her sick.
Seeing his role in Ruby's dilemma, Bane offers her a permanent job as his live-in pet sitter until she can get back on her feet. Filled with hilariously awkward encounters and enough sexual tension to heat a New York City block, Shacking Up, from NYT and USA Today bestselling author Helena Hunting, is sure to keep you laughing and swooning all night long.
Available May 30
New this month from Roane Publishing:
It's not easy, being an unmarried woman in the England of 1814. But Nancy Worth will not marry where there is no love, and every man in her small Sussex village is either too old, too young, or has a face like a fish. Except for the handsome Bartholomew Boult, and he has his own reasons for pursuing her.
When, against all the odds, Nancy does find love, both her family and his are determined to put a stop to it. He is gentry, and she a farmer's daughter. With lies and gossip flying, as well as the unexpected resumption of war, it seems everyone is trying to separate her from Will Carlton.
Even Napoleon Bonaparte.
Available May 8
Are any of your favorite authors publishing books this month? Please share in the comments!
Get even more book news in your inbox by signing up for our newsletter: http://eepurl.com/mHTVL. Girl Who Reads is an Amazon advertising affiliate; a small commission is earned when purchases are made at Amazon using any Amazon links on this site. Thank you for supporting Girl Who Reads.