by Donna Huber
Ready for the pool!
It is the last Monday of the month, and it's time to tally up what I read and am reading this month and plan for next month. I wasn't sure if I would read as many books I have been reading each month. I've started doing some training at work which has cut down on the audio books that I usually listen to at work, but television season is wrapping up so I'm starting to listen to books in the evenings. The last 2 - 3 month, I've completed eight books. I have 7 finished so far this month. I'm still on track with my reading goal for the year so it's all good. I also laid a patio this month. You can see a bit of it in the above picture.
Amazon affiliate links are used in this post.
Read:
In print...
I won
The Twelve Lives of Samuel Hawley
in a Goodreads giveaway. I don't win very many of them, but I'm glad I won this book. You can read my
full review
that I posted last week.
A father protects his daughter from the legacy of his past and the truth about her mother's death in this thrilling new novel from the prize-winning author of
The Good Thief
.
After years spent living on the run, Samuel Hawley moves with his teenage daughter, Loo, to Olympus, Massachusetts. There, in his late wife's hometown, Hawley finds work as a fisherman, while Loo struggles to fit in at school and grows curious about her mother's mysterious death. Haunting them both are twelve scars Hawley carries on his body, from twelve bullets in his criminal past; a past that eventually spills over into his daughter's present, until together they must face a reckoning yet to come. This father-daughter epic weaves back and forth through time and across America, from Alaska to the Adirondacks.
Both a coming-of-age novel and a literary thriller, The Twelve Lives of Samuel Hawley explores what it means to be a hero, and the cost we pay to protect the people we love most.
Buy The Twelve Lives of Samuel Hawley at Amazon
I met this local author at a street fair recently. He is a great guy and I wish I had enjoyed his book more. There were just too many problems that kept me from doing so. It had great potential though. You can read
my full review
that I posted Saturday.
Keeping Away From The Joneses
is first-time author, Bowen Craig's, classless look at the American class system. Diedre Jones is a full-time Appalachian maid and part-time hypochondriac. She and her eclectic, crazy family have always been on the bottom rung of the American ladder. But that was before they won the lottery...
Buy Keeping Away From the Joneses at Amazon
In audio...
I thought I would give Lowry's other books a try since I liked
The Giver
. The second installment in this thematic series was almost as good as the first.
Lois Lowry once again creates a mysterious but plausible future world. It is a society ruled by savagery and deceit that shuns and discards the weak. Left orphaned and physically flawed, young Kira faces a frightening, uncertain future. Blessed with an almost magical talent that keeps her alive, she struggles with ever broadening responsibilities in her quest for truth, discovering things that will change her life forever.
As she did in
THE GIVER
, Lowry challenges readers to imagine what our world could become, how people could evolve, and what could be considered valuable. Every reader will be taken by Kira's plight and will long ponder her haunting world and the hope for the future.
Buy Gathering the Blue at Amazon
Messenger
is a continuation of
Gathering the Blue.
I found his one to be a bit sadder, but perhaps it because I knew the character more.
Messenger
is the masterful third novel in the Giver Quartet, which began with the dystopian bestseller The Giver, now a major motion picture.
Matty has lived in Village and flourished under the guidance of Seer, a blind man known for his special sight. Village once welcomed newcomers, but something sinister has seeped into Village and the people have voted to close it to outsiders. Matty has been invaluable as a messenger. Now he must risk everything to make one last journey through the treacherous forest with his only weapon, a power he unexpectedly discovers within himself.
Buy Messenger at Amazon
I won this ebook at last year's Armchair Book Expo. It is a cute read for elementary age children. If you get the print version, there is a script at the end so that kids can create their own play.
It seemed like a normal school day, until a horrible storm forced the very cautious school administration to make everyone hole up in a safe place. Six students find themselves stuck in a tiny, questionably smelly space—a school bathroom—with a stuffed cat for entertainment. Hijinks ensue and the unexpected happens. They enter as strangers…and leave as friends.
Buy Six Kids and a Stuffed Cat at Amazon
In ebook...
The sequel to
The Big Little Wedding in Carlton Square
(
read my review
) is due out next month. My review for
The Second Chance Cafe in Carlton Square
on June 30 as part of the blog tour.
One chance isn't always enough
Everyone expects great things from Emma Billings, but when her future gets derailed by an unexpected turn of events, she realizes that getting back on track means traveling in a different direction.
She finds it in the closed-down pub on Carlton Square. Summoning every ounce of ingenuity, and with the help of her friends and family, she opens the Second Chance Café. The charity training business is meant to keep vulnerable kids off the streets and (hopefully) away from the Metropolitan Police, and her new employees are full of ideas, enthusiasm ... and trouble. They'll need as much TLC as the customers they're serving.
This ragtag group of chancers have to make a go of a business they know nothing about, and they do get some expert help from an Italian who's in love with the espresso machine and a professional sandwich whisperer who reads auras, but not everyone is happy to see the café open. Their milk keeps disappearing and someone is canceling the cake orders, but it's when someone commits bloomicide on all their window boxes that Emma realizes things are serious. Can the café survive when NIMBY neighbors and the rival café owner join forces to close them down? Or will Emma's dreams fall as flat as the cakes they're serving?
Buy The Second Chance Cafe in Carleton Square at Amazon
This book was my reward for the intense yard work I've been doing the past month. I laid a new patio in front of my front porch. I first had to take out 4 very overgrown holly bushes and then laid down tarps, sand, and stone squares. Now I'm waiting to see if the rain this week totally washes away my hard work. But JB Lynn's new book provided a much need relaxing afternoon. This road trip is anything but a vacation for our favorite Hitwoman.
Some people just can't outrun trouble.
Overwhelmed hitwoman Maggie Lee thinks she's leaving her family worries behind when she's convinced to take a road trip with her buddy, Armani.
But pretty soon an old friend, a pesky relative, and even her pet, are asking for her help.
Loyal to a fault, Maggie soon finds herself tangled in a dangerous theft involving a crime family; confronting the abusive previous owner of her cat, Piss; and dealing with family revelations that rock her world.
With the assistance of psychic predictions, talking animals and unexpected allies, Maggie takes on her troubles head-on.
But if she's not careful, this "vacation" could literally be the death of her.
Buy The Hitwoman Takes a Roadtrip at Amazon
Currently Reading
In print...
I loved John Steinbeck's
The Grapes of Wrath
and to a lesser extent
Of Mice and Men.
Then suddenly I started hearing
East of Eden
everywhere and I realized I had never read it. I decided that this would be my summer pool reading book. Until I walked into the bookstore and there was a pretty copy with rough cut pages. So instead of being my pool book, I'm reading it now and enjoying every minute.
In his journal, John Steinbeck called
East of Eden
"the first book," and indeed it has the primordial power and simplicity of myth. Set in the rich farmland of California's Salinas Valley, this sprawling and often brutal novel follows the intertwined destinies of two families--the Trasks and the Hamiltons--whose generations helplessly reenact the fall of Adam and Eve and the poisonous rivalry of Cain and Abel.
Adam Trask came to California from the East to farm and raise his family on the new, rich land. But the birth of his twins, Cal and Aron, brings his wife to the brink of madness, and Adam is left alone to raise his boys to manhood. One boy thrives, nurtured by the love of all those around him; the other grows up in loneliness, enveloped by a mysterious darkness.
First published in 1952, East of Eden is the work in which Steinbeck created his most mesmerizing characters and explored his most enduring themes: the mystery of identity, the inexplicability of love, and the murderous consequences of love's absence. A masterpiece of Steinbeck's later years, East of Eden is a powerful and vastly ambitious novel that is at once a family saga and a modern retelling of the Book of Genesis.
Buy East of Eden at Amazon
In ebook...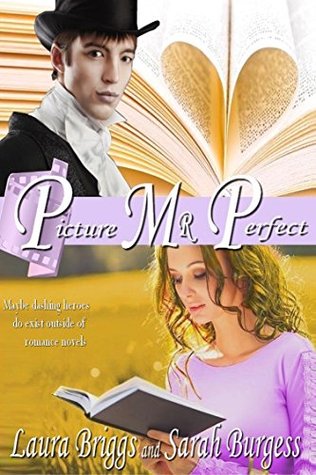 Another one of those ebooks that have been languishing in my ebook to be read pile. I'm not far enough in to really have an opinion. There are some issues with the set-up to the story, but I'm hoping that the story will be strong enough that it can overcome them. The premise sounds fun.
Jason Barry isn't an actor. He isn't a model. But when he takes a one-time photo shoot gig, he ends up on the cover of a best-selling romance novel—and becomes the face of a hero idolized by millions of women.
Now fame is trying to change Jason's whole life—and turn him into the picture-perfect face for every romance from Pride and Prejudice to sword-wielding swashbucklers.
Emily Cooper isn't a book critic. Or a hater of romance novels. But when the snobby president of her book club pushes A Gentleman's Word as the monthly read, Emily finds herself tired of the obsession with 'Lord Damon's' looks. When Emily learns the model behind the face is a student at her own university—and her new study partner—she can't imagine being friends with him, much less falling head over heels.
A sweet comic romance about seeing what's beneath the surface.
Buy Picture Mr. Perfect at Amazon
In audio...
Another win from last year's Armchair Book Expo. This one is a testament to my science geekiness.
From the Pulitzer Prize-winning, bestselling author of The Emperor of All Maladies—a magnificent history of the gene and a response to the defining question of the future: What becomes of being human when we learn to "read" and "write" our own genetic information?
The extraordinary Siddhartha Mukherjee has a written a biography of the gene as deft, brilliant, and illuminating as his extraordinarily successful biography of cancer. Weaving science, social history, and personal narrative to tell us the story of one of the most important conceptual breakthroughs of modern times, Mukherjee animates the quest to understand human heredity and its surprising influence on our lives, personalities, identities, fates, and choices.
Throughout the narrative, the story of Mukherjee's own family—with its tragic and bewildering history of mental illness—cuts like a bright, red line, reminding us of the many questions that hang over our ability to translate the science of genetics from the laboratory to the real world. In superb prose and with an instinct for the dramatic scene, he describes the centuries of research and experimentation—from Aristotle and Pythagoras to Mendel and Darwin, from Boveri and Thomas Morgan to Crick, Watson and Rosa Franklin, all the way through the revolutionary twenty-first century innovators who mapped the human genome.
As The New Yorker said of The Emperor of All Maladies, "It's hard to think of many books for a general audience that have rendered any area of modern science and technology with such intelligence, accessibility, and compassion…An extraordinary achievement." Riveting, revelatory, and magisterial history of a scientific idea coming to life, and an essential preparation for the moral complexity introduced by our ability to create or "write" the human genome, The Gene is a must-read for everyone concerned about the definition and future of humanity. This is the most crucial science of our time, intimately explained by a master.
Buy The Gene at Amazon
To Read
In audio...
I'm next on the holds list so I should have it in the next week or so.
They called her Water Claire. When she washed up on their shore, no one knew that she came from a society where emotions and colors didn't exist. That she had become a Vessel at age thirteen. That she had carried a Product at age fourteen. That it had been stolen from her body. Claire had a son. But what became of him she never knew. What was his name? Was he even alive? She was supposed to forget him, but that was impossible. Now Claire will stop at nothing to find her child, even if it means making an unimaginable sacrifice.
Son thrusts readers once again into the chilling world of the Newbery Medal winning book, The Giver, as well as Gathering Blue and Messenger where a new hero emerges. In this thrilling series finale, the startling and long-awaited conclusion to Lois Lowry's epic tale culminates in a final clash between good and evil.
Buy Son at Amazon
In print
...
Pool season is here! I think I will start with this book as my "pool read". I picked it up a few weeks ago on the discount shelf so I won't feel too bad if it gets a little wet.
Revenge is sweet for a killer on the loose—and it all started with the murder of Warner Pier's most hated clown....
Everyone who knew the bozo wanted him dead. Odd, then, that a complete stranger was accused of bursting Moe Davidson's balloons. But it's been a month since the miserable shop owner of Clowning Around was killed, and everybody's moving on, including Lee Woodyard. Her chocolate shop, TenHuis Chocolade, is next door to Moe's shuttered tourist trap, and it's giving her delicious ideas to expand. But over whose dead body?
Moe's widow, Emma, and her two stepchildren list the property for sale, but when Lee tours the building, she finds Emma unconscious. Now Lee wonders whether Moe's real killer is still at large and is taking care of unfinished business. Unfortunately, since the town is celebrating Clown Week, there are so many potential suspects in grease paint and floppy shoes it's not even funny.
For Lee, protecting Emma, freeing an innocent man, and rolling out hundreds of her clown-themed chocolates is a pretty tall order. But so is staying alive long enough to find out which one of her neighbors is a killer in disguise.
Includes Tasty Chocolate Trivia!
Buy The Chocolate Clown Corpse at Amazon
What have you read, are reading, and will read?
Are you taking a road trip this summer? Check out my
inforgraphic to find out what audiobooks
you should listen to.
This is the last week to enter this
month's mystery box giveaway
. What will be in the box? Lots of bookish goodies!
Donna Huber is an avid reader and natural encourager. She is the founder of Girl Who Reads and the author of how-to marketing book Secrets to a Successful Blog Tour.
Get even more book news in your inbox by signing up for our newsletter: http://eepurl.com/mHTVL. Girl Who Reads is an Amazon advertising affiliate; a small commission is earned when purchases are made at Amazon using any Amazon links on this site. Thank you for supporting Girl Who Reads.