by Donna Huber
A prize pack I won at Armchair Book Expo arrived in the mail.
Without as much television on to watch and a week of vacation, I have definitely had a good month of reading. I've gotten through some of the backlog of ebooks that I have promised myself to read this year. I've also been able to read a book from my in print review shelf and even two books that I purchased. Even though I'm still working on the classes for my Digital Marketer Certification and taking a Coursera class on historical fiction, I've listened to a few audiobooks. How was your month of reading?
Amazon affiliate links are used in this post.
Read
In audio...
Son
by Lois Lowry
If you were like me and weren't all that thrilled with the ambiguous ending of The Giver, then you should read the rest of the series as you will get an ending.
When the young girl washed up on their shore, no one knew she had been a Vessel. That she had carried a Product. That it had been carved from her belly. Stolen.
Claire had had a son. She was supposed to forget him, but that was impossible. When he was taken from their community, she knew she had to follow. And so her journey began.
But here in this wind-battered village, Claire is welcomed as one of their own. In the security of her new home, she is free and loved. She grows stronger. As tempted as she is by the warmth of more human kindness than she has ever known, she cannot stay. Her son is out there; a young boy by now. Claire will stop at nothing to find her child . . . even if it means trading her own life.
With
Son
, the two-time Newbery Medal–winning Lois Lowry has spun another mesmerizing tale in this thrilling and long-awaited conclusion to
The Giver
.
Buy Son at Amazon
The Gene
by Siddhartha Mukherjee
As you may know, my educational background is in biology and my day job is with an interdisciplinary tropical diseases research center. The Gene satisfied the science nerd in me. Actually, it reminded me a lot of my Perspectives in Contemporary Biology course. While the author did a good job of discussing genetics in layperson terms, there are some aspects that are just too technical. I'm glad I won this audiobook at last year's Armchair Book Expo.
From the Pulitzer Prize-winning, bestselling author of
The Emperor of All Maladies
—a magnificent history of the gene and a response to the defining question of the future: What becomes of being human when we learn to "read" and "write" our own genetic information?
The extraordinary Siddhartha Mukherjee has a written a biography of the gene as deft, brilliant, and illuminating as his extraordinarily successful biography of cancer. Weaving science, social history, and personal narrative to tell us the story of one of the most important conceptual breakthroughs of modern times, Mukherjee animates the quest to understand human heredity and its surprising influence on our lives, personalities, identities, fates, and choices.
Throughout the narrative, the story of Mukherjee's own family—with its tragic and bewildering history of mental illness—cuts like a bright, red line, reminding us of the many questions that hang over our ability to translate the science of genetics from the laboratory to the real world. In superb prose and with an instinct for the dramatic scene, he describes the centuries of research and experimentation—from Aristotle and Pythagoras to Mendel and Darwin, from Boveri and Thomas Morgan to Crick, Watson and Rosa Franklin, all the way through the revolutionary twenty-first century innovators who mapped the human genome.
Buy The Gene at Amazon
Agatha's First Case
by M.C. Beaton
At just over 1 hour, this is a great short story. If you love Agatha Christie's Miss Marple, then you need to meet M.C. Beaton's Agatha Raisin. In this story, we get a little background on how Agatha gets started in public relations and amateur sleuthing.
At age twenty-six, Agatha Raisin has already come a long way. She has clawed her way up since leaving the Birmingham slum where she was born. She's lost her Birmingham accent, run away from her drunken husband, and found a job at a public relations office as a secretary. Then her boss asks Agatha to go to the home of Brian Devese to tell him that he is soon going to be arrested for the murder of his wife and that the agency no longer wants to represent him.
Brian, impressed with the pugnacious Agatha, asks her to handle PR for him and even offers her an office and tells her she can hire a staff. Certainly the best thing Agatha can do for her first client is to find out who really murdered his wife and clear his name. And with her wits and gumption, Agatha sets out to do just that.
New York Times bestseller M. C. Beaton's Agatha Raisin is beloved by millions and this brand new short story take us back to where it all began with Agatha's first case.
Buy Agatha's First Case at Amazon
In print...
East of Eden
by John Steinbeck
When I think Great American Novel, my first thought is Grapes of Wrath by Steinbeck. Now I will have to add East of Eden. Seriously this book was so good. I thought the 601 page novel would take me forever to read, but I read it in just over a month because I couldn't wait to get back to it each day. I loved how Steinbeck inserted his own family as minor characters. It made me want to know if Adam Trask had been a real person. If you love American classics, then this is a must read.
In his journal, John Steinbeck called East of Eden "the first book," and indeed it has the primordial power and simplicity of myth. Set in the rich farmland of California's Salinas Valley, this sprawling and often brutal novel follows the intertwined destinies of two families--the Trasks and the Hamiltons--whose generations helplessly reenact the fall of Adam and Eve and the poisonous rivalry of Cain and Abel.
Adam Trask came to California from the East to farm and raise his family on the new, rich land. But the birth of his twins, Cal and Aron, brings his wife to the brink of madness, and Adam is left alone to raise his boys to manhood. One boy thrives, nurtured by the love of all those around him; the other grows up in loneliness, enveloped by a mysterious darkness.
First published in 1952, East of Eden is the work in which Steinbeck created his most mesmerizing characters and explored his most enduring themes: the mystery of identity, the inexplicability of love, and the murderous consequences of love's absence. A masterpiece of Steinbeck's later years, East of Eden is a powerful and vastly ambitious novel that is at once a family saga and a modern retelling of the Book of Genesis.
Buy East of Eden at Amazon
The Mango Orchard
by Robin Bayley
This has been on my to review shelf for a few years. It didn't really appeal to me at first so it kept being shoved to the bottom of the pile. Perhaps it was serendipity that I picked it up after reading East of Eden. In the same way, it is a journey of family. It is also a great book for summer if you can't travel yourself. My full review will post next week.
The extraordinary story of parallel journeys, 100 years apart, into the heart of Latin America, for fans of Sandra Cisneros's Caramelo, Tim Butcher's Blood River, and Bruce Chatwin
As a child, Robin Bayley was enchanted by his grandmother's stories of Mexican adventures—of bandits, wild jungle journeys, hidden bags of silver, and a narrow escape from the bloody Mexican Revolution. But Robin sensed there was more to these stories than anyone knew, and so he set out to follow in the footsteps of his great-grandfather. Undaunted by the passage of time and a paucity of information, Robin seeks out the places where his great-grandfather Arthur "Arturo" Greenhalgh traveled and lived, determined to uncover his legacy. Along the road Robin encounters witches, drug dealers, a gun-toting Tasmanian Devil, and an ex-Nazi diamond trader. He is threatened with deportation, offered the protection of Colombian guerrilla fighters, and comforted by the blessings of los santos. He falls in love with a beautiful Guatemalan girl with mystical powers and almost gives up his quest, until a sense of destiny drives him on to western Mexico and the discovery of much, much more than he had bargained for.
Buy The Mango Orchard at Amazon
The Chocolate Clown Corpse
by JoAnne Carl
This summer I'm craving cozy mysteries. I found this book on the bargain book rack, and, even though I haven't heard of this author, I thought I would give it a try. It was a good book. Even though there were antics in the story that should have provided a few laughs, I didn't find it particularly funny. I enjoyed the tidbits of chocolate history.
Revenge is sweet for a killer on the loose—and it all started with the murder of Warner Pier's most hated clown....
Everyone who knew the bozo wanted him dead. Odd, then, that a complete stranger was accused of bursting Moe Davidson's balloons. But it's been a month since the miserable shop owner of Clowning Around was killed, and everybody's moving on, including Lee Woodyard. Her chocolate shop, TenHuis Chocolade, is next door to Moe's shuttered tourist trap, and it's giving her delicious ideas to expand. But over whose dead body?
Moe's widow, Emma, and her two stepchildren list the property for sale, but when Lee tours the building, she finds Emma unconscious. Now Lee wonders whether Moe's real killer is still at large and is taking care of unfinished business. Unfortunately, since the town is celebrating Clown Week, there are so many potential suspects in grease paint and floppy shoes it's not even funny.
For Lee, protecting Emma, freeing an innocent man, and rolling out hundreds of her clown-themed chocolates is a pretty tall order. But so is staying alive long enough to find out which one of her neighbors is a killer in disguise.
Includes Tasty Chocolate Trivia!
Buy The Chocolate Clown Corpse at Amazon
In ebook...
Picture Mr. Perfect
by Laura Briggs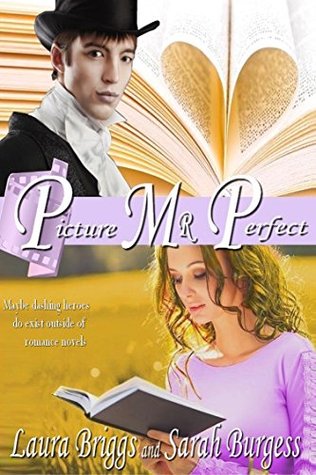 It is a cute story and with a few improvements could be as funny as Fangirl. I posted my full review last week.
Jason Barry isn't an actor. He isn't a model. But when he takes a one-time photo shoot gig, he ends up on the cover of a best-selling romance novel—and becomes the face of a hero idolized by millions of women.
Now fame is trying to change Jason's whole life—and turn him into the picture-perfect face for every romance from Pride and Prejudice to sword-wielding swashbucklers.
Emily Cooper isn't a book critic. Or a hater of romance novels. But when the snobby president of her book club pushes A Gentleman's Word as the monthly read, Emily finds herself tired of the obsession with 'Lord Damon's' looks. When Emily learns the model behind the face is a student at her own university—and her new study partner—she can't imagine being friends with him, much less falling head over heels.
A sweet comic romance about seeing what's beneath the surface.
Buy Picture Mr. Perfect at Amazon
Broken Bits
by Kel O'Conner
I really enjoyed this book which I received for review. I read it in less than two days (it probably would have been less than that if I hadn't been trying to paint my bedroom that weekend). It had a bit more sex than I would have liked, especially since it seemed to trade sex scenes for plot. My full review will post next week.
Kit Foster thought a week in the woods would be the perfect way to recover from the family scandal that shattered her world. No reporters, no gossip and no drama. Then a helicopter dumps an injured man in her path.
Mick Harris is having a bad day. It was bad enough that he botched an op, but then he awakes beaten and left for dead in the middle of a forest. He is lucky to be alive, but now he is at the mercy of Kit- the only person who knows the route home.
During the time it takes to hike back to civilization, Kit and Mick become friends and explore their growing attraction. While the way out is hampered by bad memories and an assassin, they manage to grow close enough to attempt a real relationship.
However, that bliss is short-lived when Mick's job again threatens Kit's life and destroys their happiness. Can a second chance bring them back together?
Buy Broken Bits at Amazon
On Her Majesty's Frightfully Secret Service
by Rhys Bowen
I picked this up recently at Netgalley and then discovered it is book 11 in Her Royal Spyness series. I have not read the other books in the series, but it looked like it would help satisfy my craving for cozy mysteries. I started it early so I could have my review ready for its August 1 pub date. It was so good I read it in 2 days! Have you read any books in this series?
There are more important things than being thirty-fifth in line for the British crown, and Lady Georgiana Rannoch knows her true love, Darcy O'Mara, is one of them. Luckily, the Queen agrees, but she has a little mission for Georgie before she can say "I do!"
When Darcy runs off on another secret assignment, I am left to figure out how to travel to Italy sans maid and chaperone to help my dear friend Belinda, as she awaits the birth of her baby alone. An opportunity presents itself in a most unexpected way— my cousin the queen is in need of a spy to attend a house party in the Italian lake country. The Prince of Wales and the dreadful Mrs. Simpson have been invited, and Her Majesty is anxious to thwart a possible secret wedding.
What luck! A chance to see Belinda and please the queen as I seek her permission to relinquish my claim to the throne so I can marry Darcy. Only that's as far as my good fortune takes me. I soon discover that Mummy is attending the villa party and she has her own secret task for me Then, Darcy shows up and tells me that the fate of a world on the brink of war could very well depend on what I overhear at dinner! I shouldn't be all that surprised when of one my fellow guests is murdered and my Italian holiday becomes a nightmare...
Buy On Her Majesty's Frightfully Secret Service at Amazon
Currently Reading
In audio...
Victoria
by Daisy Goodwin
I loved the PBS show Victoria and this book is from the show's creator. I don't know if the 12+ hour audio book will go beyond the first season or not, but it is still a lot of fun. Since the show hasn't come to Amazon Prime, this is the only way for me to relive the series.
Did you watch the show?
Early one morning, less than a month after her eighteenth birthday, Alexandrina Victoria is roused from bed with the news that her uncle William IV has died and she is now Queen of England. The men who run the country have doubts about whether this sheltered young woman, who stands less than five feet tall, can rule the greatest nation in the world. Surely she must rely on her mother and her venal advisor, Sir John Conroy, or her uncle, the Duke of Cumberland, who are all too eager to relieve her of the burdens of power.
The young queen is no puppet, however. She has very definite ideas about the kind of queen she wants to be, and the first thing is to choose her name.
Everyone keeps saying she is destined to marry her first cousin, Prince Albert of Saxe-Coburg-Gotha, but Victoria found him dull and priggish when they met three years ago. She is quite happy being queen with the help of her prime minister, Lord Melbourne, who may be old enough to be her father but is the first person to take her seriously.
Drawing on Victoria's own diaries, which she first started reading when she was a student at Cambridge University, Daisy Goodwin brings us the brilliantly imagined life of a young woman about to make her mark on her nation - and the world.
Buy Victoria at Amazon
In ebook...

Girl in Snow
by Danya Kukafka
Another Netgalley find that is coming out August 1. Since I'm heading back to work, I thought I should start this one now in case life gets in the way. See, I'm trying to be better about reading books I accept for review.
WHO ARE YOU WHEN NO ONE IS WATCHING?
When a beloved high schooler named Lucinda Hayes is found murdered, no one in her sleepy Colorado suburb is untouched—not the boy who loved her too much; not the girl who wanted her perfect life; not the officer assigned to investigate her murder. In the aftermath of the tragedy, these three indelible characters—Cameron, Jade, and Russ—must each confront their darkest secrets in an effort to find solace, the truth, or both. In crystalline prose, Danya Kukafka offers a brilliant exploration of identity and of the razor-sharp line between love and obsession, between watching and seeing, between truth and memory.
Compulsively readable and powerfully moving, Girl in Snow offers an unforgettable reading experience and introduces a singular new talent in Danya Kukafka.
Buy
Girl in Snow
at Amazon
In print...
As Chimney Sweepers Come to Dust
by Alan Bradley
Another book I picked up off the bargain book rack to read in the pool this summer. It is a young adult novel and I haven't read much in young adult recently. It happens to be the 7th book in the Flavia de Luce series, which I didn't know until I added it to my shelf at Goodreads.
Hard on the heels of the return of her mother's body from the frozen reaches of the Himalayas, Flavia, for her indiscretions, is banished from her home at Buckshaw and shipped across the ocean to Miss Bodycote's Female Academy in Toronto, her mother's alma mater, there to be inducted into a mysterious organization known as the Nide.
No sooner does she arrive, however, than a body comes crashing down out of the chimney and into her room, setting off a series of investigations into mysterious disappearances of girls from the school.
Buy As Chimney Sweepers Come to Dust at Amazon
Donna Huber is an avid reader and natural encourager. She is the founder of Girl Who Reads and the author of how-to marketing book Secrets to a Successful Blog Tour.
It's Monday! What are you reading? is hosted by
Book Date
Get even more book news in your inbox, sign up today!. Girl Who Reads is an Amazon advertising affiliate; a small commission is earned when purchases are made at Amazon using any Amazon links on this site. Thank you for supporting Girl Who Reads.