Armchair Book Expo Wrap-Up Note from Donna:
It has been another successful year for Armchair Book Expo. I thought the topics were a bit more thought-provoking and fresh. If you missed any of them you'll find links below. The Twitter parties were fun and I met some new-to-me bloggers. I really liked the Instagram challenges. It really made me step up my game on my pictures. I wish there was a bit more promotion opportunity for them to encourage people to check them out. Here at Girl Who Reads we are resuming out normal programming with our look at new releases for June.
Armchair Book Expo posts:
May was a super busy month with all the great new releases. June slows down just the tiniest bit. You can still expect some big summer blockbuster books this month and into July. There is pleny of books to keep you entertained on your summer vacation. What books are you looking forward to?
Amazon affiliate links are used in this post.
Rebel Rising
by Beth Revis
When Jyn Erso is eight years old, her mother is murdered and her father taken from her to serve the Empire. Saw Gerrera, a man willing to go to any extremes necessary in order to resist Imperial tyranny, takes her in as his own. But fighting alongside Saw brings danger - and the question of just how far Jyn is willing to go. When she faces an unthinkable betrayal that shatters her world, Jyn will have to decide what she truly believes in...And who she can really trust. New York Times bestselling author Beth Revis brings to life the early adventures and heartbreaks of the heroine of the smash hit movie Rogue One: A Star Wars Story. Set before Star Wars: A New Hope, Rogue One follows a rag-tag group of rebel commandos who must steal the plans to the Empire's new superweapon, the Death Star. This standalone story transports fans to unseen corners of the Star Wars universe and strange new planets not to mention an encounter with a familiar adversary, Darth Vader. (less)
Available June 1
Buy Rebel Rising at Amazon
Once and for All
by Sarah Dessen
As bubbly as champagne and delectable as wedding cake, Once and for All, Sarah Dessen's thirteenth novel, is set in the world of wedding planning, where crises are routine.
Louna, daughter of famed wedding planner Natalie Barrett, has seen every sort of wedding: on the beach, at historic mansions, in fancy hotels and clubs. Perhaps that's why she's cynical about happily-ever-after endings, especially since her own first love ended tragically. When Louna meets charming, happy-go-lucky serial dater Ambrose, she holds him at arm's length. But Ambrose isn't about to be discouraged, now that he's met the one girl he really wants.
Sarah Dessen's many, many fans will adore her latest, a richly satisfying, enormously entertaining story that has everything—humor, romance, and an ending both happy and imperfect, just like life itself.
Available June 6
Buy Once and for All at Amazon
Love Story
by Karen Kingsbury
From #1 New York Times bestselling author Karen Kingsbury comes a new book featuring everyone's favorite family—the Baxters, which tells the story of how John and Elizabeth first fell in love.
From the day they met, John and Elizabeth were destined to fall in love. Their whirlwind romance started when they were young college students and lasted nearly thirty years—until Elizabeth died of cancer.
So when John Baxter is asked to relive his long-ago love story with Elizabeth for his grandson Cole's heritage project, he's not sure he can do it. The sadness might simply be too great. But he agrees and allows his heart and soul to go places they haven't gone in decades. Back to the breathless first moments, but also to the secret heartbreak that brought John and Elizabeth together.
At the same time, Baxter family friend Cody Coleman is working through the breakup of his complicated relationship with Andi Ellison. He is determined to move on when a chance sighting changes his plans—and heart. Can Cody convince Andi to give their love another try, or is it time for them to say goodbye for good?
As school comes to an end, Cole presents his report on the love story between his grandparents John and Elizabeth Baxter. It is a tale that touches the hearts of the entire family, and one that causes Cole to better understand his own beginning.
Whether you're meeting the Baxter family for the first time or finding them all over again, Love Story will stir your heart and remind you of the generational impact of love and the eternal bond of family.
Available June 6
Buy Love Story at Amazon
Amnesia
by Cambria Hebert
I washed ashore in a little lake town.
A place where everyone knows everyone, yet…
No one knows me.
I don't know me.
If a woman doesn't know her own name, does she really exist?
I don't know my natural hair color, my birthdate, or where I live.
I am invisible.
To everyone, to everything, even to myself.
Except to him.
I see the recognition deep in his stare, the way it lingers on my face as if I'm a puzzle he's desperate to put together.
I just want answers, the truth… knowledge.
His lips are sealed. Still, his eyes beguile me.
I can't trust anyone, not even myself. Someone wants me dead, the same someone who tried to bury me in a watery grave.
They'll come for me again… I won't know their face.
I don't even know mine.
I am amnesia.
Available June 12
Buy Amnesia at Amazon
The Identicals
by Elin Hilderbrand
Nantucket is only two and a half hours away from Martha's Vineyard by ferry. But the two islands might as well be worlds apart for a set of identical twin sisters who have been at odds for years. Just because twins look exactly the same doesn't mean they're anything alike--and Tabitha and Harper Frost have spent their whole lives trying to prove this point. When a family crisis forces them to band together--or at least appear to--the twins come to realize that the special bond that they share is more important than the resentments that have driven them apart. A story of new loves, old battles, and a threat that gives a whole new meaning to the term sibling rivalry.
Available June 13
Buy The Identicals at Amazon
Dangerous Minds
by Janet Evanovich
The irrepressibly charming duo of Emerson Knight and Riley Moon returns in another gripping mystery by #1 New York Times bestselling author Janet Evanovich.
Buddhist monk Wayan Bagus lost his island of solitude and wants to get it back. The island was about two hundred miles northeast of Samoa. It had a mountain, beaches, a rain forest, and a volcano. And now it's gone. Poof! Vanished without a trace.
Brilliant and boyishly charming Emerson Knight likes nothing better than solving an unsolvable, improbable mystery. And finding a missing island is better than Christmas morning in the Knight household. When clues lead to a dark and sinister secret that is being guarded by the National Park Service, Emerson will need to assemble a crack team for help. Since a crack team isn't available, he enlists Riley Moon and his cousin Vernon. Riley Moon has a Harvard business degree and can shoot the eyes out of a grasshopper at fifty feet, but she can't figure out how to escape the vortex of Emerson Knight's odd life. Vernon has been Emerson's loyal and enthusiastic partner in crime since childhood. He now lives in an RV behind Emerson's house.
Together, this ragtag, mismatched trio will embark on a worldwide investigation that will expose a conspiracy one hundred years in the making.
Available June 13
Buy Dangerous Minds at Amazon
Kiss Carlo
by Adriana Trigiani
It's 1949 and South Philadelphia bursts with opportunity during the post-war boom. The Palazzini Cab Company & Western Union Telegraph Office, owned and operated by Dominic Palazzini and his three sons, is flourishing: business is good, they're surrounded by sympathetic wives and daughters-in-law, with grandchildren on the way. But a decades-long feud that split Dominic and his brother Mike and their once-close families sets the stage for a re-match.
Amidst the hoopla, the arrival of an urgent telegram from Italy upends the life of Nicky Castone (Dominic and his wife's orphaned nephew) who lives and works with his Uncle Dom and his family. Nicky decides, at 30, that he wants more—more than just a job driving Car #4 and more than his longtime fiancée Peachy DePino, a bookkeeper, can offer. When he admits to his fiancée that he's been secretly moonlighting at the local Shakespeare theater company, Nicky finds himself drawn to the stage, its colorful players and to the determined Calla Borelli, who inherited the enterprise from her father, Nicky must choose between the conventional life his family expects of him or chart a new course and risk losing everything he cherishes.
From the dreamy mountaintop village of Roseto Valfortore in Italy, to the vibrant streets of South Philly, to the close-knit enclave of Roseto, Pennsylvania, to New York City during the birth of the golden age of television, Kiss Carlo is a powerful, inter-generational story that celebrates the ties that bind, while staying true to oneself when all hope seems lost.
Told against the backdrop of some of Shakespeare's greatest comedies, this novel brims with romance as long buried secrets are revealed, mistaken identities are unmasked, scores are settled, broken hearts are mended and true love reigns. Trigiani's consummate storytelling skill and her trademark wit, along with a dazzling cast of characters will enthrall readers. Once again, the author has returned to her own family garden to create an unforgettable feast. Kiss Carlo is a jubilee, resplendent with hope, love, and the abiding power of la famiglia.
Available June 20
Buy Kiss Carlo at Amazon
The Sweetest Burn
by Jeaniene Frost
Conquering a supernatural realm turned out to be easier than getting over a broken heart. But her initial victory has made Ivy a target for revenge, forcing her to reunite with the dangerous—and dangerously sexy—Adrian. Ivy isn't sure which will be harder: finding the hallowed weapon that will repair the crumbling walls between the demon and human realms, or resisting Adrian, who's decided that come hell or high water, he will make Ivy his.
At first, Adrian tried to resist his feelings for Ivy. Now, determined to break the curse that dooms their love, he's vowed to save her and to have her. If only he can persuade her to forgive his past sins. But defying destiny—and surrendering to the smoldering desire between them—will bring consequences and sacrifices they never imagined…
Available June 27
Buy The Sweetest Burn at Amazon
Blood Vice
by Angela Roquet
Detective Jenna Skye bombs her first week on the St. Louis County Police Department's Vice Squad when she's bitten by a vampire in a supernatural brothel. Her day only gets worse from there. She wakes up in the morgue and discovers that her partner is dead. Before the sun rises, she realizes she is too. Jenna vows to continue their investigation until justice is served, but a werewolf squatter, an unexpected visit from her estranged sister, and a nosy FBI agent stand in her way. Not to mention her fresh aversion to sunlight and a thirst for something a little stiffer than revenge.
Available June 27
Buy Blood Vice at Amazon
The Child
by Fiona Barton
As an old house is demolished in a gentrifying section of London, a workman discovers a tiny skeleton, buried for years. For journalist Kate Waters, it's a story that deserves attention. She cobbles together a piece for her newspaper, but at a loss for answers, she can only pose a question: Who is the Building Site Baby?
As Kate investigates, she unearths connections to a crime that rocked the city decades earlier: A newborn baby was stolen from the maternity ward in a local hospital and was never found. Her heartbroken parents were left devastated by the loss.
But there is more to the story, and Kate is drawn—house by house—into the pasts of the people who once lived in this neighborhood that has given up its greatest mystery. And she soon finds herself the keeper of unexpected secrets that erupt in the lives of three women—and torn between what she can and cannot tell…
Available June 29
Buy The Child at Amazon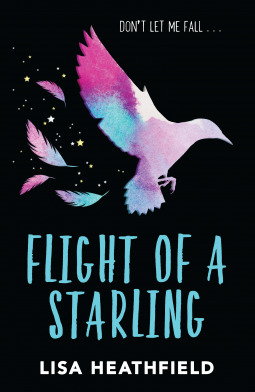 Flight of a Starling
by Lisa Heathfield
Rita and Lo, sisters and best friends, have spent their lives on the wing – flying through the air in their trapeze act, never staying in one place for long. Behind the greasepaint and the glitter, they know that the true magic is the family they travel with.
Until Lo meets a boy. Suddenly, she wants nothing more than to stay still. And as secrets start to tear apart the close-knit circus community, how far will Lo go to keep her feet on the ground?
Available June 29
Buy Flight of a Starling at Amazon
Get even more book news in your inbox by signing up for our newsletter: http://eepurl.com/mHTVL. Girl Who Reads is an Amazon advertising affiliate; a small commission is earned when purchases are made at Amazon using any Amazon links on this site. Thank you for supporting Girl Who Reads.