by Susan Roberts
July is filled with blockbusters, don't miss these two fantastic books!
Amazon affiliate links are used in this post. Free advance reader copies were provided for an honest review.
Everything We Left Behind by Kerry Lonsdale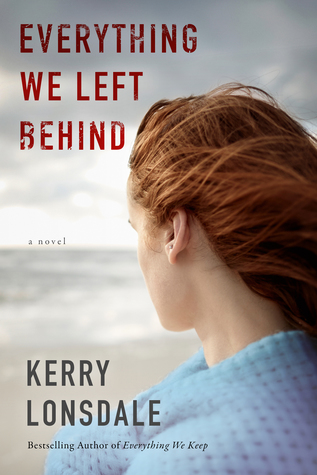 July 2017; Lake Union Publishing;
978-1477823972;

ebook, audio, print (318 pages)


women's fiction
I have been anxious to read this book since I finished the last page of
Everything We Keep
last summer.
Everything We Left Behind
was all I hoped for and more. Once I started it, and I was back in the lives of these characters, I didn't want to put it down until the end.
Warning: you really need to read Everything We Keep (buy at Amazon) BEFORE you read Everything We Left Behind.
This book was mainly about James/Carlos life and how he coped after waking up from a fugue state and found out that he had basically lost over 6 years of his life. After 6 years living in Mexico as Carlos, an artist with 2 young sons, he had no idea that he was really James a rich young American who had been engaged to be married. When he woke up from his fugue state, he had no memory of his life as Carlos and didn't even remember his sons. As he struggles to connect his lives, James has to learn who he can trust and who it is safe to love.
This novel is told in alternating chapters with one chapter being present day James and the next chapter being 6 years earlier with him as Carlos. The author handles this very well and it fills in all of the information in the story line.
I definitely enjoyed this book and will read anything that Kerry Lonsdale writes in the future.
You can read my review of
Everything We Keep
which is included in 10 Books for Fans of Chick-Lit, Women's Fiction, and Family Sagas.
Buy Everything we Left Behind at Amazon
The Breakdown by B.A. Paris
July 2017; St. Martin's Press; 978-1250122469
ebook, audio, print (336 pages); suspense
Before you start reading this book I advise you to clear your calendar and find a comfortable place to read because you aren't going to stop reading until you get to the end. This book literally had me so interested that I couldn't do anything at all until the last page because I was so absorbed by the story and anxious about the outcome.
Cass is a high school teacher with a loving and devoted husband, Matthew. One night returning from a school get together, she takes a short cut through the woods during a blinding thunderstorm. When she sees a car stopped along the road, she decides to stop but she is reluctant to go to the car in case it might someone who wanted to harm her. She decides to go home and is shocked the next morning to find out that the woman in the car had been brutally murdered. She is consumed with guilt and remorse once she realizes that she knew the woman who has murdered and starts struggling to remember things. Knowing that her mother had been diagnosed with early onset dementia made all of her forgetfulness convince her that she too had the disease. As her life spirals further out of control, the tension in the book continues to build as no one has been charged with the murder in the woods.
I am reluctant to tell you any more about the plot because I don't want to give anything away. What I will tell you is that I had the culprit figured out by the middle of the book and then changed my mind another fifty pages later only to be totally surprised for the last 40 pages of the book.
This is the second book by B.A. Paris and even though I loved her first book (
read my review
), I thought that this one was even better. Can't wait for her next book!
Buy The Breakdown at Amazon
Susan Roberts lives in North Carolina when she isn't traveling. She and her husband enjoy traveling, gardening and spending time with their family and friends. She reads almost anything (and the piles of books in her house prove that) but her favorite genres are Southern fiction, women's fiction, and thrillers. Susan is a top 1% Goodreads Reviewer. You can connect with her on Facebook.
Get even more book news in your inbox, sign up today!. Girl Who Reads is an Amazon advertising affiliate; a small commission is earned when purchases are made at Amazon using any Amazon links on this site. Thank you for supporting Girl Who Reads.